Original URL: https://www.theregister.co.uk/2010/10/07/review_panasonic_ty_cc10w_skype_camera/
Panasonic TY-CC10W Skype camera
Video conferencing for couch potatoes
Posted in Personal Tech, 7th October 2010 07:00 GMT
Review While purists might prefer a standards-based approach to Internet telephony, there's no doubt that, for many people, Skype is much simpler to set up. Even so, with a few exceptions, most equipment is still tethered to a computer, especially if you want to use Skype's video calling.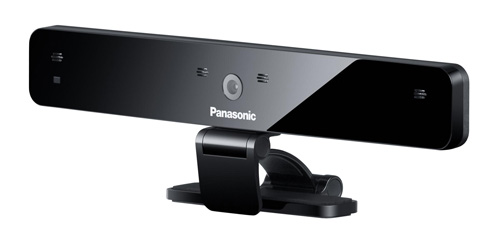 What's on TV? Panasonic's TY-CC10W Skype HD webcam
Panasonic's Skype camera is intended to help make that less of an issue; combined with the latest VieraCast on some 2010 TV models, the camera brings video calling into the living room. It's a wide, thin camera designed to sit on top of the TV, with a wide-angle lens and four microphones.
The idea is to capture everyone on the sofa, and provide decent quality sound, from a normal viewing distance, video-conferencing style. The camera connects to one of the USB ports on the TV, from a generously long cable, and the clamp-style base allows positioning on top of the set, or elsewhere.
Skype is accessed using the VieraCast button on the remote. After selecting the application, you can then configure it on-screen – including an option to start automatically. The main screens provide a list of options down the left, with familiar Skype icons for contacts, calling phones, settings and so on.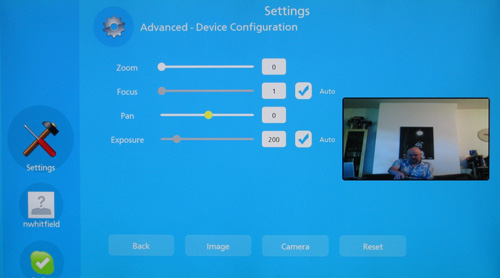 Alongside the usual Skype privacy settings, you can also pan and zoom the camera
Selecting an option gives more choices in the centre of the screen and, on the whole, it's very easy to navigate using the remote. The camera – which worked, incidentally, when plugged into my Mac too – can be panned a little left and right, making use of the wide-angle lens, so you don't need to shift the TV too much.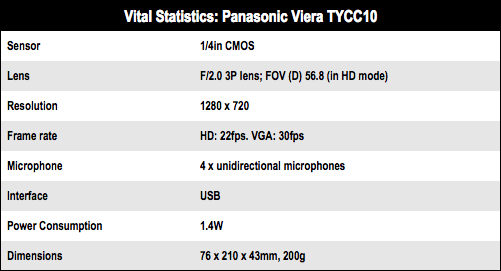 Picture this
Call quality, and picture quality were both good in tests, though as ever, things can be variable with Skype. Other people had no difficulty seeing or hearing me, even with the camera around eight feet away, though they did report a little echo when they spoke, similar to being on a speaker phone. In theory, the camera's capable of full screen 720p video, but only when connecting to another Panasonic TV; Skype PC users get lower quality video.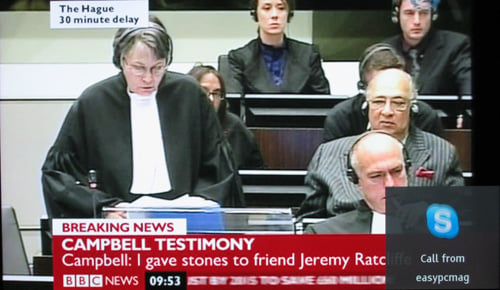 Skype will listen for calls while you're watching TV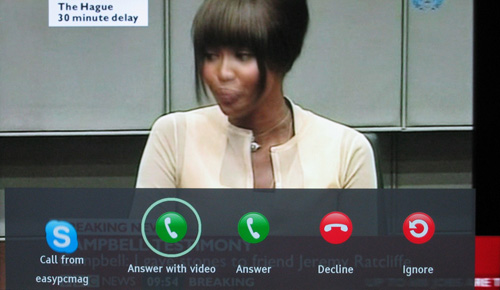 Incoming calls can be dismissed while you're watching TV
Fortunately, you don't have to remain in VieraCast to make use of Skype; once configured, a pop-up will appear on-screen while you're watching TV, alerting you to an incoming call. You can easily answer, ignore, or reject it. One niggle I did find, however, was that sometimes after using Skype, and returning to the Freesat tuner, the TV would display an 'invalid channel' message, rather than going back to the programme I'd been watching.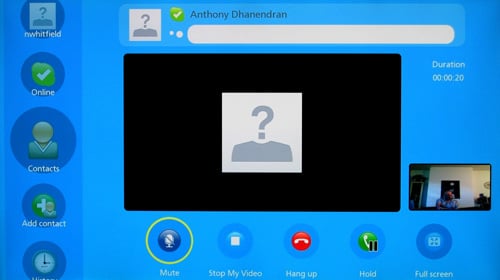 The menus will be familar to most Skype users, and are easy to navigate from the remote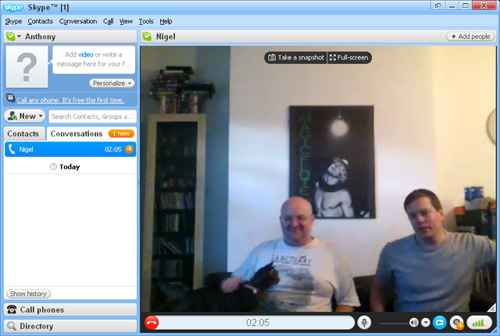 The view from the other side: Orwell's telescreen is still work in progress
More seriously, Skype for TV thoroughly trashes any 'it just works' ideas you might have about Skype. With both this Panasonic camera and the Samsung equivalents, you can talk to other TV users, or to PC users with Skype 4.x. However, video calling to Mac, Linux or Asus Skype videophone gear doesn't work.
Call of confusion
Given that, in many cases, you won't know what equipment the other caller is using, making and taking calls with the TV is going to be problematic at times. Skype suggests 'later this year' for Mac support and currently calls to a Mac do get a sound connection, but a mystifying absence of video.

Features a wide-angle lens and four microphones, but seems pricey given the current calling limitations
Verdict
If you have compatible equipment, the Panasonic TY-CC10W is a simple – if pricey – way to get people connected up for video calling. But given the need for broadband (and so likely computer ownership) to use it, I think you'd have be a very keen video caller to find Skype for TV worth it. ®