Original URL: http://www.theregister.co.uk/2010/10/07/review_netbook_asus_eee_pc_1215n/
Asus Eee PC 1215N 12in netbook
Dual-core and - oh yes - Nvidia Ion 2
Posted in Personal Tech, 7th October 2010 12:00 GMT
Review Asus' Eee PC 1215N is an unusual netbook. It has a 12in, 1366 x 768 screen, not a 10in, 1024 x 600 display. It has an HDMI port. It has a dual-core processor, though one developed for desktops rather than laptops. It has USB 3.0 and Bluetooth 3.0.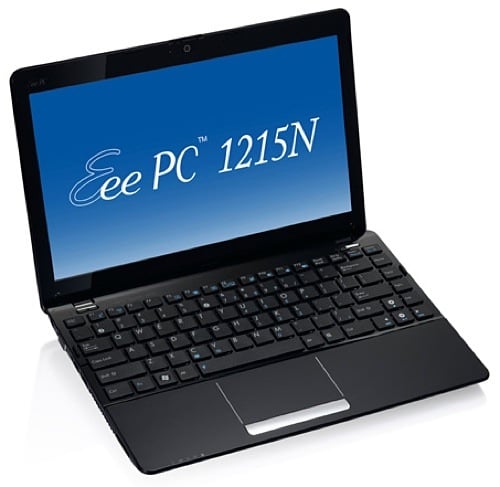 Asus's Eee PC 1215N: two cores, two GPUs
Heck, it doesn't even come pre-loaded with Windows 7 Starter Edition, as almost all other netbooks do. This boy comes with Windows 7 Home Premium, albeit in its 32-bit incarnation.
In fact, the only points on the spec sheet that say this is a netbook are the Atom CPU - a 1.8GHz D525 - and the Eee PC branding. But for that, you'd not call it a netbook at all. It has far more in common with the new crop of 11.6in sub-notebooks that it does with the original Eee PC ethos.
Netbook or sub-notebook, the 1215N is a sure sign that there's no longer a gap between these two categories, and what little difference there is will blur as the latest tech gets crammed in.
It won't be long before the limitations placed on netbooks to make them stand out from notebooks - that 1024 x 600 screen, and the use of Windows 7 Starter - will look even more artificial than they do now.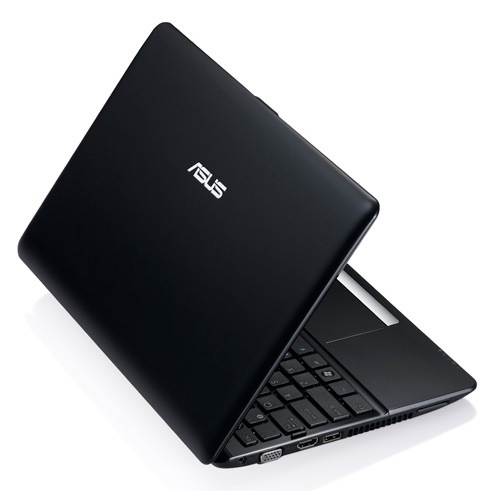 It also comes in a silver look
And the 1215N probably is a signpost for the direction down which netbooks need to be steered, since it comes equipped with the processing power that will differentiate netbooks from tablets. We sure need something more to do this than the presence of a physical keyboard alone.
Optimus on board
The 1215N's performance comes from its dual-core Atom CPU and from its second-generation Nvidia Ion integrated chipset. It's the built-in GPU that powers the 1366 x 768 screen and HDMI port, but the graphics core integrated into Intel's CPU is put to use too.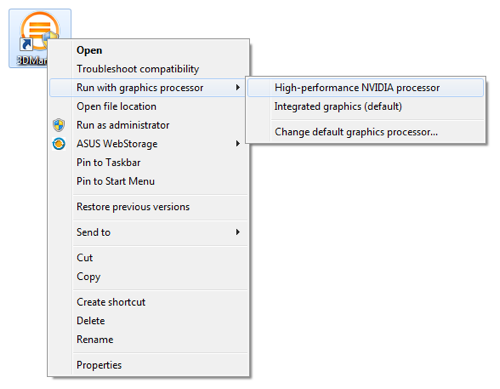 Optimus operates on an app-by-app basis - select which GPU in the contextual menu or the control panel's list of pre-sets
Asus has implemented Nvidia's Optimus technology, which keeps the discrete GPU powered down until it's really needed. The GMA 3150 handles the screen full-time, and rather than switch from one to the other, with the inevitable screen flicker that goes with it, Optimus cleverly gets the Ion GPU to write directly into the 3150's video buffer.
In that respect, the Ion operates more as co-processor than a graphics controller. The switch is transparent, to the extent that you're left wondering whether it has happened at all. Some kind of taskbar icon showing which GPU is in play would be nice, Nvidia.
Nvidia's software chooses whether to enable the Ion based on a list of apps that can use it. You can specify which GPU a given app will prefer by tweaking the settings in the Control Panel, or by selecting an entry from the contextual menu.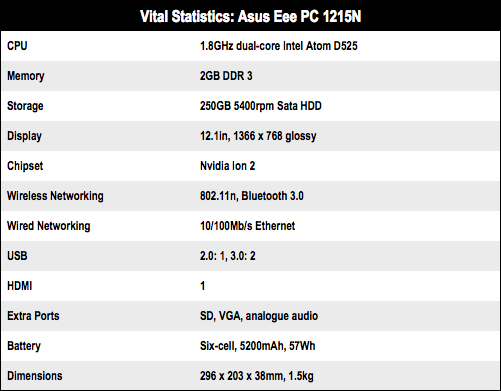 Netbook-plus performance
Beyond Optimus, the 1215N feels like most other Asus Eee netbooks. There's the typically curvy case, decent keyboard and too-stiff-for-comfort trackpad buttons. The battery - a 5200mAh job - is removeable and well integrated into the chassis, though it makes this a fairly thick machine at the back.

Netbook ports plus a sub-notebook's HDMI jack
Like other Eees, the 1215N comes with 500GB of online storage, though it's free for no more than 12 months - you'll have to pay a fiver a month to maintain it after that time.
Other features of note include a shutter that you can slide over the webcam's lens "to protect you privacy", as Asus has it. Presumably, it fears malware capable of spying through the camera while you're otherwise occupied. With your pr0n collection, perhaps.
The 1215N comes with Express Gate Cloud, a new version of Asus' fast-boot OS - it's ready in ten seconds, or a little bit longer if you wait for the Wi-Fi to connect up. Yes, it's quick, but its slow and clunky, and doesn't run at the display's native resolution. It's a nice idea, perhaps, a fast access system for surfing, but I can't see many folk using this one.
Lacking the simplicity of a netbook spec, the 1215N likewise lacks a netbook's low cost. It retails for £450, but you can find it for a little over £400. That puts it firmly in the sub-notebook band, but here it's up against comparatively priced but more powerful machines from the likes of Dell and HP.

Those are USB 3.0 - aka SuperSpeed - ports there
From a netbook standpoint, you get something for the extra you pay. Running PCMark 05 and comparing the numbers with those of other Atom-based machines shows the 1215N to be well ahead of the pack when it comes to processor performance - 35 per cent faster than the average - and memory speed. It's hard drive is merely par for the course, mind.
Benchmark Results: Netbooks
PCMark 05
CPU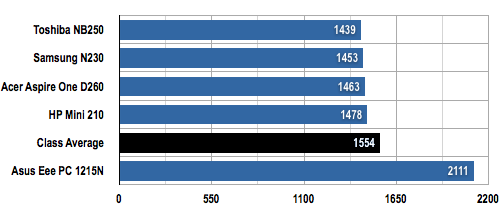 Longer bars are better
Memory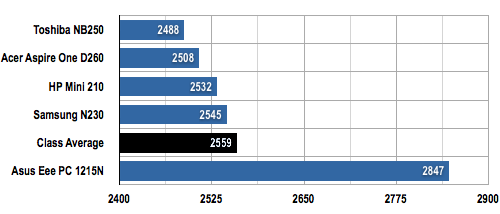 Longer bars are better
HDD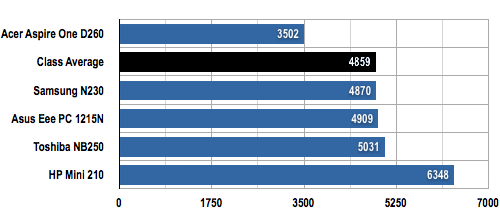 Longer bars are betterd
Benchmark Results: Notebooks
3DMark 06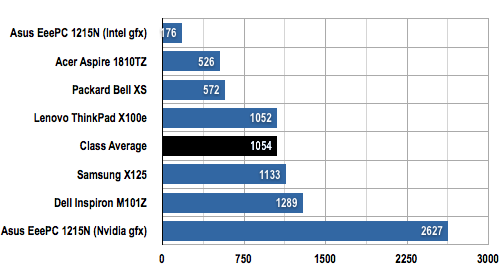 Longer bars are better
Benchmark Results: Notebooks
PCMark Vantage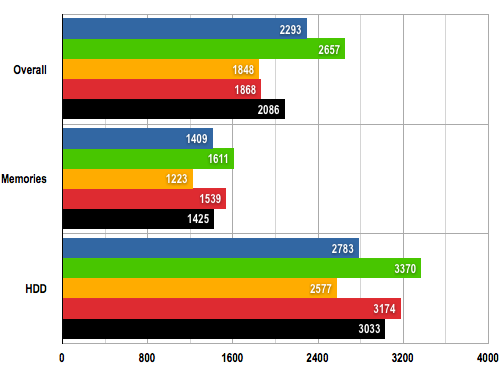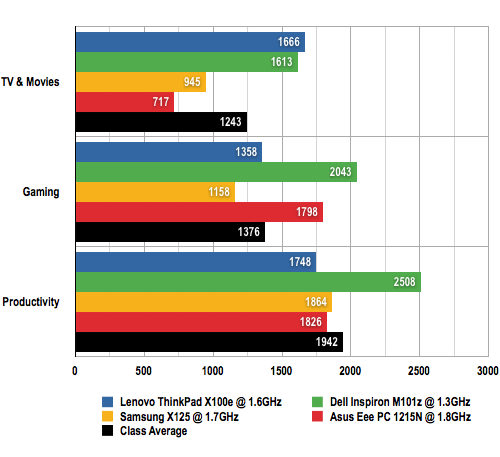 Longer bars are better
PCMark Vantage Loop Battery Test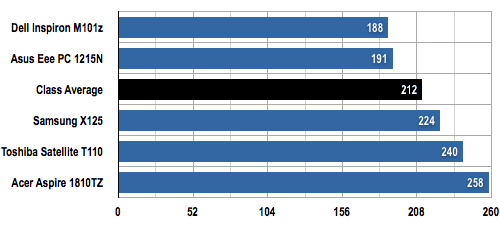 Battery life in Minutes
Longer bars are better
Eee by gum
Lining the machine up against the notebooks whose price it most closely matches, in the 3DMark 06 benchmark the 1215N's Nvidia graphics put it far out in front of the rest, though its integrated graphics are, conversely, the lowest score I've measured.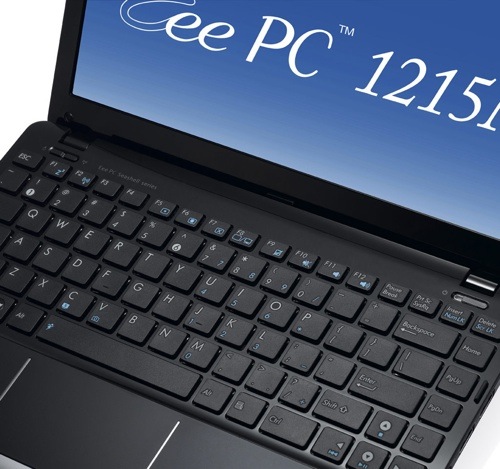 The usual Asus flexing keyboard
The 1215N's PCMark Vantage performance isn't so hot, with a poor TV and Movies sub-rating dragging the overall score down. I set Optimus to run Vantage on the Nvidia graphics chip, but the low TV and Movies score suggests it may have been running on Intel for that part of the test.
The other scores, however, suggest that while the 1215N's CPU is somewhat speedier than other Atoms, it's not quite up there with dual-core notebook-class processors from AMD and Intel.
It's not the best for battery life, either. But it did manage more than three hours' runtime in Reg Hardware's tough PCMark Vantage loop test, and that translates to more than six hours out in the real world. Apply Asus' battery saving options and you can probably add an hour on to that.
Verdict
The Eee PC 1215N is an impressive netbook, especially if you want something larger than the 10in, 1024 x 600 norm. You pay for the privilege, but the premium gets you a machine that can just hold its own against similar sized sub-notebooks with higher-class CPUs - and put their various GPUs all to shame. ®
More Sub-Notebook and Netbook Reviews

Samsung
X125
Dell
Inspiron
M101z
Toshiba
NB250
Acer
Aspire One
D260