Original URL: https://www.theregister.co.uk/2010/10/06/nokia_conspiracy_for_good/
Nokia's anti-capitalist RPG heads for console
Be Swampy without leaving the sofa
Posted in Networks, 6th October 2010 14:25 GMT
"Conspiracy for Good", Nokia's live-action role-playing, crusty activist fantasy, may be heading for your living room - according to one of the executives involved.
Speaking at the MIPCOM games conference, Brian Seth Hurst, CEO of the Opportunity Management Company, told attendees that "we're moving on now to a television series, casual games, console games," Mobile Entertainment reports.
Conspiracy for Good is the brainchild of World Economic Forum Young Global Leader and Nokia services VP Tero Ojanpero. Billed as an "augmented reality" interactive theatre event, it was written by Tim Kring, creator of the TV show Heroes. Kring told us that CFG shared the same ideas of "interactivity and global consciousness and saving the world" as his hit drama. Events took place over several weekends in London in August.
Nokia told us that talks are in progress for follow-ups, but that no deals have been signed.
Although only a handful of people took part, according to Hurst this was part of a cunning plan all along.
"We really tried to limit it. We didn't want more than 250 people, and that's what we got. It was really an exclusive ticket," he told MIPCOM.
This diverges from our recollection of the event, particularly a press release subtitled "Unique social benefit entertainment experience successfully captures public imagination". Nokia told us Hurst had underestimated the figure.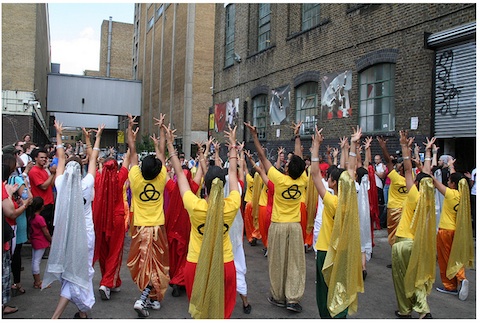 Consciousness raising at Nokia's CFG event
pic: Rachel Clarke
Hurst credits himself with inventing the term "cross platform" in 1998 [surely some mistake? - ed] as well as the phrases "social benefit storytelling" and "social benefit marketing".
Which is where Tero steps in. WEF's Young Global Leaders take the Oath promising not to engage in bribery (which is bad) or exploitation (which is bad), and promote sustainability (which is good, apparently).
Reuters' Felix Salmon has a more prosaic explanation of the Oath. The WEF hosts an annual jamboree each year at Davos in Switzerland, which is a sort of Rotary Club dinner for corporate movers and shakers - or people who want to be seen as corporate movers and shakers. He describes the Oath as a ruse to get the corporate leaders of tomorrow to stump up for the costs of hosting Davos.
"This is essentially code for 'I will continue to attend Davos even when I'm over 40 and no longer a Young Global Leader'," he notes.
It's still all a bit creepy, though. ®