Original URL: https://www.theregister.co.uk/2010/10/06/i_love_charlie/
Little Chef in 'I ♥ Charlie' t-shirt outrage
Coke-crazed students snap up Bolivian marching apparel
Posted in Bootnotes, 6th October 2010 10:50 GMT
Roadside foodmonger Little Chef has fallen foul of the Sun for punting an "I ♥ Charlie" t-shirt which is apparently doing a roaring trade with students with a penchant for marching with Bolivians.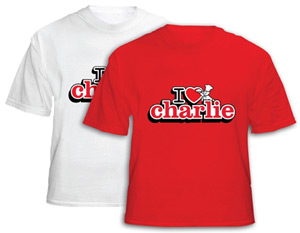 The shirt is, of course, intended to celebrate the chain's culinary mascot, but as the Sun helpfully points out, "the name is also slang for cocaine".
Disappointingly, the paper has not been able to muster the traditional indignant representatives of Middle England to decry the outrage, but does quote one shaken mother "who spotted her teenage son wearing the £5.99 top".
She declared: "I do not think it is responsible for Little Chef to sell a shirt with that slogan."
An unnamed university student dismissed the rumpus, insisting: "They are just a bit of a laugh. They are not encouraging anyone to do drugs."
The I ♥ Charlie apparel is available in small, medium, large and XL and is fashioned in 100 cotton by Fruit of the Andes Loom. For those who wish to further declare their love for Charlie, there's also a fetching car sticker available for 99p. ®