Original URL: https://www.theregister.co.uk/2010/10/05/type_45_gets_one_off_at_last/
£1bn+ Royal Navy destroyer finally fires 'disgraceful' weapon
MoD, Euro armsbiz in cost/time/goodness cockup hat-trick
Posted in Science, 5th October 2010 12:43 GMT
The Royal Navy's new £1bn+ Type 45 destroyers, which have been in service for several years (the first is already on her second captain), have finally achieved a successful firing of their primary armament.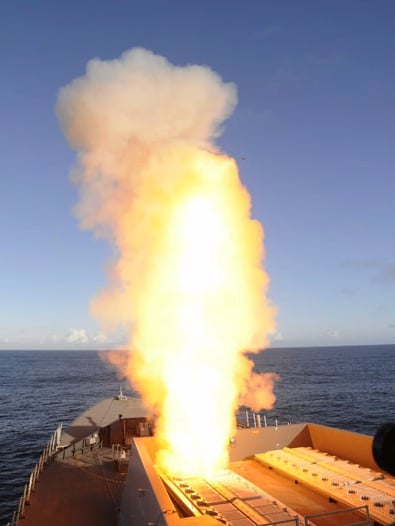 It worked this time, honest.
The Ministry of Defence (MoD) announced yesterday that HMS Dauntless, second of the class, has made the first firing from a Type 45 of the French-made Aster missiles with which the ships are armed. All previous trial shoots were carried out using a test barge at French facilities in the Mediterranean.
According to the MoD:
The system successfully fired an Aster 30 missile from HMS Dauntless at the MOD range in the Hebrides and hit a moving target drone.
"Both my ship's company and the equipment manufacturers have done a sterling job," commented Dauntless' captain, Richard Powell.
"This ... is the culmination of much successful co-operation between MOD and industry," added Major General Garry Robison of Naval Command Headquarters*.
It's possible to take a different view of the excellence (or lack of it) shown by the people providing the Type 45s' missile system, which was originally supposed to enter service three years ago. It is now expected to achieve full operational capability in 2011, four years behind schedule, following multiple test failures. The underlying problems, traced to production faults in the Aster missiles, are now thought to have been rectified.
Contradicting Captain Powell and General Robison somewhat, the MPs of the Public Accounts Committee last year described the progress of the project, officially known nowadays as "Sea Viper", as "disgraceful". The MPs wrote:
Although the Type 45 will enter service in 2009, it is a disgrace that it will do so without a PAAMS missile having been fired from the ship, and will not achieve full operational capability until 2011. Other equipments and capabilities which will enhance the ship's ability to conduct anti-air warfare operations will not be fitted until after the ship enters service in some cases.
Hey, but it can knock down supersonic shipkillers! Well no, we haven't actually tested that as such ...
Each of the six Type 45s will now cost the taxpayer £1.1bn and counting. At the moment the only weapons they can use operationally are their basic 4.5-inch "Kryten" gun turrets and light 30mm autocannon, principally useful for bombarding undefended foreshore targets or shooting up pirate dhows and the like. This is armament barely above the gunboat level.
The primary reason for purchasing a Type 45 is to obtain Sea Viper (aka the Principal Anti Air Missile System, PAAMS), which accounts for most of its cost. PAAMS includes the French Aster missiles and their Sylver launchers, and other Franco-British-Italian equipment including the Sampson firecontrol radar. There is also, of course, substantial American input - the command system runs Windows, and other computer processing is provided by Mercury Computer Systems of Massachusetts.
Sea Viper is the European - partly European - answer to the American Aegis/Standard naval missiles used aboard US destroyers and cruisers and by many allied navies. PAAMS/Sea Viper is claimed by its makers to be superior to Aegis/Standard, especially in the matter of shooting down modern Russian-made shipkiller missiles which approach their targets at supersonic speed.
However PAAMS has never been tested against a supersonic target and there are no plans to do so, rendering this possible unique selling point rather moot. One former Royal Navy destroyer captain, questioned on the idea of relying on Sea Viper to defend a fleet against such menaces as "Sunburn" and "Klub" with no idea whether it would actually work, has told the Reg defence desk that "it would be rather unwise to put yourself in a situation like that, wouldn't it?"
Apart from a possible ability to shoot down the latest Russian shipkillers, however, there are few reasons to buy PAAMS as opposed to Aegis/Standard. The Euro offering is hugely more expensive: putting Aegis/Standard in our Type 45s would have cut their costs by half or more. They would then be able to launch Tomahawk cruise missiles against enemy warships or targets hundreds of miles inland, and also Standard SM-3 interceptors capable of knocking down ballistic missile warheads or even satellites sailing far above the atmosphere.
As it is, we will pay at least double and get none of these things. Our Type 45s will have no serious ability to strike targets ashore, and we will continue to have no capabilities against ballistic missiles. Most glaringly of all, the Type 45 will have no weapon other than its guns with which to fight enemy ships - Sea Viper has no surface-to-surface mode.
You might feel that preservation of British high-tech jobs in some way justifies such horrific overspending for such lamentable amounts of capability, but in fact the relatively few Brit workers concerned have now mostly been fired anyway.
So actually it's pretty hard to agree with Captain Powell and General Robison that this is a story of excellent cooperation between MoD and industry. It seems more like industry taking the MoD for a long and lucrative ride.
This is all the sadder for actual friends of the Royal Navy, as the delays and cost overruns on the Type 45s' largely foreign equipment are a big part of the reason why the navy may not in fact get its aircraft carriers and will almost certainly not get proper air groups for them.
Captain Powell gamely contends that his ship - from some point next year when Sea Viper finally goes operational - "will also work in support of land and air forces". This is true in some minor respects, perhaps.
But it won't work nearly as well in support of land and air fighting as a carrier would, so to buy the one at the expense of the other as the Royal Navy may very well have done looks like a bad bargain indeed. ®
*The general is a Royal Marine, so his presence in naval headquarters is routine.