Original URL: http://www.theregister.co.uk/2010/10/05/review_smartphone_samsung_galaxy_apollo/
Samsung Galaxy Apollo Android smartphone
Handy social behaviour?
Posted in Personal Tech, 5th October 2010 12:00 GMT
Review Samsung's mobile phone portfolio grows ever larger, and while the differences can be hard to distinguish, the Galaxy Apollo does have its niche, at least as far as the marketeers are concerned. It is aimed at the connected lifestyles of younger people who want social networking tools at their fingertips.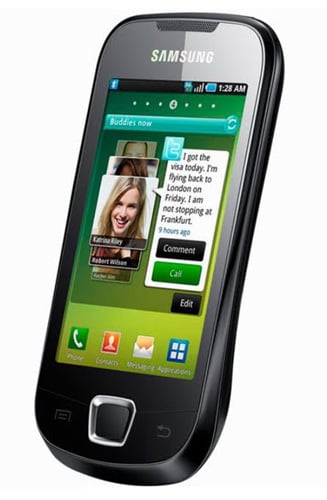 Originally an Orange exclusive: Samsung's Galaxy Apollo
So, to that end, the Samsung Social Hub is here. This is an integrated phone book that links contacts from a wide range of accounts. Google, Hotmail, Yahoo, Facebook, Twitter, mySpace, and rather oddly for a handset aimed at younger users, Exchange corporate accounts are all supported.
You add accounts and the handset pulls data down. You can set synchronisation intervals to as little as once an hour – presumably ideal for those whose social group just keeps on a-changing.
You can view updates such as new tweets or Facebook updates by tapping the Activities tab in the contacts page. It all works quite well, though there is a fair amount of manual 'linking' to be done to get all data relating to one contact together in one place.
In the end, though, I'm not sure I really want everyone I follow on Twitter in my contact book. After all, I don't actually know all of them. Still, there's always manual delete. The Social Hub is nothing we've not seen before, either. It is featured on the high-end Bada-toting Wave and the – fancier than this handset – Galaxy S too.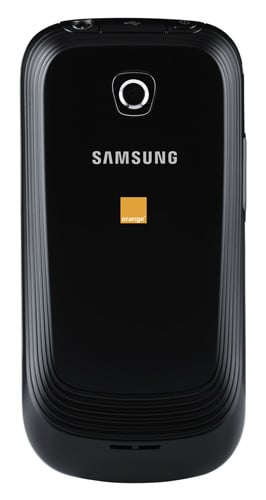 Just a 3Mp camera
In fact there's nothing new about the Samsung Galaxy Apollo. The Layar browser, which is an augmented reality browser that can show the locations of a range of things from cash machines to cinemas is potentially useful and again we've seen it before, for example on the Samsung Galaxy Portal.
And the really clever lock screen which puts incoming messages into a puzzle piece and lets you go to them by pushing the piece into a slot in the background image has been seen before too, again on the Wave.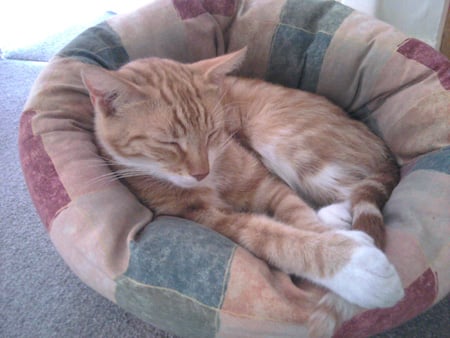 Slow autofocus, but can be a reasonable snapper if you take your time
Click for a full-resolution image
TouchWiz 3 makes another appearance, allowing you to populate Android 2.1's five home screens with widgets, and on the review sample from Orange, which had an exclusive on this handset until recently, the cellco had added its own Orange Maps service to the free Google Maps.
The Samsung Galaxy Apollo is a relatively small handset (113mm x 55mm x 12.55mm) with a 3.2in 240 x 400 pixel touchscreen. The screen looks a little blurred at that resolution. At least it is capacitive, and supports pinch to zoom, which is a boon when Web browsing in the small space, but there's no text reflowing so reading Web content can be a scrollathon.
The handset features Wi-Fi and 3.6Mbps HSDPA and A-GPS. It also supports Divx playback for resolutions up to 720 x 480. Yet for those with a mobile movie habit, Orange's web site suggests memory card expansion "up to 1GB" for its i5801 Galaxy Apollo, which, if it were true, would considerably curtail the multimedia viewing experience. By contrast, Samsung's i5800 Galaxy Apollo page suggests expansion up 32GB.
The camera has no side button for quick launch or flash to assist with indoor shooting. It shoots stills at 3 megapixels, with the video camera topping out at 320 x 240. The autofocus takes a while to kick in too so images can appear blurry if you're too quick off the mark.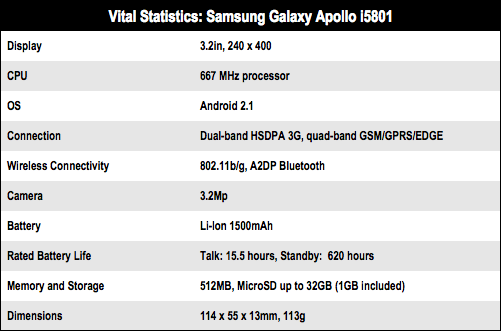 Photos can be washed out too, but if you choose your subject carefully you can get a decent enough image even indoors. An FM radio and music player help round the apps list out, and there's the Samsung Apps shop as well as the Android Market to further boost the applications library.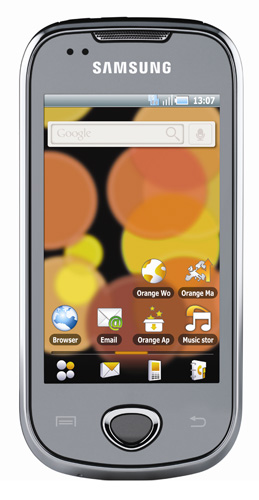 An underwhelming Android, but it's all in there, sort of
Verdict
Apart from being a low-cost Android phone, I struggle to see what the Galaxy Apollo adds to the Samsung line-up. It's social networking features may well appeal to its target audience of younger users, but it's not like these functions don't appear on other Samsung handsets. Still, there is one standout feature of the Galaxy Apollo – on the Orange-branded version at least, it has a silver fascia where Samsung usually opts for black. ®
More Android Smartphone Reviews

LG
Optimus
GT540
Acer
Stream
Motorola
Milestone
XT720
HTC
Wildfire