Original URL: http://www.theregister.co.uk/2010/10/04/grouptest_budget_mono_laser_printers_epson_aculaser_m1200/
Epson Aculaser M1200
Posted in Personal Tech, 4th October 2010 07:00 GMT
Review Epson's baby laser printer looks something like Canon's with its bread loaf shape, though here the case is all black and the printer's bigger in all dimensions, noticeably in height.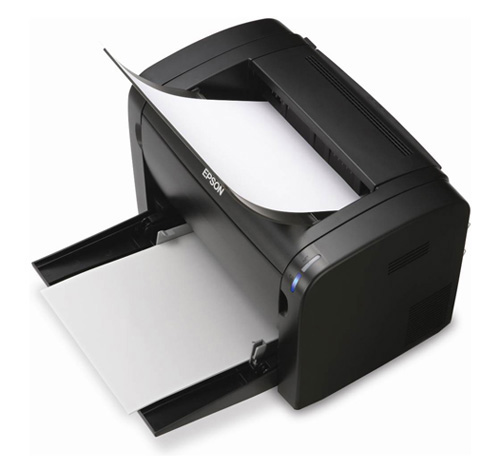 Super-breadloaf design would benefit from a paper tray cover
It opens up for printing in much the same way, too, with the top cover folding forwards to make an output tray and the front cover folding down for input. Unlike Canon, though, Epson provides no paper cover, so you'll probably want to store the paper away and close the Aculaser M1200 up between sessions.
The tray can take up to 150-sheets, but there's no single-sheet feed, so you have to remove plain paper, if you want to feed special media or envelopes. At the back is a single USB 2 socket, which is the only data connection.
Epson supplies Windows and OSX drivers, but there appears to be no Linux support, if the UK website is correct. There is some support on the Ubuntu forums, based on the fact that the M1200 is similar to the EPL-6200L.
Verdict
Epson claims a print speed of 20ppm, and we saw 15.8ppm for text print and 11.5ppm for text and graphics, both of which are well up the rankings. The two-part drum and toner cartridge can be fitted with 1,800 or 3,200 page toner, while the drum is specified at 20,000 pages. Working through the maths gives a cost per page of 3.2p, just 0.2p above the Dell. Print quality is fair, with good text, but some dither patterns in greyscale graphics and photos. ®