Original URL: http://www.theregister.co.uk/2010/10/01/review_hd_tv_sony_46ex403/
Sony Bravia KDL-46EX403 46in LCD TV
Big name, big screen, budget price?
Posted in Personal Tech, 1st October 2010 08:49 GMT
Review Freeview HD TVs are fairly common these days, and Sony has put the necessary DVB-T2 tuners in most of the models in its range. The Bravia KDL-46EX403 is, as far as these things go, one of its budget models – it lacks the LED backlighting of the higher end units, which in turn makes it bulkier and less sexy, though from the front, it still looks quite sleek.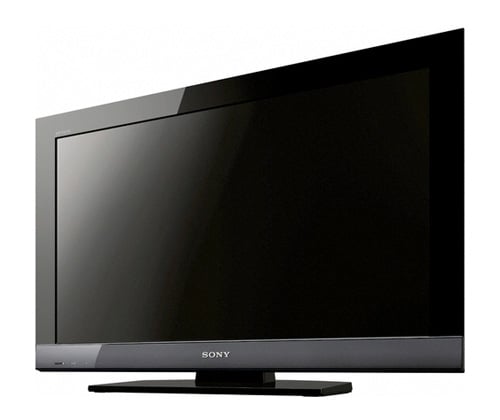 Sony's Bravia KDL-46EX403: Freeview HD, but no DLNA support
By way of compensation, there's a whopping 46in screen for a list price of £999, or just £100 more than the LED-backlit 32in KDL-32EX703. While I'm generally of the view that such a large screen is an incredibly vulgar thing to put on the sideboard, after a couple of weeks, the extra inches certainly grew on me, and it can definitely make viewing a more immersive experience.
Aside from the case styling, and the backlighting, there's actually not a massive difference between this and the more expensive Sony set. You still get four HDMI ports – two on the rear and two on the side – along with two Scarts, component, composite and PC inputs, with a mini-jack allowing separate audio for the PC and HDMI ports – handy if you're using a DVI adaptor.
There's a USB port that can be used for media playback or for an optional wireless LAN adaptor, as well as Ethernet, and the remote control is the same as on the more expensive models too. That's a mixed blessing – I found that the buttons around the four-way navigator are too easy to hit by mistake, leading you to end up on the wrong screen.

Big screen, big box
In terms of interface, the EX403 is blessed or cursed, depending on your view, with Sony's Cross Media Bar effort, which means a lot of scrolling in different directions to find the things that you want. Personally I hate it, and it's a good thing that there are options you can call up with a quick button press, rather than having to delve into it.
Sound isn't handled brilliantly; if the TV speakers are turned on, then the optical output cannot be changed, and will always be PCM. Turn them off, and you have the choice of Auto too, which will create a Dolby Digital output from Freeview's HD channels. Yet it's annoying to have to dive into the menu if you want to listen through the TV late at night. Audio through the TV speakers is passable, with better bass than is found in some of the ultra-slim units, and there's also support for ARC (Audio Return Channel) on one of the HDMI ports.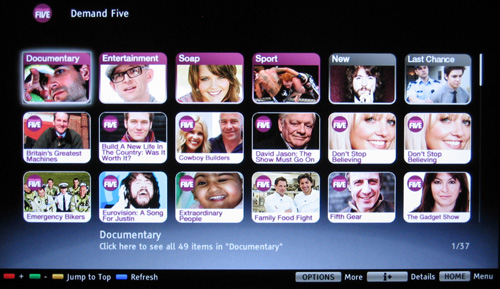 DemandFive to catch up with Channel Five's fine programming – the latest firmware includes iPlayer support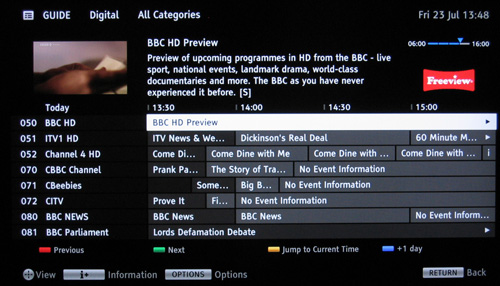 No surprises here – a standard Freeview HD programme guide
Like the more expensive Sonys, there's a good range of on-line video services, including Fifa, YouTube, LoveFilm and Demand Five, which provides a far better quality picture than I expected, certainly better than you'd get, say, by recording on VHS. However, it is a little slow navigating through the selection of content, and the same is true on other services too – the first sight of most of the services will be a load of grey thumbnails, and a loading icon.
There's DLNA support too, but it's the usual half-hearted Sony affair – no AVI or DivX files, nor even MP3s. Still, you can play AVCHD and standard-def DivX if you plug a USB key into the side, although other test Xvid files refused to play. Even so, if some files can play from USB, why not from DLNA? That's just silly. One neat thing to mention though – geotagged photos pop up a small map on screen.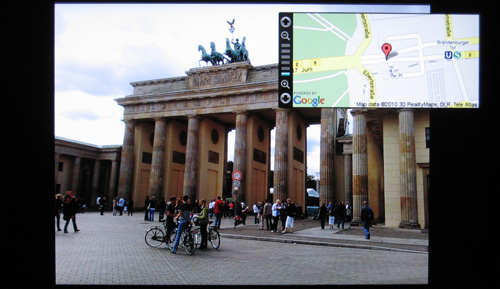 View a geotagged image and you'll see a map showing where it was taken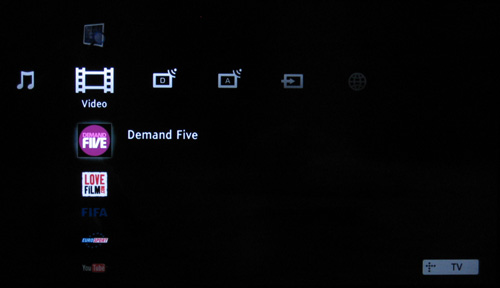 The main interface utilises Sony's Xross Media Bar, an acquired taste
What of picture quality? Freeview HD looks fine on proper HD material, like the BBC channel, but with a screen this size, it's pretty easy to see that ITV1 HD, for example, isn't the real thing. While playback of external HD material is good, the traditional backlight means that you won't get the deep blacks that film fans yearn for, so while there's a 24p mode for Blu-ray, you're trading off size for quality to an extent.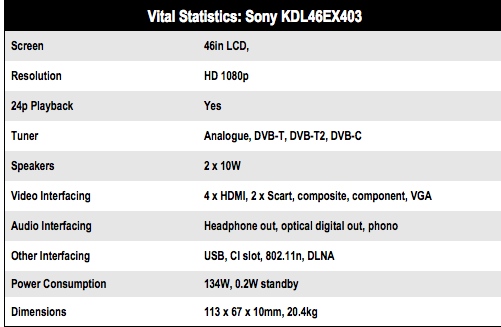 Switching to SD Freeview, and as you'd expect, the size really doesn't do the content any favours; watching the Tour de France on ITV4, the artefacts around the shoulders of the cyclists were pretty distracting. Even an upscaled DVD didn't look quite as crisp on the Sony as on my 37in Panasonic, which also has a traditional backlight. Main channels like BBC 1 are perfectly watchable, but you'll probably find yourself crying out for HD content before too long.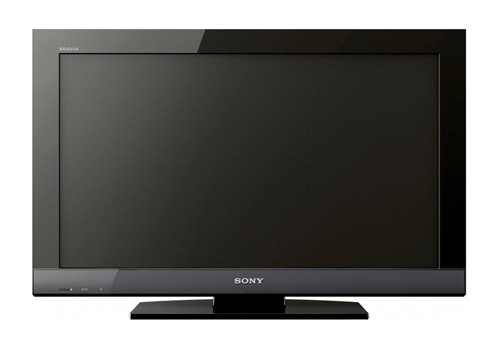 If size matters, be prepared for a few compromises at this price
If it's a big screen on a budget you're after, then the 46EX403 is worth a look; but if most of your viewing is still standard definition, or you have a lot of content on a home media server, then there are stronger contenders out there.
Verdict
Although lacking in DLNA functionality, there are some good touches in this set, including Freeview HD. It's a keen price for such a large screen but, given its size, it really needs to have HD content pumped through it to make an impression. ®
More HD TV Reviews

Group Test
Freeview HD TVs
Philips
32PFL9705
Ambilight
LG
50PK990
Infinia
Group Test
3D TVs