Original URL: https://www.theregister.co.uk/2010/10/01/ipad_tethering/
Internet tethering spotted in iPad iOS beta
US users not invited
Posted in Personal Tech, 1st October 2010 04:00 GMT
Today's iPad rumor is that when iOS 4.2 is released for the iPad later this year, it may include the ability for 3G-capable versions of the "magical and revolutionary device" to provide internet tethering.
But only for some users — and not for stateside fanbois suffering the spotty slings and unhurried arrows of their struggling AT&T wireless connections.
9to5 Mac reports that a European tipster on 3's wireless service discovered a set of Internet Tethering setting fields within the APN network settings page of an iPad running a beta version of iOS 4.2.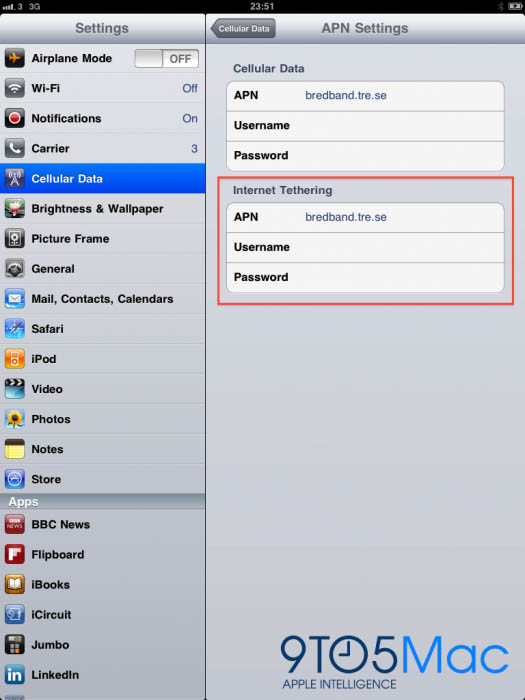 A sight US iPad users may never see
Wired's Gadget Lab also turned up a screenshot of the same interface, provided by a UK user of T-Mobile's service.
According to 9to5: "This tethering appears to be the type of tethering iPhones currently use versus tethering the iPhone's internet to an iPad." That latter option, true fanbois will remember, was nixed back in March of this year when none other than Steve Jobs Himself sent a one-word email message to a Swedish DJ who asked if tethering an iPad to an iPhone's 3G connection might be possible.
Jobs' answer: "No."
Unfortunately for US iPadders, however, 9to5 notes that the settings fields don't appear at all on iOS 4.2 beta–equipped 3G iPads in the US — that is, those using AT&T's wireless service.
To tether or not to tether? That is the question to be answered by wireless providers — and it appears that for Europeans, that day may arrive when iOS 4.2 ships.
For US iPad users, the answer is: "Tomorrow, and tomorrow, and tomorrow." ®