Original URL: https://www.theregister.co.uk/2010/10/01/games_review_f1_2010/
F1 2010
Get your engines revving
Posted in Personal Tech, 1st October 2010 14:25 GMT
Review Reverse is a gear not often associated with Formula One, a sport entirely focused on hurtling forwards at breakneck speeds of up to 220mph. But it's one the sport had to engage in recent seasons to reverse a seemingly inexorable decline in popularity.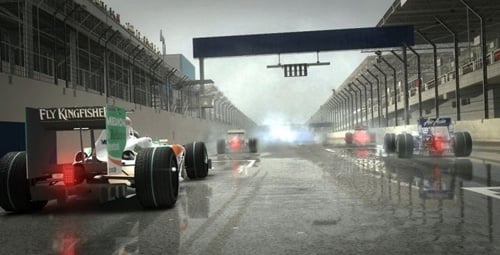 Going off grid - the revolutions begin
Several factors combined to lift F1 out of its decade-long doldrums. First, The Schuminator retired. Then, in 2009, the sport introduced its most wide ranging and impactful rule changes since 1998. At the same, the credit crunch and threat of team budget caps significantly reduced the chasm between team finances.
What greater tribute, then, to the reinvigorated sport than Codemaster's F1 2010, arguably the greatest Formula One videogame of all time.
That it can't contest the title of greatest overall driving game is understandable. Despite the recent improvements, Formula One still suffers inherent limitations. Races remain largely processional, results almost always determined by pit stop strategies, car set-ups and mechanical failures rather than by driving ability. Although at their closest for many years, the disparity in team resources maintains a gulf between F1's elite and the rest of the field. And the limitations of a single car series can never compete against the wider range of car handling and garage car-porn of freer titles, such as Forza and Gran Turismo.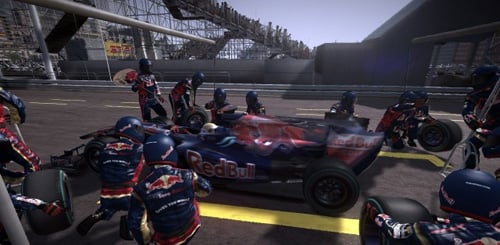 Leavin the pits quicker than Jennifer Aniston
These shortcomings are, of course, firmly outside of Codemasters' control. Rather than dwelling upon what F1 doesn't do, Codemasters has concentrated efforts to capture the essence of a sport in a way few other titles manage.
The graphics are breathtaking
Immersion and photo-realism have long been pots of gold at the end of gaming's rainbow. No matter the progress with each new hardware generation and graphics engine, the end of that rainbow remains tantalisingly fixed upon the horizon. But just once in a while, you have to sit back and admire the achievement.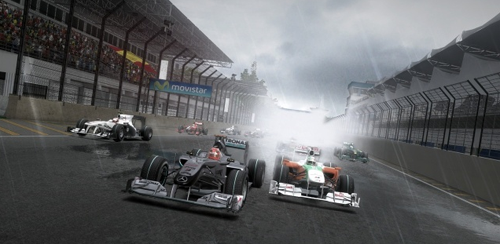 Change gear, the smoke is terrible
The graphics here are breathtaking. No details appear absent. Reflections streak across the cold silver of the McLaren bonnet; heat haze rises from the car in front on a scorching day; rain droplets creep up your visor as you slice through a torrential downpour.
To the spectator it's a sumptuous feast, to the driver a phenomenal blur: the unparalleled sense of speed epitomising the level of immersion. No other racer comes close to its balls-to-the-floor adrenaline rush. The weight of the car, the scream of the engine, the impending S-bend ahead: all stimulants shaken into an amphetamine cocktail to send the heart into overdrive and the pad slipping about in clammy hands.
It's not just on-track where the immersion excels. The Career Mode drops you right into the F1 circus, complete with agents and press briefings, team-mate rivalries and inter-team poaching. From the off its not you as videogame character, but you as Formula One driver. You'll need to earn the respect of your team by exceeding objectives, and earn the number one spot by consistently outperforming your team-mate. Only then will you be entrusted with the number one car, rewarded by a unending stream of technological advancements.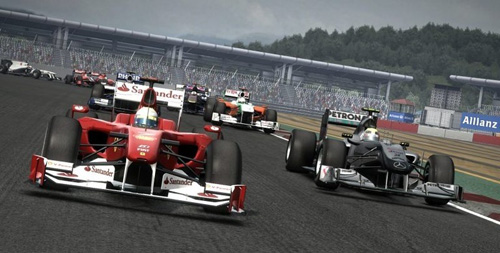 One track mind
That privilege is earned both on-track and in the garage. Much more than just driver, you're the cog in the engineering feedback loop. Race weekends start with hour-long practice sessions, where you can familiarise yourself with the track and conditions, choose appropriate car set-up and tyres, even snoop on your team mate's drive. Once ready, it's head first into the tension of timed qualification, where you jockey for grid position and fine-tune your set-up ahead of the race.
Catering for all preferences
Codemasters knows when to hit the throttle and when to apply the breaks: immersion is entirely scalable. Comfortable with the track? No problem, skip to qualification. Posted an excellent time? Fast forward to see if anyone's close. Got the stamina for the full race? Choose all 70 laps. Prefer to keep it short and sweet? Opt for 20 per cent, or 14 laps.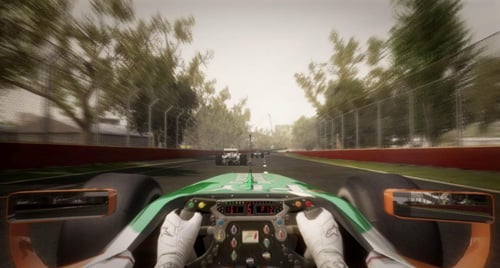 Coming up behind with a cockpit
There's also a range of difficulty levels catering for all preferences, and a wide variety of online modes, such as party time-trials, or the heavily customisable Grand Prix for up to 12 players.
F1 2010 is not perfect. A few minor flaws add to those inherent to Formula One. In-car instructions given by your pit boss have limited variation, and begin to grate after a while. There's also no live data from real-world F1 races – as in EA's sporting titles. And, perhaps most disappointingly, on easier settings, Career Mode places you in a competitive car, whereas earning one by working up through the teams would offer a more satisfying challenge.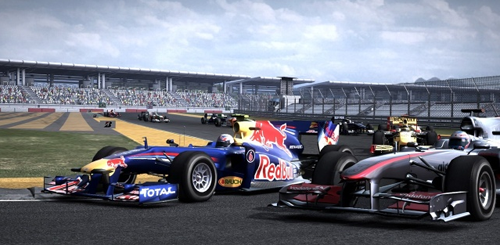 F1 tracks, more bends than Uri Geller
Verdict
These minor failings should come as no surprise, given that F1 2010 is the first game in what will likely be a new franchise, with annual improvements expected as in the EA Sports titles. And it will come as no surprise that this first game is such a success, given Codemasters' pedigree in other racing formats.
It's unlikely that F1 2010 will win over the majority of racing buffs, given the format's idiosyncrasies. But for true F1 fans, and a few converts won over by this most assured of starts, the future looks equally as bright for Codemasters' latest driving franchise as it does for the actual sport itself. ®
More Games Reviews

Dead Rising
2
RUSE
Halo:
Reach
Tom Clancy's
Hawx 2