Original URL: https://www.theregister.co.uk/2010/09/30/verizon_offers_droid_r2_d2/
Verizon courts Star Wars set with Droid R2-D2
Force or farce?
Posted in Personal Tech, 30th September 2010 18:42 GMT
Beginning Thursday, stateside Star Wars fanbois with $249 to spare can arm themselves with "the highly anticipated limited edition Droid R2-D2 by Motorola," with service from wireless carrier Verizon.
"With a graphic design to look like the iconic Astromech Droid from the Star Wars Saga, the Droid R2-D2 by Motorola will be packaged in a custom box resembling carbonite and come with a Star Wars media dock and wired stereo headset," effuses Motorola and Verizon's joint announcement.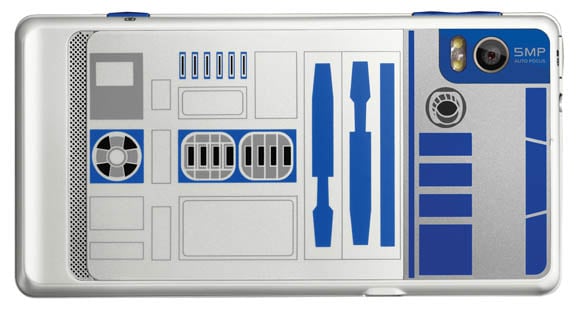 The Droid R2-D2 bears a passing resemblance to C-3PO's wee buddy, lying on his side
Before you get too excited about owning a handset with a holographic projector, however, know that the "highly anticipated" device is merely a repackaged Android-based Motorola Droid 2 bundled with Star Wars–specific software.
You'll also need to subscribe to either Verizon's Nationwide Talk or Nationwide Talk & Text plans, which start at $39.99 per month, along with the carrier's Email and Web for Smartphone plan, which starts at $29.99.
You can find more information after enduring a cheesy opening animation on Verizon's Droid R2-D2 website.
Since leaving his homeworld of Naboo in the service of Queen Padmé Amidala, R2-D2 has earned more than his share of the sincerest form of flattery — Motorola and Verizon's being only the most recent.
The marketing wünderkind has had — actually, as Thursday's announcement proves, continues to have — an astonishing career. His robotic-but-undeniably-cute likeness has been used to sell a broad array of products, including — but, The Force knows, not limited to — watches, voice-activated robot toys, halloween costumes for nippers, media players (complete with projector), USB hubs, pepper mills, backpacks, and — of course — the inevitable bobble-heads. ®