Original URL: https://www.theregister.co.uk/2010/09/30/uk_pay_awards/
Pay rises up thanks to recovery and inflation
What are you worth?
Posted in Business, 30th September 2010 04:00 GMT
Pay rises in the private sector are on the increase again as firms start to feel the benefit of economic recovery.
Media pay rises are running at around two per cent this year, with over half between two and three per cent. Most staff expect bigger rises next year. Those in the public sector are likely to be less happy - median pay rises are zero, despite some increases for groups at the end of long-term deals.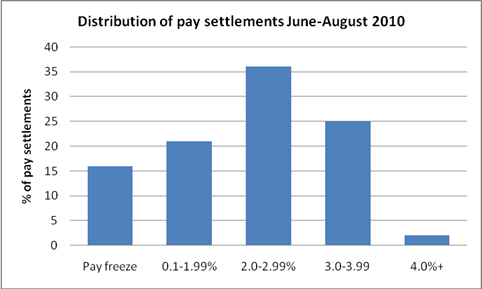 There will more pressure on employers to increase pay because inflation is expected to be about four per cent between January and April next year - key months for most negotiations and pay agreements.
A sample of 300 firms found that over half of them did not freeze pay in either 2009 or 2010.
Researchers predicted private sector pay awards could range around three per cent by the end of 2011, if the recovery continues.
The numbers come from IDSPay.co.uk. The full survey will cost you £100. ®