Original URL: http://www.theregister.co.uk/2010/09/30/review_e_book_reader_samsung_e60/
Samsung E60 e-book reader
iPad envy? Newton envy more like...
Posted in Personal Tech, 30th September 2010 12:08 GMT
Review I once took possession of an Apple Newton MessagePad. I still have it, and occasionally waste a pack of four AAs for old times' sake to remind myself what handheld computing was like back in the mid-1990s. I get the same sense of nostalgia using Samsung's e-book reader, the E60.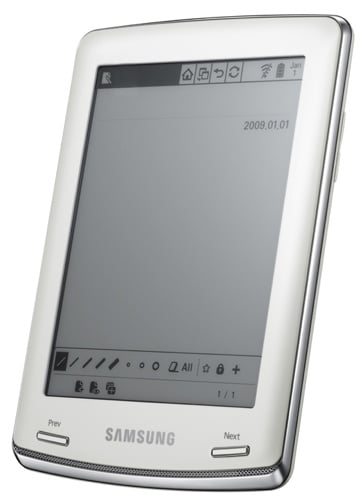 Samsung's E60: cream'n'chrome, anyone?
Part of that is down to the monochrome E Ink display, but that would be true of any dedicated e-book reader. However, Samsung also appears to have looked back rather than forward. So though the E60 has a touchscreen, it's one that requires a stylus to operate. Even Windows Mobile phones don't force plastic pens on their owners any longer.
To be fair, there's a reason why a stylus is included: the E60 allows you to pen your own marginalia. And if you don't need to digitally deface your e-books, you can push up the screen to reveal the reader's five-way navpad, along with the gadget's two speakers and a quartet of buttons, including the bizarrely named 'EmoLink', which sounds like a dating service for Goths but is a device-to-device file sharing system.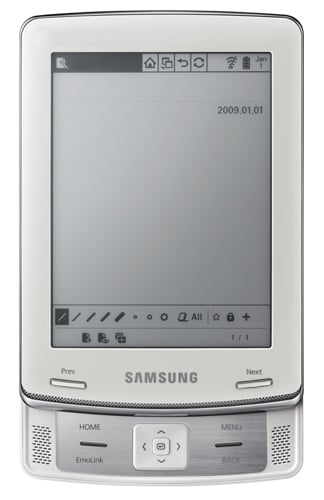 The slider used to hide the navpad only adds to the reader's bulk
Incidentally, the slider mechanism makes the E60 much thicker than it needs to be - it's about as thick as three of the latest Sony Readers. Why not just put the navpad on the front? Everyone else does, and it's not going to put too many punters off. But whether you have to reach round the back for the stylus, or push up the slider, there are all these extra steps you need to walk to reach your content. That may have been fine in past times, but these days we expect to do so more quickly.
A la Recherche du Temps Perdu
Forget about the relative merits of LCD and E Ink screens and just think about usability, and with none of the tap-swipe-tap simplicity of the iPad, the E60 is so darn clunky, it feels like it's been in an attic since 1995.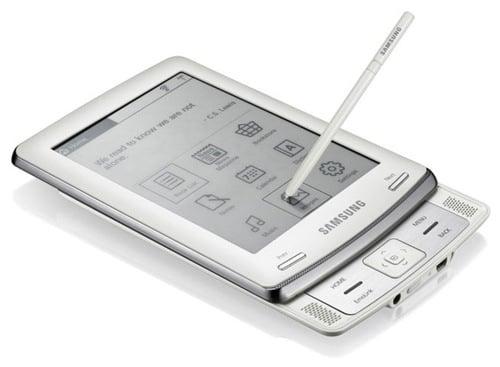 The stylus is necessary - and laggy
By all means include a stylus for writing, but not being able to navigate your digital library with a finger is a real retrograde step.
E Ink technology has two key factors to commend it - ultra-low power consumption and bright daylight legibility, though that bloody black screen flash every time it refreshes makes it no friend here - but it's not helped by Samsung overlaying a noticeably laggy touchscreen. Ink doesn't flow as quickly as the pen can move, and the range of drawing tools - five nib sizes, three sizes of eraser - would be at home on a Palm Pilot.
Couple that with the 2-3 seconds it takes the E60 to respond to any key press or stylus tap, and you have a gadget that will frustrate anyone who owns a modern smartphone or tablet.
In its favour, the E60 has 2GB of content storage on board and a Micro SD card slot for more. The slot, like the 5.6Wh, 1500mAh phone battery, sits behind a big slide up panel on the back. The reader also has 802.11b/g Wi-Fi and, should you need to listen to music while you read, a headphone socket. So why Samsung also added the pair of weedy speakers it has built into the E60 is anyone's guess. The E60's UI is straightforward, and its calendar can sync up with Microsoft Outlook.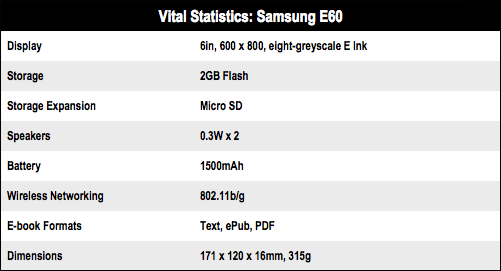 Screenshot Gallery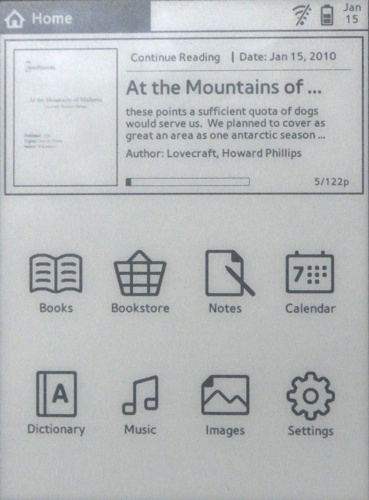 The main menu is straightforward enough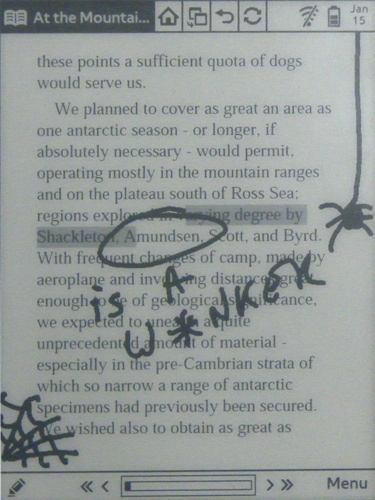 Scribble on your textbooks like you're back in High School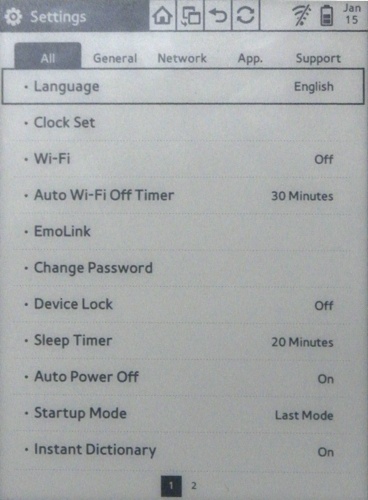 Settings can be view en masse or in groups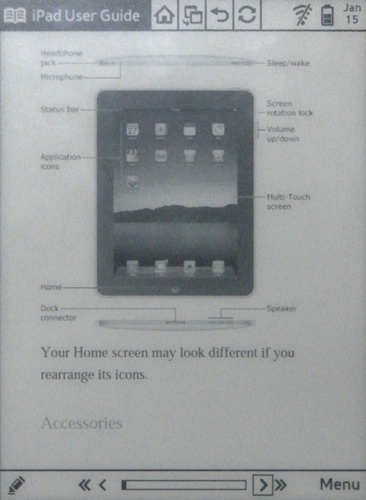 See the future in the past
Tome raider
And, yes, once you've opened an e-book, it does provide a decent reading experience, nicely presenting the ePub-format iPad User Guide I cheekily copied across. DRM-protected downloaded from iBooks showed up in the list and could be opened but no text or images appear - better, surely, not to present them to the user in the first place - and I couldn't view any PDFs, even unprotected ones, without first registering with Adobe Digital Editions, to which the main menu's Bookstore icon links.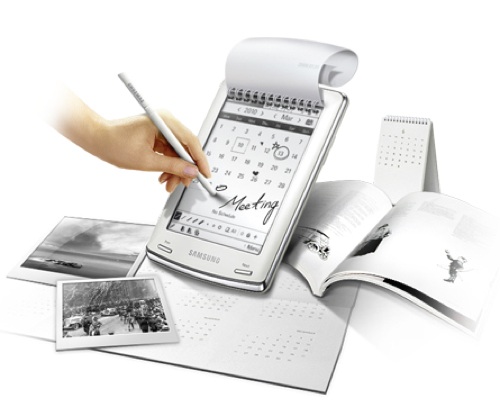 Well, on the review unit. E60s out in the field will go through to WHSmith's e-book shop instead. What this means for PDF viewing over here remains to be seen - I'm waiting to hear back from Samsung.
The manufacturer bundles a utility called Virtual Printer that converts documents into E60-frienldy forms. I couldn't try it - on a Samsung laptop, no less - because it won't run on a 64-bit OS. Another irritation: I tried to connect the E60 to the computer with two different mini USB cables I had handy because they're used with a couple of external hard drives, but neither cord would work with the E60. Only the one in the box would do, even though it appears no different from the others.
WHSmith is selling the E60 online for £199, which is considerably closer to what it's worth than the £300 list price the site claims Samsung reckons it should be sold for. Over-engineering always ups the price - just ask Newton buyers...
Verdict
Samsung could have produced a simple, slim gadget to display e-books, but instead it over-engineered the E60 in a bid to beat the opposition. The result is a chunky, clunky device the looks backward rather than forward and is expensive too. Two or three years ago, it would have been great. Now it just grates. ®