Original URL: https://www.theregister.co.uk/2010/09/30/apple_tv_teardown/
Apple TV stripdown reveals mystery solder pads
Future iPad innards?
Posted in Policy, 30th September 2010 05:00 GMT
Photos Apple's new second-generation Apple TV is easy to take apart, easy to repair, and its guts may be poised for significant upgrades – or even double duty.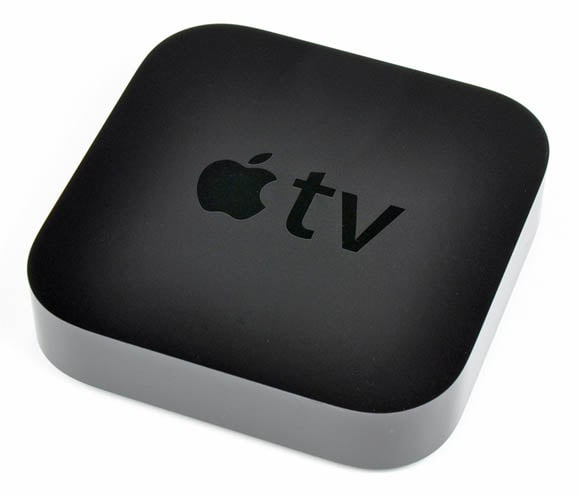 Apple TV: small, black, plastic, and containing the soul of an iPad
So discovered the repair-heads at the tools, parts, and tips website iFixit when they disassembled the pint-sized home-entertainment streamer.
Once inside, iFixit made the rumor-inducing discovery of a solder pad on one side of the logic board that, in iFixit's exuberant words, "look to be a *perfect* match for a dock connector!"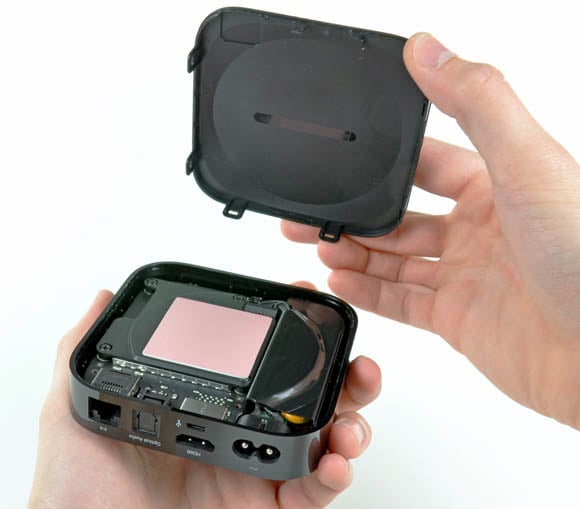 "After some careful prying", a pink thermal-conduction pad is revealed — odd for an all-plastic case
One might posit that the Apple TV may someday include a port for Apple's standard 30-pin dock connector as is used on the iPhone/Pod/Pad. This might let you connect to USB-equipped computing devices and view content on a television connected to the Apple TV through its HDMI port.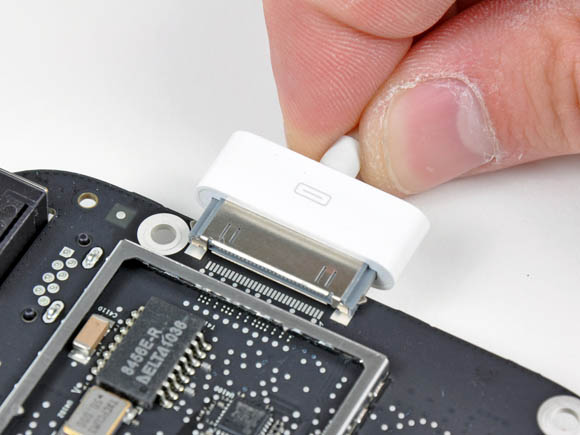 The matchup between Apple standard dock connecter and the Apple TV solder pads is "*perfect*"
But allowing that capability would weaken the Apple TV's money-making capability by circumventing streaming from Apple's movie and video service — and as we've repeatedly said, Apple has never met a revenue stream it didn't like.
A different idea
The iFixit crew have a different idea: "Perhaps this logic board will be used in future iPads?"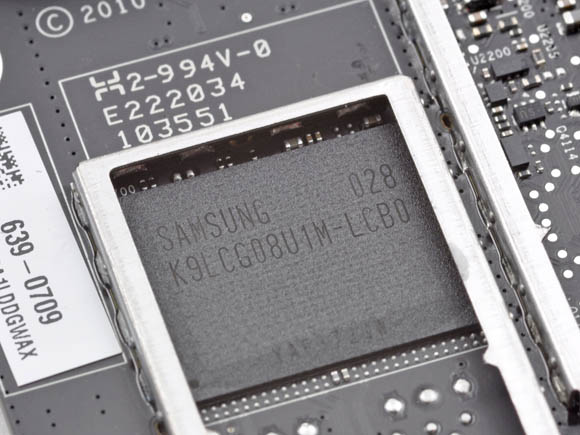 8GB of flash storage may not be much, but there's room for more
Furthering the iPad comparison is the fact that the Apple TV packs 256MB of RAM (just like the iPad) and Apple's A4 processor (just like the iPad). There's also 8GB of flash storage, which is only half that of the low-end iPad — but there's an empty socket right next to it that would be "*perfect*" for another flash-RAM chip.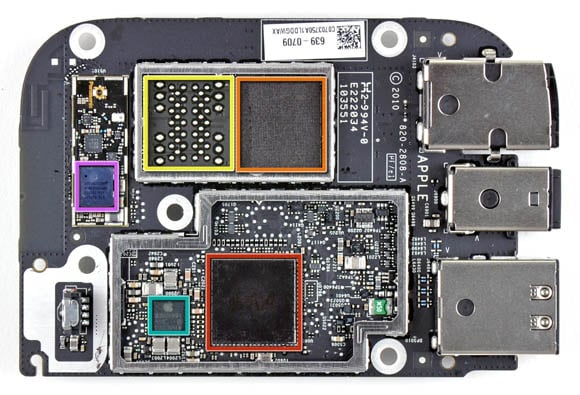 The Apple TV and the iPad share many of the same innards
iFixit's color-keyed photo of the Apple TV logic board reveals:
red: the A4 processor
orange: the 8GB Samsung flash RAM
yellow: the aforementioned possible extra flash-RAM socket
lavender with a trace of mauve: Broadcom BCM4329XKUBG 802.11n, Bluetooth 2.1+EDR, and FM chip
teal with a hint of celadon: Apple 338S0891 chip — no further identification provided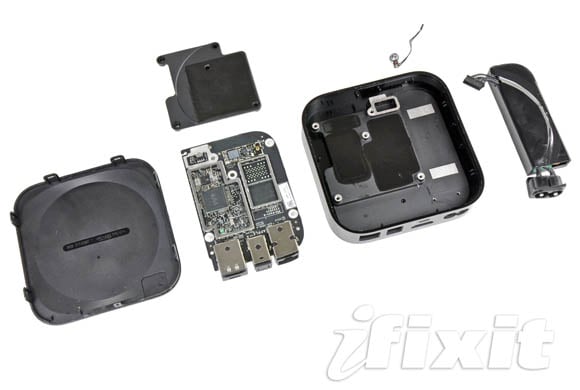 There's not much to worry about inside the Apple TV
Being easy to open and repair, and needing only a trickle of power to operate, the Apple TV earned iFixit's hearty praise as possibly "the most eco-friendly set-top box of all time!"
You can find many more details and many more photos — 29 in all — on iFixit's website. ®