Original URL: https://www.theregister.co.uk/2010/09/29/games_review_dead_rising_2/
Dead Rising 2
Yawn of the Dead?
Posted in Personal Tech, 29th September 2010 12:00 GMT
Review Zombies, I love 'em. Sometime during my acne years in the mid-1980s I became obsessed after chancing upon Night of the Living Dead and Dawn of the Dead in a late-night Channel 4 horror season.
If I hadn't messed up the timed recording of Day of the Dead a week later, my fascination with the undead might have... well... died there and then. But, spared the crushingly disappointing denouement to Romero's trilogy, and too young to lay my hands on video nasties, my burgeoning obsession went unchecked.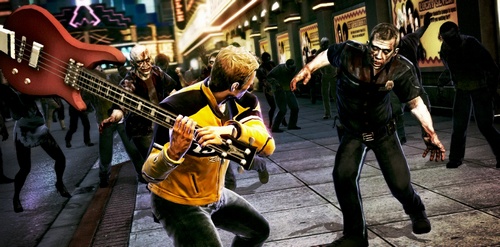 Spank the plank
Over recent years I've endured disappointment after disappointment, with only a handful of notable exceptions preventing disenchantment. But while 28 Days Later and Zach Snyder's re-imagining of Dawn of the Dead lifted my spirits, I believe the greatest zombie movie is yet to be made.
[Yes it has: Shaun of the Dead - Ed]
The undead have, fortunately, fared better in videogames. No slouches in shifting units, zombies have starred in some excellent games, with Resident Evil 4, the Left 4 Dead games and World at War's Nacht der Untoten the stand-out titles.
One title that didn't quite make the grade, however, was Dead Rising, Capcom's 360 exclusive. A modest critical and commercial success in 2006, the game split opinion as either cult classic or buggy, esoteric nightmare.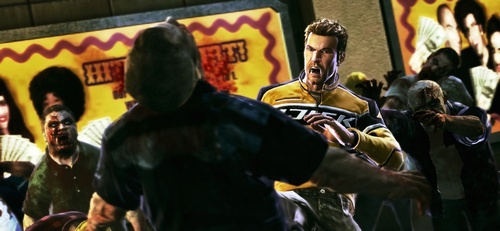 Dying to eat you
That same dichotomy will decide the fate of Dead Rising 2. Because, for all intents and purposes, the second outing is not so much a sequel as an out-and-out reproduction of the first. Any expectations that an overhaul would result from the change in development hands to Blue Castle Games slowly fade away with the slog through hours of repetitive gameplay punctuated with punishingly difficult boss battles.
Change is minimal
OK, so some things have changed. There's a new protagonist, Chuck Greene, embroiled in a second outbreak in Fortune City – Las Vegas in all but name - while trying to obtain Zombrex, a zombie virus inhibitor, for his infected daughter Katie.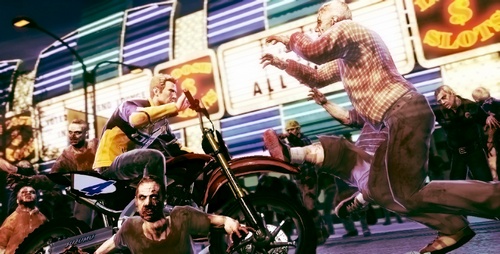 Easy riser
There are also combinable weapons, which provide even more gratuitous zombie-slaying. Most importantly, an increased number of save rooms and save slots lessen the difficulty slightly. But these changes aside, gameplay remains identical, even retaining the original's many flaws.
Time is Dead Rising 2's most divisive inheritance. With just over 72 hours to uncover the cause of the outbreak, provide Katie's daily dose of Zombrex and save as many survivors as possible, zombies feel less less threatening than the ticking clock. Ripping your gullet out with their hands and teeth isn't your primary fear; it's simply having your progress slowed when overwhelmed by the shambling horde.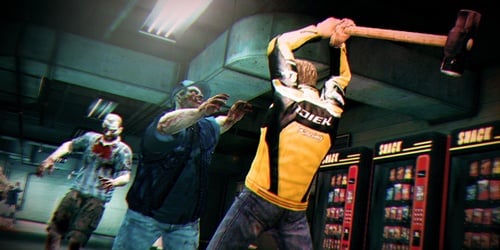 Stop! Hammer time
Thus the key to success remains avoidance rather than confrontation, not least because of awkward and imprecise controls, which are especially noticeable when rescuing survivors. Although NPCs benefit from improved AI, they still struggle through the horde and pick fights for no obvious reason. Worse still, they occasionally get stuck the wrong side of a loading screen, even when right behind you as you exit an area.
Burdensome boss battles
If avoidance is advised for zombies, it's downright admonished for psychopaths - powerful, fast-moving nutjobs who've lost it amid the outbreak. Chuck is clumsy enough, his special moves invariably ending in a stutter and a corpse snacking on his neck, but against psychopaths his stilted movements make it feel like he's the one who's a lurching, brainless cadaver.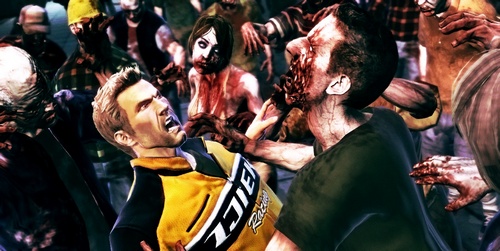 Flesh food is important - must have five a day
Of course, unevenly matched, overly prescriptive boss battles are standard Capcom fare. But the poor controls exacerbate to the point where only attritional bludgeoning and repeated restoring of health seems effective, especially against the final boss - virtually impossible, even by Capcom's infamous standards. But at least the increased number of save points reduces the trudge back after failure.
Levelling up also helps, but lags behind the difficulty curve on the first playthrough. Prestige Points return to provide increased strength, speed, item slots and special moves. Along with combo weapons, this system drives the Dead Rising 2 experience. And, in truth, it's an enjoyable aspect of the game. Left to your own devices, there's a lot of fun to be had levelling-up as you explore Fortune City, especially if a second player dips in for some co-op. But even at your leisure, Dead Rising 2 remains just too similar to the original.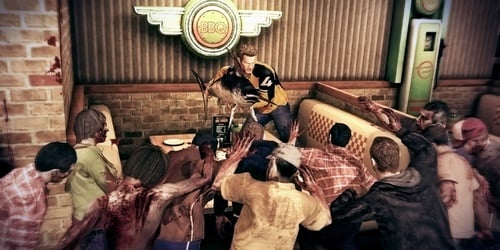 You want a big bite? Catch it!
Verdict
In Dawn of the Dead, the zombies are compelled to return to the mall through some kind of instinct - a memory of what they used to do. For a few gamers that might be reason enough to pick up Dead Rising 2, and for a few of those even reason enough to enjoy it. But for those, like me, who struggled with the original's glitches and mechanics, the sequel does little, if nothing, to improve the experience.
And for those who missed Dead Rising first time around - and haven't been dissuaded by my review – do yourself a favour and pick up the original for a few pounds, rather than wasting your money on this full-priced sequel. ®
More Games Reviews

RUSE
Halo:
Reach
Tom Clancy's
Hawx 2
Mafia
II