Original URL: https://www.theregister.co.uk/2010/09/29/aai_transformer_tx_award/
Flying gyrocopter jump-jeep gets $3m from DARPA
VTOL Humvee/autogyro/plane combo aimed at US Marines
Posted in Science, 29th September 2010 12:51 GMT
More news out of the US military's "Transformer TX" flying car project today, as an alliance of aviation firms is awarded initial funds to start work on a combination of 4x4 Chelsea tractor and autogyro jump-copter.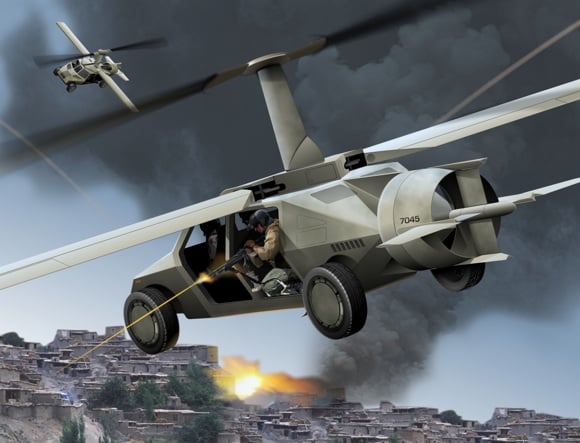 If they shoot the wings off we've still got the rotors
According to an official contract notification issued yesterday, AAI Corporation (a unit of US defence mammoth Textron) will receive $3,049,562 to begin work on the Transformer TX project.
Transformer TX, as we have previously reported, is intended to produce a vehicle able to drive on the ground with similar performance to a Humvee or other offroad vehicle. It must also be able to take off vertically with 1,000lb of passengers and payload aboard and fly about at altitudes up to 10,000 feet at speeds equivalent to normal light aircraft.
Perhaps best of all, the Transformer TX is also intended to be fully automated, capable of flying itself with only the most basic guidance from its human operator - who would not, therefore, need to be a highly trained pilot.
In other words, then, a flying car - and quite possibly one that anybody could use. But how will it work?
Various contenders have come forward for Transformer TX, including the Tyrannos ring-wing fancraft concept, and others which are more or less just helicopters with better wheels. AAI, however, intend to make use of the jumpcopter autogyroplane plan developed by CarterCopter. Various cunning personal aircraft have been designed and even tested by CarterCopter over the years, but mainstream backing was absent until 2009, when AAI bought the unmanned-aircraft rights to the firm's "slow rotor/compound" (SR/C) tech.
The SR/C idea is basically a winged, propellor-driven light aeroplane with a set of free-spinning autogyro rotors on top. It's not a helicopter: the engine can't drive the rotors in flight, and a sustained hover isn't possible. Nonetheless, though, the CarterCopter can take off vertically as required by Transformer TX rules.
It does this by having weighted rotor tips, meaning that a lot of energy can be stored in the spinning blades (rather as in a flywheel). Sitting on the ground, a small engine-driven "pre-rotator" assembly can gradually spin the rotors up to high speed. The pre-rotator, pleasingly, doesn't have to transmit a lot of power - thus it is lightweight, cheap and simple compared to a helicopter's transmission. Nor is the engine required to deliver the massive grunt required to keep chopper blades spinning hard enough to support the aircraft.
Once the rotors are at takeoff speed, the pre-rotator is declutched, the prop engaged and the pitch of the rotors pulled in so that they start to bite air. As they slow down, the energy stored in their whirling weighted tips blasts air down through the disc and the aircraft leaps vertically into the air in a "jump takeoff".
You thought it looked ungainly in the air?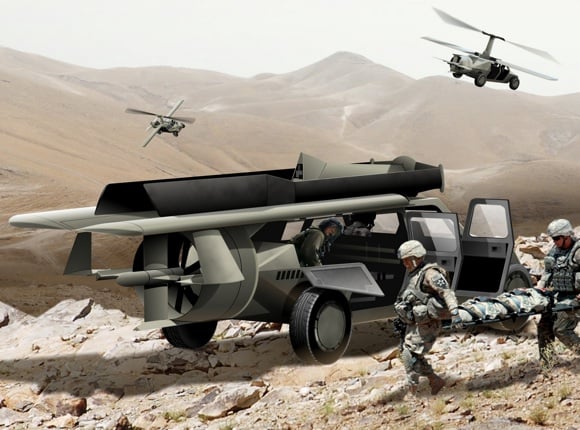 BA here doesn't like to fly
Left to itself the aircraft would soon come down again as the rotors lost energy (it wouldn't crash, though, as more pitch could be used during descent, dumping the kinetic energy of the falling copter into the rotor disc again and allowing a soft landing - this is how ordinary helicopters cope with an engine failure). But an SR/C CarterCopter, having made its jump liftoff, accelerates forward using prop thrust. Even a low forward speed makes the rotors spin on their own and generate lift, and the machine is flying like an autogyro. As speed increases still more, the load gradually shifts from rotors to wings and the craft is in aeroplane mode.
To make a vertical landing, a CarterCopter simply autorotates down like a normal helicopter that has lost engine power: the descent speed is arrested just before landing by increasing pitch and so making the blades whirl much faster.
As Transformer TX, AAI would build a more powerful CarterCopter with a ducted prop driven by a gas turbine, able to fold its wings and rotor mast for ground travel. In ground mode the turbine would drive the wheels using an electric transmission.
According to Aviation Week, AAI has allied with other companies as well as CarterCopter for the Transformer TX project. Terrafugia, builder of the Transition roadable-plane project, is on board - probably for their expertise in folding wings. Bell Helicopter and Textron's light armoured vehicles unit are also on the team.
The Transformer TX is nominally intended for service with the US Marines, offering aviation capability to small combat units not big enough to have attached aircraft. Though the jarheads* are famously much more fond of wacky hover aircraft than other armed services (they were key backers of the Harrier and its successor the F-35B, not to mention the famous V-22 Osprey tiltrotor), even they aren't mad enough to have kicked off Transformer TX.
The agency behind Transformer TX, as regular readers will be well aware, is of course DARPA - apparently taking a break from its usual mission of developing the machine warriors which will one day rebel against humanity and exterminate us all.
It would be standard DARPA practice at this stage of a project to award funds to more than one contending design team, so as to select the most promising plan later: other Transformer TX awards for different craft can be expected. Rumour has it that Lockheed Martin's famous "Skunk Works" advanced-projects shop will also make the initial cut, though as yet no details of their machine have been made public.
It's all good news for those of us still hoping, after so many decades of disappointment, for our flying cars. It's early days yet for Transformer TX, however. ®
*US Marines are so called by other servicemen for the extreme commitment they show towards having no hair on the sides of their heads and a sharply defined, somewhat jar-lid-like disc of very short stubble on top. No amount of angry emails will deter your correspondent - an 11-year Royal Navy man back in the day - from using this term, so any offended jarheads or ex-jarheads out there may as well not bother writing in.