Original URL: https://www.theregister.co.uk/2010/09/28/review_portable_audio_recorder_olympus_ls_5/
Olympus LS-5 linear PCM recorder
Sound idea?
Posted in Personal Tech, 28th September 2010 07:00 GMT
Review The Olympus LS-5 is a solid-state stereo audio recorder with 2GB internal storage and support for SDHC card expansion up to 32GB. About the size of a domestic phone, it looks the business and also looks strikingly similar to the LS-10 Reg Hardware reviewed a couple of years ago. Indeed, the blue hue of the LS-5 is really the only giveaway here.

Listen again: Olympus' LS-5 portable audio recorder
So what's the big noise about this recent addition then? As far as spec comparisons go, blink and you'll miss it. The two recorders are pretty much identical in terms of operation and performance. The chunky built-in angled stereo mics can capture uncompressed WAV audio at 96kHz with a 24-bit resolution dropping down incrementally to 44.1kHz/16-bit.
For longer recording times, MP3 recording is available at 320, 256 and 128kbps. And if you really need to push it, there's WMA at 160, 128 and 64kbps. New with the LS-5 though, is mono recording. This slices the file size in half, effectively doubling the recording time. Choosing mono will record the lowest resolution for the selected file format, alas, you can't notch up a 96kHz/24-bit file in this mode, but with the internal storage alone, you can record for 26hrs 40mins in WMA mode, but would you ever listen back?
The LS-10 has a remote control as standard now, but the LS-5 goes without. It doesn't include the protective zip-up pouch or Cubase 4 LE either, but instead comes with Sonority – Olympus' own content management and audio editing application. As the modus operandi of the LS-series really owes a lot to the rather less ambitious voice recorders Olympus produces, don't get too excited about Sonority.
Still, it's interesting to see that Olympus decided to go the extra mile with this application, as it supports both Macs and Windows PCs. A significant feature of the LS-5 is the device's USB mode options: Storage and Audio. With the former, Sonority can access LS-5 files and transfer them – on the Mac, the internal storage also appears on the desktop, if you prefer to simply drag and drop.
Sound Check
Audio mode is rather more interesting because it turns the LS-5 into a USB microphone. However, tests in this mode proved rather unreliable. When recording in both Sonority and Garageband, rather granular distortion crept in and wandered off again like dodgy FM reception. The buffering latency also went a bit haywire, going from its default delay at the bounds of acceptability to about half a second, with some noise added for good measure, and then back to normal again. Work in progress, evidently.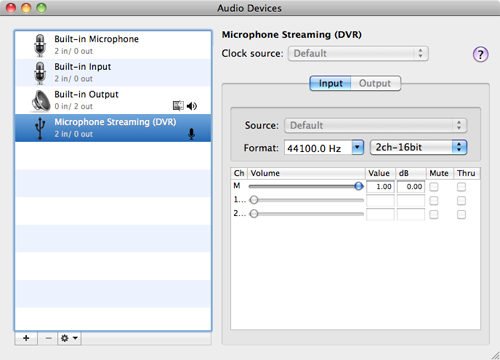 In Audio mode, the recorder can function as a USB stereo microphone
Talking of which, use Sonority for any length of time and you'll come to the conclusion that people who design dictation machines really have no idea about what makes a good audio editor. While this application does, surprisingly, allow layering of multiple tracks, it doesn't have a loop/cycle function. It has a sprinkling of effects yet has the audacity to charge for more useful effects that the open source application, er, Audacity offers for free.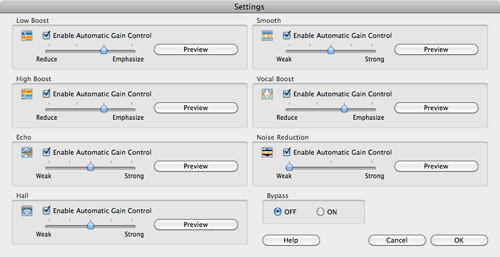 Sonority: a bit of a clanger really – the effects offered for free are barely adequate
Click for a larger image
Also, if you fancy recording directly using the LS-5 as a USB mic, the only way you know what the input levels are, is when you start recording. Prior to that, there's no input monitoring or pause/standby function. The real killer is playback. Hit the spacebar and away it goes, hit again – it's going to stop, right? Nope, it keeps playing. It's Shift-Spacebar to stop. WTF? Somebody at Olympus needs shooting, and given that this division works with dictators, you never know your luck.
As a standalone recorder, the performance is pretty much identical to the LS-10. Choose the right mode and recording is clean and well-defined and easily configured, thanks to the handy controls on the side for recording level, along with switches for mic sensitivity and low cut filter.
Transport Dispute
The high-resolution recording has audiophile appeal, but it's debatable whether audiophiles would choose this recorder because of its transport control shortcomings and sonically distressing speakers. Like the LS-10 – and, it appears, the forthcoming LS-11 – there is no audible fast forward/back facility to help search for a section.

What's worse than a nasty, tinny speaker..? Two of them
You get this level of functionality on an iPod and even MiniDisc gear before that, why not on a £200 audio recorder? Olympus describes the LS-5 as "delivering what musicians, journalists and podcasters have been waiting for…" but if you can't audibly shuttle during playback, then prepare for a lot of waiting to locate those sundry soundbites.
There are different mic modes, which are only available to the compressed audio and CD-quality 44.1kHz/16-bit settings, anything higher than that is verboten, as is the mono option. The mic effects should be handled with care, some modes introduce artefacts: Wide is airy, but somewhat gutless; Zoom is good for capturing conversation in noisy environments – offering background noise suppression – but not ideal for music given its filtering artefacts. Narrow also subdues ambient noise – but not as extreme as Zoom – and is a good compromise for challenging environments.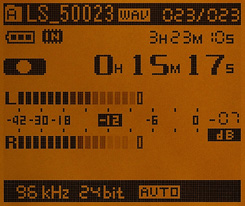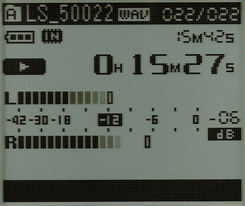 Identity crisis: when recording (left) resolution info is shown at the bottom,
but during playback (right) the only information you see is the file type at the top
Annoyingly, playback mode doesn't indicate any of the mic modes used nor the audio file resolution choices – just the file type appears at the top next to the cryptic file name. Yet at the bottom, the recording format details are shown along with icons depicting various mic mode settings. It's handy to be reminded of this, but during playback, this bottom line of recording info blanks out and really should be used show more about the actual file being heard. Still, the Function key can be assigned to jump to the Properties page that will provide file format information.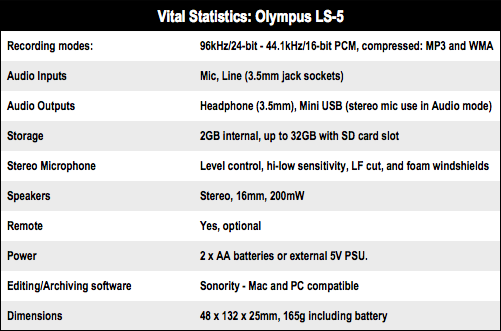 Gimmix! Play Loud
There are gimmicky reverb playback enhancements too, but alas, no bog standard equaliser. Even so, we have a capable portable recorder here, although the built-in stereo speakers still sound terrible. Powered by two AA batteries, the Olympus claim that they last for 23 hours is only for PCM audio recording, which is less demanding than the number crunching required for the compressed formats. Still, the recorder can run from an external PSU if needed for a long stretch.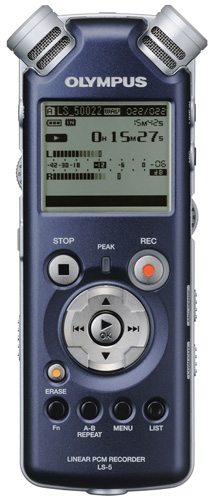 Sonically appealing, but lacks refinement as a standalone recorder
A new feature that can certainly help on longer form projects is the Audio Divide option that simply splits up the track at the point where you pause playback. Yet this function is a let down because it only works on PCM files, when it's the MP3 and WMA compressed options that offer longer recording times, but neither format can utilise this feature. Adding to the list of gripes, there's no track naming function, so the numbered recordings just have more numbers tacked on the end when divided. Indeed, the thinking seems to be to rely on the user with the editing software to do all the work, at the cost of offering better functionality on the device.
Verdict
The LS-5 shows that Olympus doesn't care to address the criticisms of the LS-10. The issue being that both the LS-5, and the LS-10 before it, are based on dictation machines. By making these models robust, and with a decent the sonic performance, Olympus believes that the LS-series has a place for musicians and audio professionals. Yet, operationally, the LS-5's hardware/software combo fails to address the demands of users at this level, and couldn't be described as a sound choice. ®
More Audio Gear Reviews…

Keene
USB FM
Transmitter
Apple
iPod Touch 4G
Bowers & Wilkins
P5
M-Audio
Pro Tools
Recording Studio