Original URL: http://www.theregister.co.uk/2010/09/27/review_laptop_toshiba_satellite_a66_15t/
Toshiba Satellite A660 16in laptop
Symmetry, we've heard of it
Posted in Personal Tech, 27th September 2010 13:00 GMT
Review Fitting a widescreen display into a laptop is all well and good, but it poses a problem: what do you do with all the empty space around the keyboard, now that the machines are so much bigger from one side to the other?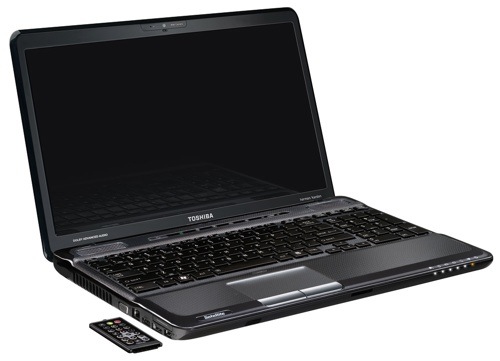 Toshiba's Satellite A660-15T: looks only a mother could love?
The original solution was to place a speaker either side of the keyboard, and that didn't look so bad with 16:10 aspect ratio screens. Screen aspect ratios have changed once more, to TV-like 16:9, but because their diagonal dimension hasn't, laptops are even wider now.
That leaves the keyboard looking as lost now on a 15.6in laptop as it used to do on an old 17in model. Abhorring a vacuum, designers have tried to do something about this, and a common approach, as adopted by Toshiba here, is to slot in a numeric pad.
Quite apart from the fact that this is unnecessary on a consumer-oriented machine, it has the effect of pushing the trackpad even further from the middle of the laptop's wrist rest area, making for a small space on the left but acres of room on the right.
Ergonomically, that may not be an issue, but aesthetically it leaves a lot to be desired and leaves the Satellite A660 seeming oddly out of kilter. Indeed, since you naturally sit facing the axis through the trackpad and main keyboard, you find yourself gravitating toward the left side of the screen.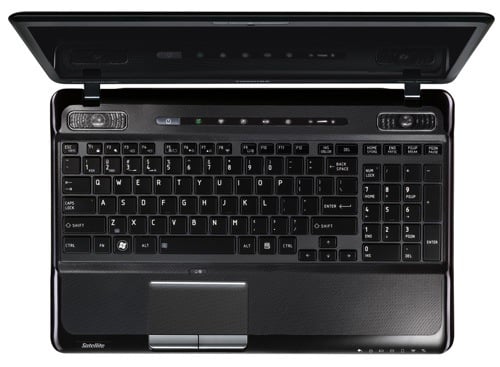 The way-to-the-left trackpad positions the user away from the centre of the screen
Combine that with the A660's mix of glossy black, matte black and textured black plastics, and you have a notebook that's never going to win any design awards.
It's what's inside that counts
Get past the looks, and the A660 has a lot to commend it. There are four USB 2.0 ports, one of which doubles up as an eSata connector, rather than the usual count of three, and an HDMI connector too.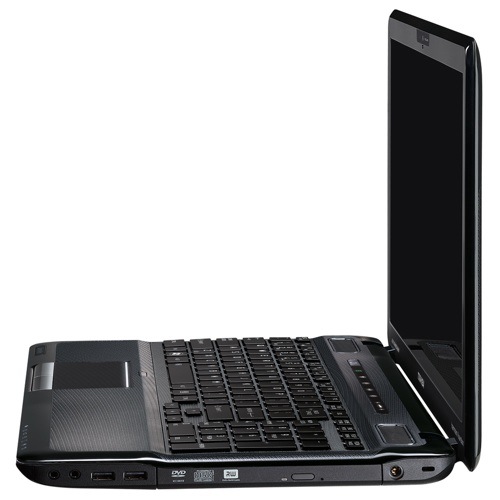 Avoid the Blu-ray version and save £££s
While including an ExpressCard 34 slot might not matter much to most folk, Toshiba equips the entertainment-oriented A660 with a wee Windows Media Center-friendly remote control that slips neatly into said slot when not required. That's an example of smart design that even Apple failed to manage in the days when it was shipping MacBook Pros with remotes.
I looked at the A660-15T variant, which packs in a Blu-ray drive and a four-core, eight-thread Intel Core i7-720QM processor, but Toshiba offers a range of i3, i5 and i7 CPUs. All the A660s come with 4GB of 1066MHz DDR 3 memory, SDXC-compatible card readers and 802.11n Wi-Fi, though, and most have 500GB hard drives - one model has a 320GB unit.
The glossy 16in screen is here driven by an Nvidia GeForce GT 330M GPU, but others have the GeForce G 310M or even Intel's CPU-integrated core, so check which you're getting before you buy.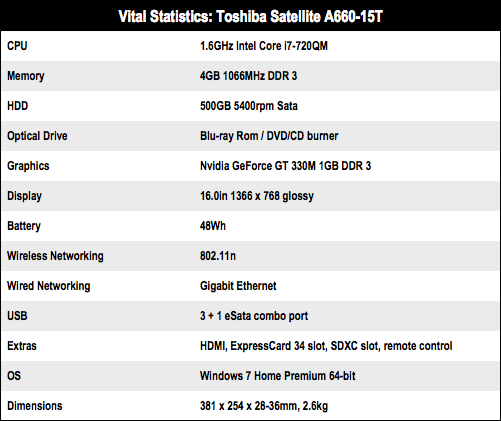 Pleasing performance
Despite the screen's physical size, the resolution is a meagre 1366 x 768, so the A660 shows no more on its big screen than my Asus Aspire 1810TZ does on its small, 11.6in panel.
The Core i7 and the GeForce GT 330M both ensure the A660-15T puts in a decent PCMark Vantage and an impressive 3DMark 06 performance, and the machine handled 720p and 1080p videos with ease. Gaming and movies? No problem. Music too, thanks to the upward-facing stereo speakers and down-pointing mini sub-woofer.
3DMark 06 Results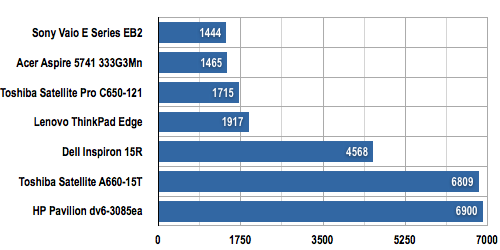 Longer bars are better
PCMark Vantage Loop Battery Life Test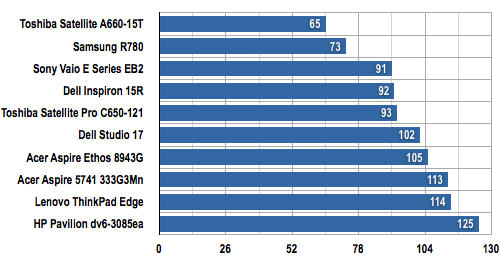 Battery life in Minutes
Longer bars are better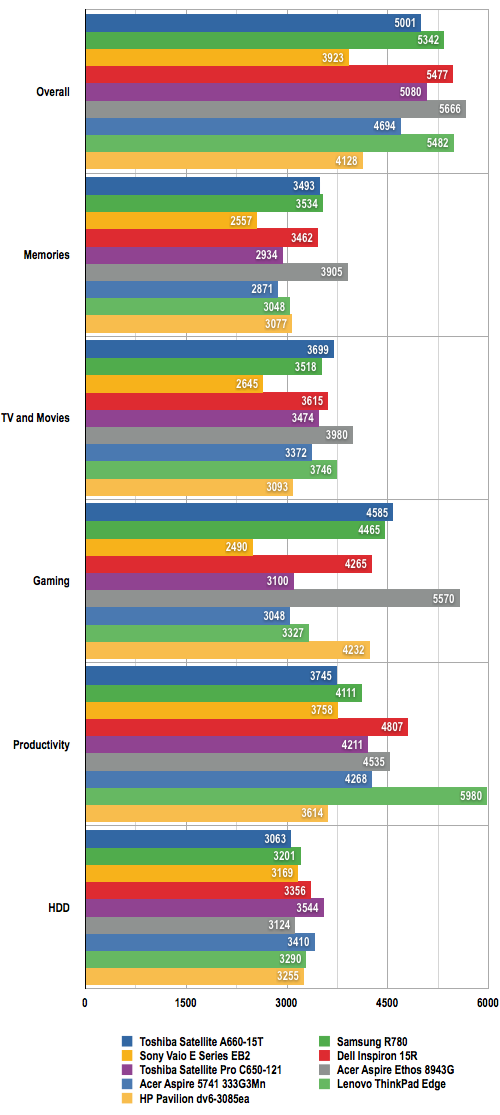 Longer bars are better
Better rivals
For folk who want to get some work done, the calculator-style keyboard isn't bad either thanks to its solid underpinning. The trackpad is large and can do multi-touch. You can also disable it by pressing a small button above it, and this also turns off the unnecessary illuminated strip at the top of trackpad.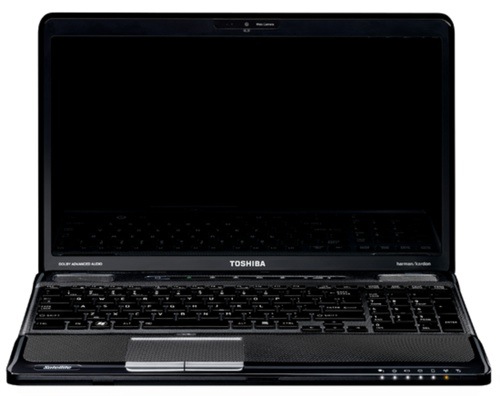 Oddly askew
Speaking of illumination, there's a strip of touch-sensitive keys above the keyboard, including play/pause, volume controls and a wireless on/off switch. They all require a firm push to activate, but seem placed more for design reasons than utility.
Tinkerers will be pleased to learn that both of the A660's DIMM slots and its hard drive are accessible through hatches in the base plate. The 48Wh battery isn't large and doesn't deliver much in the way of extended runtime. I got just over an hour while running Reg Hardware's usual PCMark Vantage loop test - barely worth bothering with.
The A660-15T on test will set you back around £900, which isn't good value. The A660-11M, which is the 15T without BD compatibility, is a much more reasonable £799. You can shave a lot more off by opting for a lesser CPU, taking the price down to well under £600. But if we have 800 quid to spend, we'd go for HP's Pavilion dv6 - reviewed here - which delivers better performance and looks nattier too.
Verdict
Toshiba's Satellite A660 has looks that only a mother could love and lousy battery life, but at least delivers performance and a good range of capabilities. ®
More Notebooks Reviews

Back-to-college
15inchers
Apple
MacBook Pro
15in
Samsung
R780
HP Pavilion
dv6