Original URL: https://www.theregister.co.uk/2010/09/27/review_gadget_keene_usb_fm_transmitter/
Keene USB FM Transmitter
Wireless music for 15 quid, surely not?
Posted in Personal Tech, 27th September 2010 07:00 GMT
Review While we're all being encouraged adopt to DAB and dump our FM radios, these sonic stalwarts from the analogue era may well get a second wind, at least if the likes of Keene's USB FM Transmitter catch on.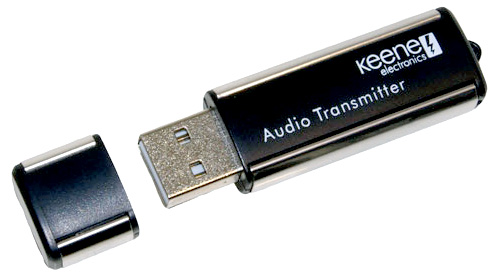 Keene's USB FM Transmitter: for the wireless, not Wi-Fi
What the Keene USB FM Transmitter offers is more akin to a Wi-Fi streaming set-up but uses FM to propagate the broadcasting instead. The device simply transmits the audio output from your Windows PC using a USB dongle no bigger than a typical flash drive. The idea is not exactly new, with iPods having had transmitter adapters such as Griffin's iTrip to use in conjunction with car radios for some time now.
However, with this device, no matter what's playing on your Windows PC – be it iTunes, an Internet radio station, a CD or even the soundtrack from a favourite music DVD – your household FM tuners can receive it.
The Keene USB FM Transmitter comes with one of those godawful mini CDs to run the Windows installer from, but thankfully, you can download the software from the product web page here. The USB Audio Transmitter application instals quickly and is fairly intuitive, even though the garbled graphics on the top left of the interface – that should show the application's name – appear rather confusing. The actual transmitter hardware comes with a 32in USB extender lead.
Before delving into the USB Audio Transmitter application, plug in the adapter and the hardware drivers should load. Now take a peek at the Windows Sound and Audio Devices control panel. The default Sound Playback must be set to B-Link USB Audio. With that option selected, you'll discover that you'll not get a peep out of your PC, you'll need to have an FM radio tuned in to hear it now.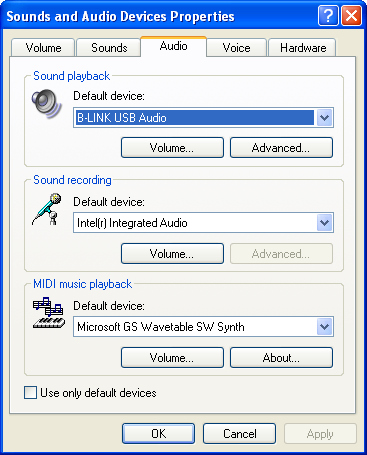 With the B-Link driver selected, the PC's audio output is routed to the transmitter
To configure the USB Audio Transmitter click the cog icon to get to the settings that offer various alternatives depending on location. You can select mono or stereo broadcasting here too and the TX Gain will vary the overall volume output. It's worth tweaking this if you're underwhelmed by how loud your reception is, but go too far and you'll hear distortion.
Back on the main interface there's the PA Value slider for signal strength, which the seven-page illustrated Word document posing as a manual recommends is set on maximum. There's a Play button too, which is more complex than it seems, but more on that in a moment. The two arrow keys set the broadcast frequency that appears in the display above, and the speaker icon mutes the output.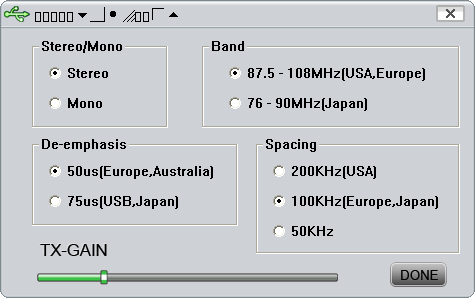 The transmitter software features broadcast options to suit receivers in different territories
When it comes to the Play button, the perceived wisdom is that it appears as a triangle when it's inactive. When playing, the icon toggles to show parallel lines to suggest you click on it if you want to pause the playback. Alas, this application has it round the wrong way. The triangle shows when it's playing, along with the broadcast frequency. When it's paused, the transport button and the frequency display changes to those parallel lines.
If you're the sort who takes the intuitive approach to set things up, you could be in for a bit of head scratching given this reversal of conventions. The easiest way to remember what mode you're in is, if you can see the frequency display, then you're broadcasting.
When you've chosen the frequency you want to broadcast on, you simply play whatever you fancy. Unlike an Internet radio, the choice is made from the computer and the tuned in FM radios are slaves to the rhythm. I tried out Internet radio stations from iTunes, shared media from my Nas, even the BBC's Listen Again service, testing with five different radios, all without a hitch. CDs played too, as did DVDs, the radios picking up the audio and presenting no lag whatsoever with A/V synchronisation during playback.
Within the home, the reception was quite good with just the TX Value needing pushing up slightly to match volume expectations. In most cases, interference could be dealt with by repositioning the receiving radio's aerial. There was even enough reach for garden listening; tuning in with a PMP. That said, the further the distance, then the fewer obstructions the better and if you wander about, interference does creep in. As with indoor use, it's really a matter of positioning for best reception.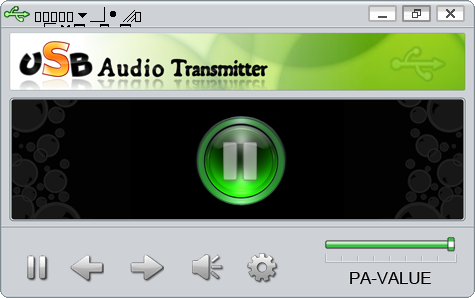 Playing dumb: the software's play/pause conventions are reversed
Sonically, there is some low level hiss present which, for the most part, is going to be buried by ambient noise in most listening environments. It was only during quiet passages with the amplification turned up loud that this became obvious, and most music will drown it anyway. Whines and buzzes were largely kept at bay by repositioning the transmitter wire – the device itself even has an eyelet at its end to hang it up with.

To broadcast, I'd chosen the higher end of the spectrum, leaving the BBC unfettered, but my choice still conflicted with another station which duly disappeared when the USB FM Transmitter was active. An interesting discovery was that clicking the mute option didn't cease broadcasting, which meant that, having successfully killed off Heart 106.2 FM, it didn't reappear as I was transmitting silence. It then occurred to me that if you have a very close neighbour from hell who regularly tunes in to some cacophonous channel, why not find the station frequency and treat them to the delights of John Cage's 4' 33" on a permanent loop?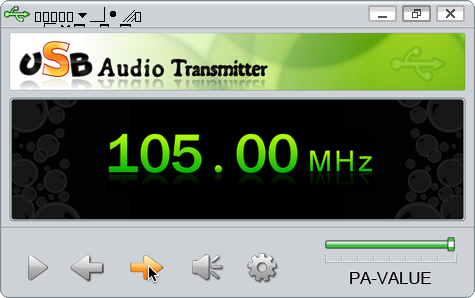 An undemanding, inexpensive and effective way to stream audio in the home
Even though it requires USB 2.0 interfacing, the USB Audio Transmitter is an undemanding application that even runs on Windows 2000. Using a PC card USB 2 adaptor I tested it on an old PIII Dell Latitude running Windows XP. It worked, no problem. Next was to try it on a Mac and, again, no problems with either Parallels or VMWare Fusion running XP. Still, it's a pity there's no native Mac or Linux software.
Now DAB radios alone are a different beast in terms of price and functionality but if, like me, you've a radio in every room, including the smallest one, kitting yourself out with digital alternatives throughout the home is a daunting prospect. And if you want battery operation to use a digital alternative in the bathroom, then the price of rechargeable power pack alone could buy at least six Matsui portable radios, the likes of which, for about a decade, has burbled at me while I shave – it runs off cells bought for a couple of quid from a street market and they last all year.
Verdict
For £15 here's an instant upgrade for the gear you already know and love. Sure you'll need to have a computer running, but that's hardly a novel requirement and it doesn't have to be a very powerful PC either. Any audio you can access on-line or play on your PC can be transmitted, so dad can Listen Again in the garage or a house full of impoverished students can tap into their favourite playlists, or the missus can twiddle her trusty Bush and listen to a podcast in the bath. It's not digital, but it's certainly listenable and, at this price, well worth a try. ®
More Wireless Music Gear Reviews...

Nokia
Home Music
Revo
Heritage
B & W
Zeppelin Mini
Logitech
Squeezebox
Radio