Original URL: http://www.theregister.co.uk/2010/09/24/review_smartphone_nokia_e5/
Nokia E5 Qwertyphone
Maps, snaps and office apps
Posted in Personal Tech, 24th September 2010 12:00 GMT
Review Under Nokia's new naming regime all future handsets will fall into one of four series; X for entertainment, N for high-end smartphones, C for consumer handsets and E for business and enterprise. Each handset's place within its series will be denoted by a number between 1 and 10.
Mid-range smartie: Nokia's E5
Given that naming convention, the E5 sits bang in the middle of Nokia's business range as a cheaper alternative to the E72 and 73 handsets. The design of the E5 is a subtle advance on that of the E72. Albeit a shade thicker, the E5 is lighter and, to my eyes, looks both sleeker and more modern.
Despite its largely plastic construction the E5 is well made with tight shut lines and not a hint of flex or creak, even under stress. To add some panache, brushed metal has been used for both the battery cover and the strip that surrounds the major controls.
Peripheral controls have been kept to a minimum. There is a very solid volume rocker on the right, a 2mm power socket, 3.5mm audio jack and covered micro USB on top and that's it. The MicroSD card slot is next to the Sim bay under the battery, which rules out hot-swapping.

Curiously it keeps the 2mm pin charging input rather than use the micro USB slot
The keyboard is very similar to the rather fine example used on the E72 with slightly rubberized and domed keys that help minimise typing errors. It also features three handy shortcuts that let you fire up Bluetooth, switch on the LED 'torch' and engage silent mode with a single long button push.
Focal point
The main changes are a space bar – which now stretches the width of four keys rather than two – and the removal of the E72's optical trackpad in favour of a more traditional navpad. No bad thing in my book, as I found the E72's pad too skittish. Under the hood, you will find a 600MHz ARM chip with 256MB of RAM – up from 128MB in the E72 – which means the E5 runs fast and can multi-task without slowing.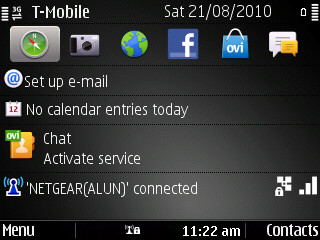 Home screen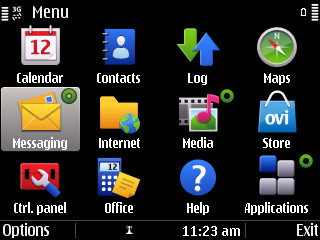 Main menu
The camera boasts the same 5Mp count as the E72 but is a fixed-focus unit. As far as basic phone cameras go the E5's is adequate but nothing more and the absence of a macro mode means shooting targets less than half a metre away is pretty pointless. The E5 lacks the 72's front facing VGA camera, but that is hardly a loss.
Click for a full-resolution image
The E5 uses the S60 3rd Edition Feature Pack 2 OS which, though looking a little long in the tooth, has the benefit of being familiar and reliable. It also caters for most business needs with an excellent phone book, support for multiple e-mail accounts, Lotus Notes Traveler and Microsoft Exchange and Office Communicator. Nokia also bundles a fully functioning installation of Quick Office.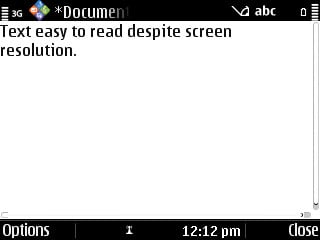 Quick Office WP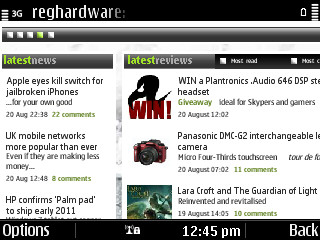 Web browsing
The screen is a 2.4in, 320 x 240 affair which lacks the E72's 16m colour palette and accelerometer, but works well in direct sunlight. Web pages are rendered well and easy to navigate using the D-pad, but browsing on a 2.4in screen is an inherently underwhelming experience, even with Flash.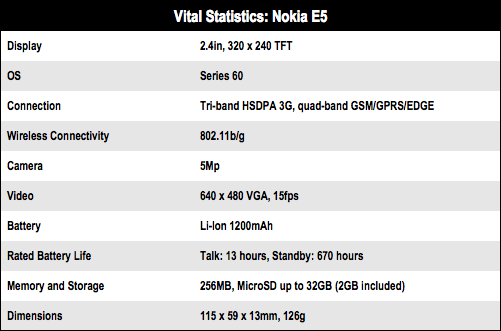 Using Ovi maps for turn-by-turn navigation is also a bit of a challenge with a screen this size. Likewise, social networking with is a bit of a chore with such limited acreage, and I can't see anyone using the rather stunted Facebook app regularly.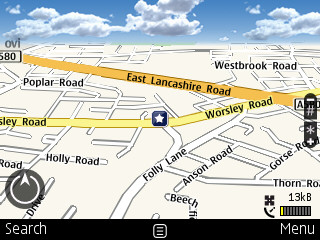 Ovi maps
The combined FM and Internet radio application deserves a mention in dispatches for being extremely easy to use and pleasant to listen to as does the UPnP/DLNA media streaming app. The 1200mAh battery is 300mAh smaller than that fitted to the E72 but I still got a solid two days between charges despite regular use of both the Bluetooth, Wi-Fi and GPS radios.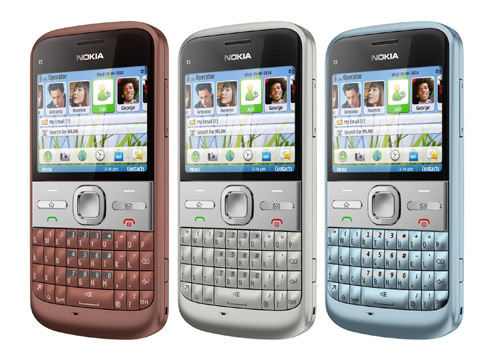 A few frills and does the basics well
Verdict
Signal reception and call quality were of a uniformly high standard and the speaker was both loud and clear. Say what you will about Nokia, it does have these basic aspects of handset design down pat. Orange is offering the E5 on contract for free, but to buy it Sim-free it'll set you back around £200 which, considering it has all the E72's core functionality but is around £60 less, I'd say the E5 is a better value handset. ®
More Mobile Phone Reviews

RIM
BlackBerry
Curve 3G 9300
Nokia
C3
Alcatel
OT-808
Motorola
Flipout