Original URL: https://www.theregister.co.uk/2010/09/24/100_per_cent_design_london_2010/
Design mavericks show and tell
Where else to get your salmon-skinned BMW X6?
Posted in Personal Tech, 24th September 2010 19:32 GMT
Video: 100% Design Smaller than last year, but still beautifully formed, 100% Design is back again, the highlight in the London Design Festival itinerary. Here, the way we do life is rethought with lateral takes on home and work environments. Prototypes abound with design concepts taking shape and new materials fashioned to deliver anything from eye candy to eco-friendliness.
This year's show has over 400 exhibitors with some areas set aside for different countries, among them Spain and Korea with Norway's stand being known as the Fjord Fiesta. With the emphasis on form and function, tech ideas have to make a difference to get noticed, so here's a taster of what's on offer.
Can't see the video? Download Flash Player from Adobe.com
Run Personal with Visioweb
A big step in treadmills, besides hooking up an iPod to watch movies or access other entertainment, the Run Personal's Visioweb addition includes a web browser so you walk and surf at the same time. Designed by Antonio Citterio, another first is the use of aluminium and glass in the construction of this type of fitness equipment. It costs £9,065 including delivery and installation, and is available from Harrods or directly or from Technogym.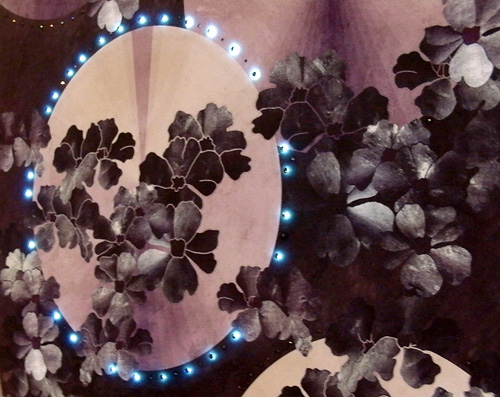 Cut and paste?
Storm Pendulum
Well it had to happen. LED wallpaper, anyone? Meystyle has taken its Swarovski crystal-encrusted products a stage further and offers a selection of LED wallpaper, such as the Storm Pendulum, pictured. It seems the days of glow stars in the kids' bedrooms are numbered, but with prices per roll in treble figures, it might be a while yet.
Can't see the video? Download Flash Player from Adobe.com
Gorilla Glass Crunch Test
Corning's Chris A. Nitz demonstrates Gorilla glass going up against standard and toughened glass samples to see if it's all it's cracked up to be. Used on screens on tablets, mobiles and rugged devices, the Gorilla glass comes through without a scratch, just the protective plastic cover gets a bit wrinkled.
Can't see the video? Download Flash Player from Adobe.com
Rako
Using an Apple iPad, Rako Controls director Peter Broome demonstrates how a range of the company's products – controlling interior lighting and blinds – can be operated from your fingertips. Check out the Rako iPad and iPhone app here.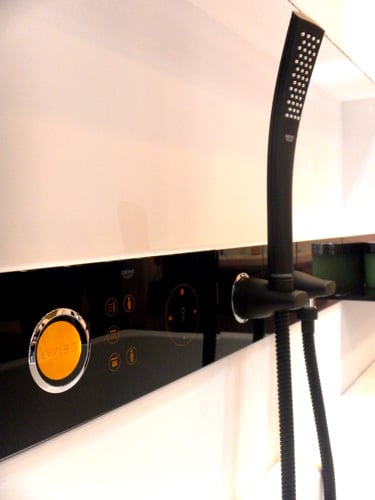 Bathroom tiles for the digital age
Ondus Digitecture
If you share a bathroom, stepping into the shower can often be a battle with the elements: you can find yourself in hot water or things are running cool. Unveiled at the show, Grohe's Ondus Digitecture offers architects a range of digital bathroom fittings based on a 5 x 5cm grid system. Features include his and hers memory setting so your shower runs at the temperature that suits you. Could be worth splashing out for.
Can't see the video? Download Flash Player from Adobe.com
Zaha Hadid Quadro
British-Iraqi architect Zaha Hadid is better known for her architectural works but here, she's applied her unique flair to the design of a tap for Triflow. Besides the usual twists and turns for domestic hot and cold water, the tap features hot and cold filtered water at the touch of a button. At around £7000 the Triflow Quadro TF-KTQ 808 is very much a special order. Hadid's contribution also helps raise the profile of Triflow's anti bottled water campaign: Back to the Tap.
Can't see the video? Download Flash Player from Adobe.com
Dry
Designer Piero Durat has some captivating lighting ideas and some quirky ones too. Appearing as an oversized cocktail glass, Dry is his latest design – a modern day take on the dinner party candle. The rechargeable batteries last for around four hours and with no naked flames, it's ideal for socialites on a strict vegetarian diet.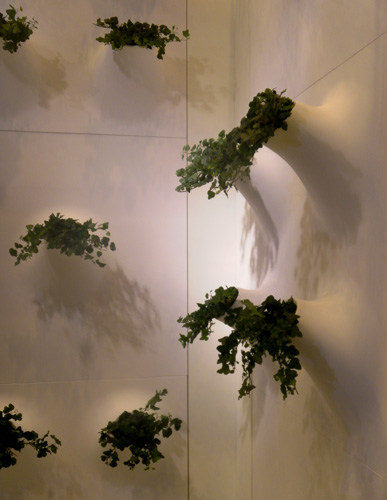 Protruding partitions
3D Wall
With more and more living room walls adorning a 3D telly these days, the 3D Wall from Cristalplant couldn't fail to attract attention. No fancy glasses are needed here though, as these dimensions are real, not virtual. Cristalplant's unique composite material can be moulded allowing architects to consider more imaginative options for walls. Panels can be produced in 1m square and 1 x 3m in sizes.
Can't see the video? Download Flash Player from Adobe.com
Champ Libre
The Champ Libre is the new mobile bed from Espace Loggia. This space saver is available in different sizes with retail prices starting at around £3000. Hats off to Paul Malignac who continued to smile whilst raising and lowering the bed pretty much continually throughout the show.
Can't see the video? Download Flash Player from Adobe.com
G Light
ACDC Lighting is a British company that utilises advances in technology to deliver more innovative approaches to lighting design. Company sales manager Paul Welbon describes the G Light and the advantages of LED light sources.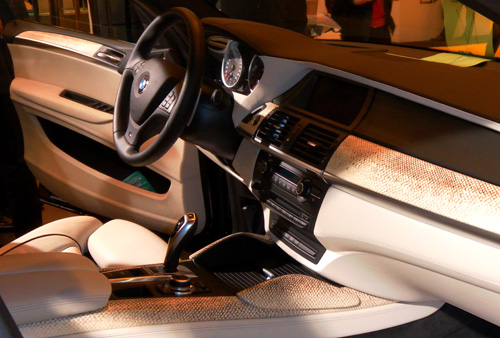 There's something fishy about this snake skin
Nanai
It looks like reptilian skin, but the clue is in the name: Salmo Leather uses salmon skin to produce this organic textile called Nanai. Touting the product as ideal for upholstery and interiors last year, this year the company had a Nanai-clad BMW X6 on its stand to prove the point.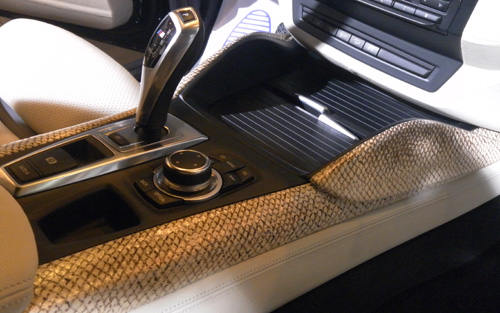 Supplied as skin with an average size of 600 x 150 mm or offered by the metre
Available in a range of colours, Nanai uses vegetable tanning treatments, avoiding the more traditional and polluting chromium processing. Taking the ethics a step further, all the skins used are from organically farmed salmon. So now you can enjoy a sensuous snake skin look, yet avoid an ethical crisis or the expense. Presumably, it has something to do with economies of scale.
Can't see the video? Download Flash Player from Adobe.com
Three Way Table Tennis
Jam Design, the company acting as creative director for this year's 100% Design event, included a rather unique feature. A Corian table was remodelled to enable visitors to play three-way table tennis.
Many items on show are prototypes or are not yet in mass production, so don't expect to pick up a bargain. It's cutting edge design event, only being open to the public on the last day. 100% Design is at Earl's Court, London and runs from 23rd to 26th September 2010. ®