Original URL: https://www.theregister.co.uk/2010/09/23/ten_essential_iphone_4_accessories/
Ten... iPhone 4 accessories
Add-ons for your Apple
Posted in Personal Tech, 23rd September 2010 07:00 GMT
Product Round-up The fuss over 'antennagate' seems to have died down without damaging the reputation of the iPhone 4 too much - thanks, of course, to Apple's decision to give away a few million free cases and bumpers. However, the new iPhone's sleek design has inspired a wide range of other eye-catching and ingenious accessories as well, so here's our guide to some of the top toys on offer for the iPhone 4 at the moment.
4Gamers Premium Racing Wheel

4Gamers is well-known for the gaming accessories it produces for the likes of the PS3, Xbox, PSP, Nintendo DS and Wii, and its new range of accessories for the iPhone and iPod Touch is an acknowledgement that Apple finally seems to have made a splash in the games market. The range includes some straightforward cases and styli, but this Premium Racing Wheel is a hoot if you're into racing games. You just slot your iPhone into place and start swaying from side to side as you push the metal to the floor.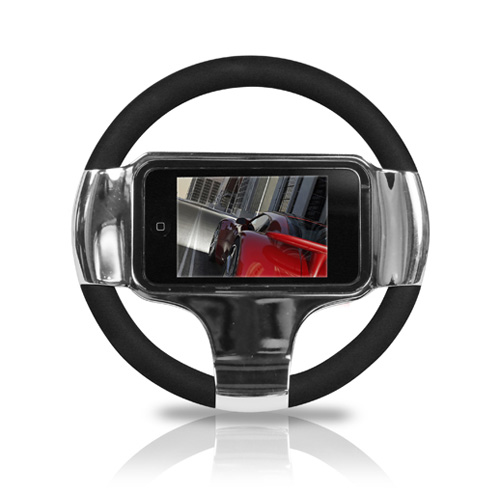 Reg Rating 80
Price £20
More Info 4Gamers
Belkin PrivateScreen

Apple says that the 'chemically strengthened' glass screen on the iPhone 4 is much more scratch-resistant than the ones fitted on previous models. Even so, past experience tells me that a protective overlay should be on my list of must-have accessories for the iPhone 4. Belkin offers three different types of cover, all priced at around £10. There's a basic ClearScreen overlay, as well as a MatteScreen version that has a glare-reducing finish. Then there's the PrivateScreen, which limits the viewing angle and prevents people from peering over your shoulder to see what embarrassing apps you're using.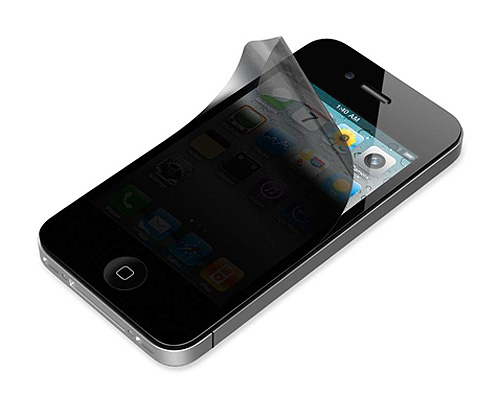 Reg Rating 80
Price £10
More Info Belkin
Elago M2 Mobile Stand

Elago makes some very nice iPhone cases that, sadly, don't seem to be available in the UK just yet. So, in the meantime, I'll settle for this neat little desktop stand instead. The M2 allows you to sit the iPhone either upright or on its side, so that you can quickly tap on the screen and make calls, or use other, landscape-oriented apps. The aluminum stand is available in black or silver, and is large enough to accommodate most of the bumper cases for the iPhone, so you can rest your iPhone on the stand and recharge it without having to remove the case.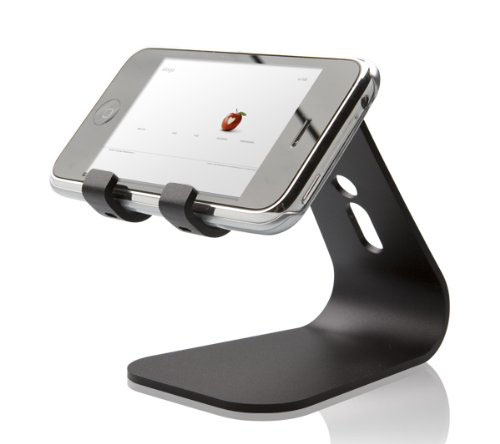 Griffin Reveal Etch

Griffin makes a wide range of cases for the iPhone, but the Reveal is a good basic option. It's similar to Apple's own bumper, with a thin-but-sturdy rubber band that wraps around the edges and acts as a shock-absorber – as well as helping to eliminate any pesky antenna reception problems too. It also has a back-panel that provides a bit of extra protection, and comes in about £5 cheaper than the Apple offering if you miss the 30 September deadline for a free one.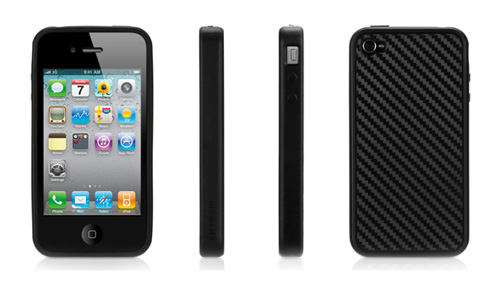 Reg Rating 80
Price £20
More Info Griffin
iLuv Triple USB Charger

The iLuv Triple USB Charger is an ugly-but-useful lump of plastic. It's basically just a mains plug with three USB connectors built into it, allowing you to connect and charge three different devices at the same time. That might seem a bit unnecessary, but trust me – it's an absolute godsend when you're at a tennis tournament in Eindhoven and you need to charge your iPhone, iPad and camcorder in your hotel room. The charger comes with mains adaptors for the UK, Europe, Australia and the US.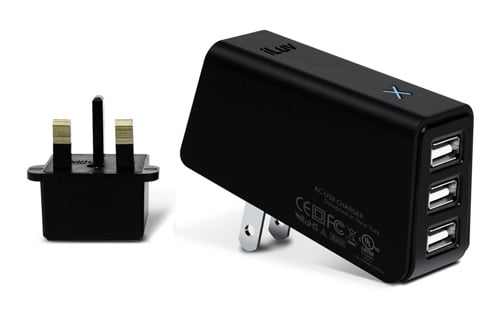 Reg Rating 80
Price $30 (£19)
More Info iLuv
Kensington Bluetooth Hands-Free Car Kit

If you absolutely must use your iPhone when driving then Kensington's Hands-Free Car Kit will at least ensure you keep your hands on the wheel. The device consists of a Bluetooth-enabled speakerphone unit that clips to the sun visor in your car, allowing you to receive calls while you're driving. You can also make calls quickly, simply by pressing one of the three programmable speed-dial buttons. The rechargeable battery provides about ten hours of talk-time, but the kit also includes a spare battery that you can slip into your glove-compartment and keep as a back-up.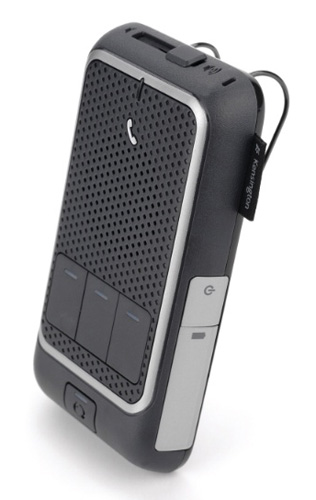 Moshi Moshi 03 Handset

If you want to use your iPhone at home or at work, you can use this stylish Bluetooth handset to make calls – protecting your brain cells from the mobile phone radiation and also allowing you to carry on playing Angry Birds at the same time. The glossy handset is available in black or white, and has a built-in rechargeable battery that provides 120 hours' standby time or six hours of calls. The handset can be charged over the mains or by USB, and the Moshi uses Bluetooth 2.1, which means that it can pair with a second device as well, such as a desktop computer running Skype for cheap calls.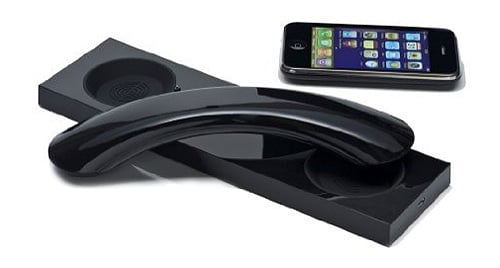 Reg Rating 85
Price £90
More Info Cutebitz
Plantronics Discovery 975

The Moshi handset is designed for indoor use, so you'll probably also want a more conventional Bluetooth headset for making calls on the move. The Discovery 975 is a bit more expensive than the average headset, but it's sleek and stylish, and its WindSmart feature – titter ye not! – is designed to provide good call quality even in gusty outdoor weather. On its own, the Discovery 975 provides a week of standby time and five hours of talk time, but it also includes a handy pocket-sized travelling case with a built-in battery pack that can recharge the headset for another ten hours of talk time.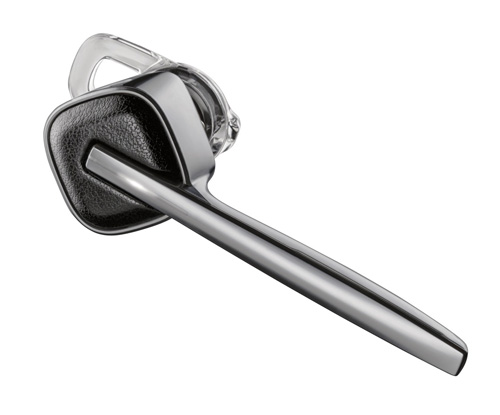 PowerMonkey Classic 2

The somewhat lumpen PowerMonkey sits a little uncomfortably alongside the sleek, stylish design of the iPhone, but it will earn its keep if you end up with a flat battery when you're away from home. The PowerMonkey's 2200mAh capacity is one of the highest I've seen in a mobile battery pack, and it gave my iPhone 4 almost a complete recharge, taking the battery right back up to 90 per cent. It can be used with a wide range of other mobile devices too, and includes connectors for the iPhone and iPod, as well as Nokia, Samsung and Sony-Ericsson phones. It also comes with a mains charger plus adaptors for the UK, Europe, US and Australia.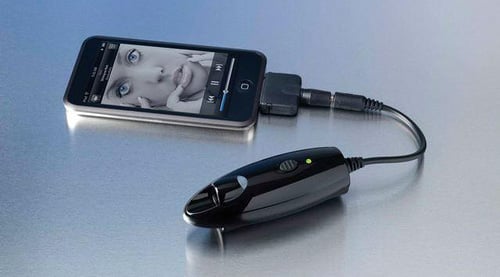 Sennheiser MM 450

Now that iOS 4.1 supports the Bluetooth AVRCP protocol, you can finally make the most of Bluetooth stereo headphones when listening to your music on an iPhone. If you want a more basic pair of cans, you might want to opt for Sennheiser's less expensive PX 210 BT, but I reckon you should really go to town and treat yourself to the high-end MM 450. It has it all: noise-cancelling and a built-in microphone so that you can automatically switch between music and calls. The audio quality is warm and detailed, and you can turn both the Bluetooth and noise-cancelling features off - it has a clip-in cable - to save battery life if you need to or for aircraft use.