Original URL: https://www.theregister.co.uk/2010/09/22/review_hd_tv_philips_32pfl9705_ambilight/
Philips 32PFL9705 Ambilight 32in LED backlit TV
Magic lantern?
Posted in Personal Tech, 22nd September 2010 07:00 GMT
Review Ambilight, the curious multi-coloured backlighting effect exclusive to Philips, is a remarkable thing. It doesn't suit every programme – do you really want splashes of colour on the wall around the TV when you're watching sombre announcements on the news? – but for entertainment it is an impressive, immersive addition.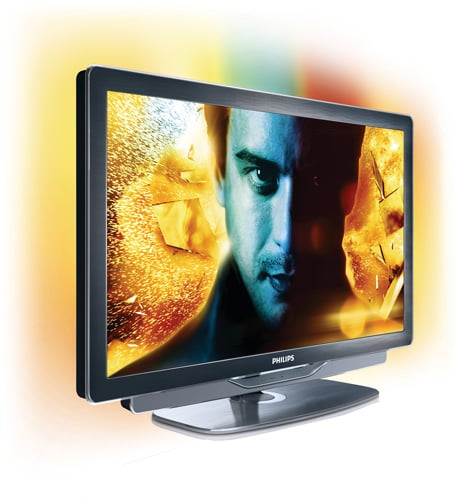 Paints a picture: Philips 32PFL9705 Ambilight TV
This new 32-incher has lots of Ambilight. Not only are there multi-coloured lights to play on the wall at the left and right of the set but the new Ambilight Spectra 3 features them on top, too. And one of the refinements of this generation is that you can set it to compensate for a yellow-with-a-hint-of-peach wall, say. So you're not limited to white behind the TV, though paisley wallpaper may still defeat it.
Despite the addition of backlighting, from the front, this screen looks like a regular LCD: dark grey frame with discreet speakers slung underneath. It's not quite as super-slim as some TVs but it complements the Ambilight with another very cool feature: locally dimmable LED backlight. This means that the thousand or so LED bulbs can be switched on and off in 224 individual zones, so black areas of the screen can be really dark. This adds to hugely impressive contrast levels.
Before we get to the picture, though, let's deal with the TV's only real disappointment, the remote. It looks great, a neat mix of matt silver and bright chrome. It's delightfully minimal and a pleasant round-edged oval shape. But it's not a pick up and play device.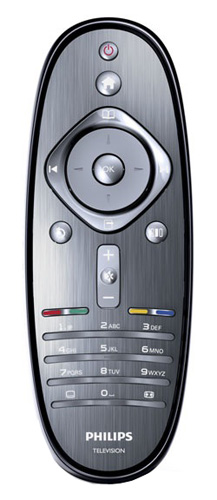 Remote learning: looks good but the layout needs time to acquainted with
There's no programme up or down button next to the volume control. The direction pad is a central button, a doughnut ring around it and a diamond beyond. You change channels by pressing the east and west points on the diamond, it turns out.
Homing Signals
Philips wants you to use the Home button to find your way around, but the channel guide has no numbers. This is fine, you get the channel names, but they're not listed alphabetically so you need to know where you're going. Once you know it all, it's simple but I suspect that the learning curve will defeat many along the way.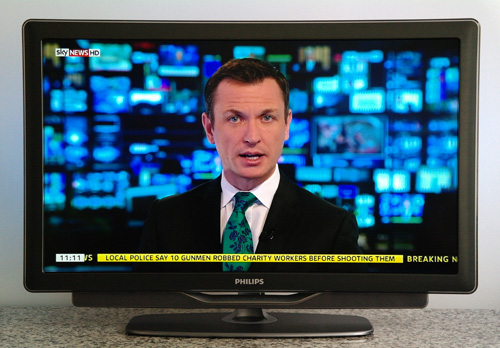 Ambilight aside, the picture is impressive
The home screen is at least welcoming, with a grid of icons showing your options, including browsing the content of a USB stick, streaming content from a PC (not Mac) and more. And you can add your devices like a games console and digital receiver, which appear with cool graphics. The Home screen is economical and effective, but navigating the TV guide, the channel list and so on are more challenging than they should be.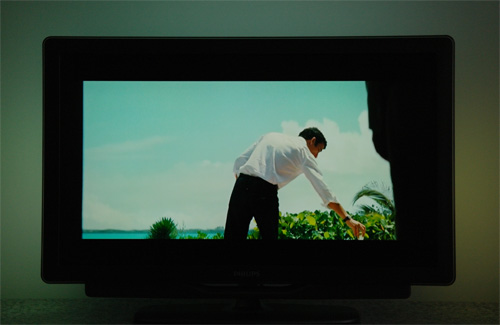 Ambilight projects background colours that match the image on-screen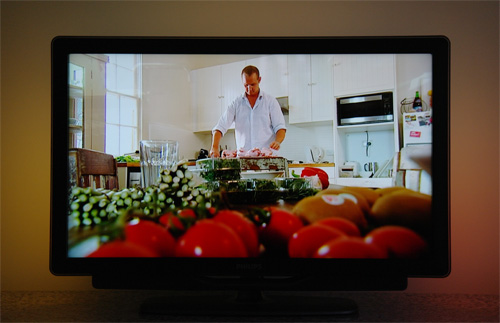 It's now possible to tweak the Ambilighting to accommodate coloured walls
There are plenty more features to check out, including a range of subscription channels, some mildly diverting games, mostly puzzles, and even web browsing. Now, as you know, Internet access is pretty common these days, but not on a TV. The Philips browser will let you go pretty much anywhere. Note, though, that you'll need to enter web addresses and other text using the keypad on the remote, which takes time.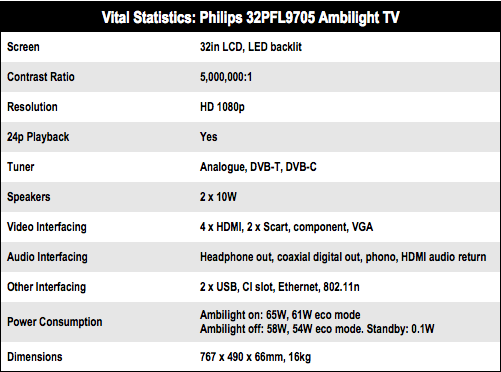 The TV is well connected with four HDMI sockets. One of them supports the latest HDMI version 1.4, which will come in handy, for instance, if you're playing back 3D HD video from the newly announced Fujifilm W3 3D camera. There's also an SD card slot for displaying photos or storing video.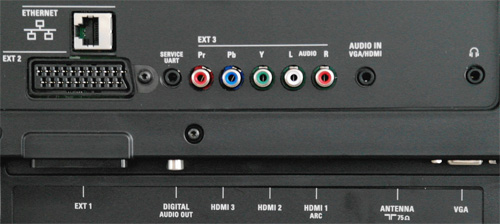 Interfacing includes an HDMI port that supports the 3D-friendly version 1.4
These are nice features but Philips TVs succeed or fail on their picture quality, and the 32PFL9705 succeeds hugely. First, there's the locally dimmable backlight, which works a treat. It manages to avoid the halo effect where too many bulbs are flicked on in dark scenes around small bright areas, and creates a lively, vivid effect with deep black shadows with delicate detail.
Philips TVs often require careful adjustment to make the most of the picture, and this is no different. Out of the box, the image is fine, but when you've tweaked the contrast, brightness, Ambilight and so on, the results are spectacular. Philips pictures can be so sharp and detailed they can turn a soppy romcom into visually hard-hitting cinéma vérité, and that's not always what you want. But gentle adjustments can restore the filmic gentleness.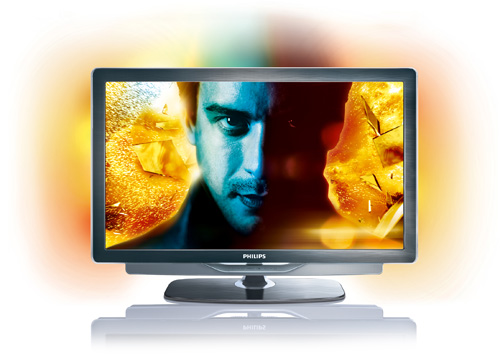 Sonically respectable, rather than remarkable, but an excellent picture
Sound on an LCD is rarely stand-out and here it's decent rather than anything more. But it certainly won't put you off, voices come through loud and clear and anyway you'll be entranced by the picture quality.
Verdict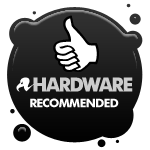 This is a terrific TV. The image quality is spectacular, the sound acceptable and the features plentiful and well-executed. If you like Ambilight, that's an extra bonus. If you don't, give it another chance, why don't you? It's great. The remote control has a steep learning curve that not everyone will care to scale and it's not exactly cheap, but those are the only downsides to a proficient, highly likeable TV. ®
More HD TV Reviews

Group Test
Freeview HD TVs
Sony
Bravia
KDL-32NX503
Panasonic
Viera
TX-L32S20B
Group Test
3D TVs