Original URL: https://www.theregister.co.uk/2010/09/22/lettuce_update/
Lettuce head e-fit draws a blank
Coppers fail to bag Salad-haired thief
Posted in Policy, 22nd September 2010 14:19 GMT
Hampshire Police have not received a single phone call or other lead on the whereabouts of the lettuce-headed burglar, despite his lactucan locks appearing on more media outlets than Paris Hilton's last upskirt shot.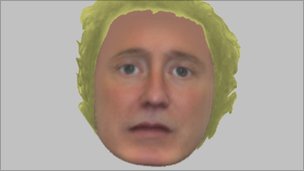 Have you seen this salad? Lettuce know if you spot him,
Kos Hampshire police have no other Romaining leads.
The man is suspected of pinching £60 from a pensioner's handbag in Stockbridge last month. Hampshire police released a bizarre image which appeared to be partly made of everyone's least favourite vegetable.
The picture has been featured by every UK national broadcaster, most of our newspapers and dozens of other places from the Toronto Sun to abcnews.
Police told the Beeb they did not intend to issue a fresh image, and "lines of enquiry are being followed".
Hampshire plod said yesterday they were waiting for a software upgrade to improve the quality of e-fit images issued. ®