Original URL: https://www.theregister.co.uk/2010/09/21/lettuce_police/
Police issue lettuce e-fit
Software blamed for lettuce-haired suspect
Posted in Policy, 21st September 2010 12:24 GMT
Hampshire Police have blamed dodgy software for an e-fit image of a burglary suspect with suspiciously salady hair.
The man is accused of nabbing £60 from an elderly victim in Stockbridge.
He was described as between 40 and 45 years old, with a round, clean-shaven face and hair fashioned entirely from lettuce leaves large round eyes.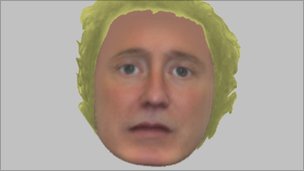 Have you seen this salad? Lettuce know if you spot him,
but leaf him alone he could be dangerous.
A spokesman for Hampshire Constabulary told the Beeb: "While the hair on this image may not be of the best quality, it takes nothing from the overall clarity of the facial features. It would therefore be wrong to withhold the release of the e-fit just based on this technical issue.
"We would never release an e-fit a victim disagreed or was unhappy with and in this instance the victim fully supported the publication of this image."
The force said it was waiting for a software upgrade to improve hair quality in future images. ®