Original URL: https://www.theregister.co.uk/2010/09/20/parc_40th_anniversary/
PARC turns 40: mice, money, and the new interwebs
A place whose time has come. Again
Posted in Science, 20th September 2010 21:45 GMT
Mention "Xerox" and "PARC," and you'll likely be greeted by a rolling of the eyes or an off-hand comment like: "Didn't they invent the mouse and let Microsoft make all the money?" That happened to me more than once when I mentioned I was heading to the Palo Alto Research Center to interview a few folks for the iconic institution's 40th anniversary, which will be celebrated later this week.
PARC is an iconic and hallowed place, as much an essential part of the fabric of computing's history as the Alan Turing story or Hewlett-Packard's legendary garage.
A bunker-like building perched on a sun-drenched hillside in California's Silicon Valley, PARC was formed by Xerox to create the office of the future, and it assembled some of the greatest minds of that time in a single location. In just four years, those minds managed to conceive and create the modern PC – and the modern network.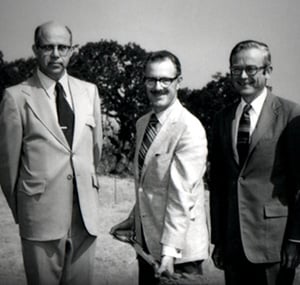 George Pake, center, breaks ground on PARC in 1970,
(photo credit: Xerox PARC)
PARC researchers devised the world's first WYSIWYG editor, the GUI, bitmapped display object-oriented programming methodology, and, yes, the first commercial mouse, all of which were quickly rolled into the Alto workstation – a recognizable modern PC. PARC's boffins also gave us Ethernet and laser printers.
On the seventh day, they rested.
But PARC is also famous because the products and profits associated with these breakthroughs arrived through other companies. Steve Jobs and Apple are credited with introducing the first commercial GUI workstations: the Lisa and the Mac. Bill Gates and Microsoft gave us Windows on x86 PCs. 3Com successfully exploited Ethernet. And profits from laser printers flowed to Cannon, Lexmark, and Hewlett-Packard.
Worse for PARC: 3Com, Adobe, and Digital Equipment Corp's Systems Research Center were formed by former PARC staffers who'd left out of frustration with PARC's direction and unwillingness to realize their inventions. Meanwhile, Apple and Microsoft hired away other brains. Alan Kay, who'd built the world's first object-oriented programming language, SmallTalk, went to Apple, while a fresh-faced Charles Simonyi, who'd worked on PARC's WYSIWYG interface, left to join Microsoft, where he gave us Word and Excel and helped Gates become one of the world's richest men.
Such is the epic story of what might, and should, have been. It lead to the publication of an infamous book: Fumbling the Future: How Xerox Invented, then Ignored, the First Personal Computer.
It's also an object lesson in how not to run a business.
"What's really funny, is when I was getting my MBA, we did a Harvard business case study that asked the same question," Tamara St. Claire, vice president of global business development, told The Reg when asked how PARC can avoid repeating the mistakes of the past.
Appointed a year ago, St. Clarie is the first outsider to lead biz dev, and her remit has been massively expanded from that of her predecessor, John Knights. Chief executive Mark Bernstein has urged her to bring in the dollars. A PHD chemist, St. Claire was business development director for healthcare diagnostics giant Roche, where she expanded its business through a mix of partnerships, licensing, and acquisitions. She also overhauled Roche's processes to turn research work into products.
"Tamara was new blood," Bernstein told us. "We're thinking more deeply and thinking further out, and being more rigorous about the processes." It was St. Claire's experience at Roche that made Bernstein believe she was right for PARC. He brought her on to centralize business development and codify the processes of taking ideas to market.
New blood in action
Twelve months in and St. Claire's been busy: she's now leading all biz dev, having streamlined a team of 10 people spread around in the operation's different labs. She's applied portfolio management tools to PARC's more than 30 research programs – categorizing projects according to whether they sit in a quadrant of new market, existing technology, existing market, new technology – with each mapped to a particular management style.
New technologies and markets are managed using a venture-capital style of funding and spinout. Existing technologies and markets are managed to maximize short-term profits. Also, St. Claire hired a full-time professional to coordinate and direct PARC's branding, messaging, communications, sales support, and product marketing.
"Mark's goals for me in first year were making sure we had the team ready to fire on all cylinders," a bullish St. Claire said on her busy year. "Right now, we are in a position where we've got the tools and ability to measure, realign, and have sound investment strategies."
"We do an exercise on a regular basis where we take our core technologies and competencies and try to push them into new markets or get a market understanding of what's the next paradigm-shifting technology in that market," St. Claire said.
Return of ubiquity
Rather than close the door after the horse has gone, St. Claire has built a completely new stable ready for the decades ahead. But what's inside the box? It's easy to believe that PARC has already missed its one big chance in history by letting those mice scurry to Microsoft and Apple at the dawn of a PC revolution in the 1970s – a revolution now facing a mid-life crisis.
"People are like: 'Where's the next mouse?'" St. Claire says. "When you look at historical inventions, you have this wonderful 20/20 lens that lets you look back and see the evolution of a technology over 15 to 20 years. We have many of those things being developed at PARC now, and in 15 to 20 years, we'll look back and say: 'There are plenty of mice being developed at PARC today'."
PARC's founding director George Pake was told by a benevolent Xerox to create the "office of the future" in 1970 - hence the work that led to the Alto, printers and Ethernet - all of which succeeded in digitizing the workplace. But today's office is a mighty small place, and PARC is exploring a far bigger frontier now: the internet and "ubiquitous" computing.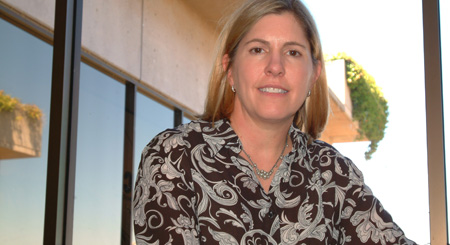 "People are like: 'Where's the next mouse?'" says St. Claire (photo by Gavin Clarke)
The lab that gave us Bob Metcalfe's Ethernet memo in 1973 is now working to re-invent the structure of the internet itself, with the creation of a peer-to-peer software architecture PARC calls the Content Centric Networking (CCN).
The goal of CCN is to reduce the load on the internet by caching content locally and directing follow-up requests to those local copies. Content could be popular web pages, music, or movies, and it could be cached on a server down the street or on the smart phone of the person sitting next to you on a plane. The idea is you and others stop returning to the same Hulu server over the same oversubscribed portion of AT&T's struggling network in downtown San Francisco to watch the Glee season finale (again).
Teresa Lunt, vice president and director of PARC's computing science laboratory, told The Reg: "The reason the user has to keep going back to the source [of the content]...is they don't have the ability to go to the closet place of where they can get it from.
"The network can get more intelligent and start anticipating your information needs, and answer you request later on... So if you're on an airplane later on, you can get the content from the guy next to you, when you don't have connection to the server."
CCN includes the ability for publishers to wrap their content in credentials so users can make sure it's authentic and to encrypt media to ensure only paying customers can see it – if they want.
CCN is certainly timely. Service providers like AT&T are now capping previously unlimited smartphone data plan, restricting what you can download each month. They do this partly because their centralized networks' aging tubes are creaking and getting clogged (to paraphrase recently deceased Alaska Senator Ted Stevens). They just can't keep up.
Ubiquitous computing is another big agenda item. The concept dates from former chief technology officer Mark Weiser, who passed away in 1999. He coined the phrase in 1988. Weiser's spirit lives on at PARC, with a shaded corner wall in PARC's concrete-maze of corridors dedicated to him. It contains photos and several mock-ups of big-screen tablets and pads.
You could argue that PARC was first to the idea in 1988. But but in 2010, it's Apple, Google, Amazon, Twitter, Facebook, and Foursquare who own the idea, and they're the ones actually making money from ubiquitous computing. There's an iPhone in every handbag, you spot growing numbers of commuters reading their iPads or Kindles on the bus to work. Netbooks have become about as regular a feature of any San Francisco café as a Venti latte no foam. People are working with productivity apps in the clouds. And they're feeding their status updates and photos into social and geo-aware network services.
Doesn't all that make computing pretty, well, ubiquitous?
Not according to Weiser's definition. Speaking as desktop PCs were taking off, Weiser saw a future where PCs would be replaced with "invisible" computers embedded in everyday objects. This would usher in an era of "calm technology" – where, rather than overwhelming us with data or the nagging sense we must be missing something buried in our Tweets, emails, and feeds, technology would "help us focus on what is really important."
With iPads, Kindles, netbooks and social networks, PARC reckons the time's come for Weiser's vision.
The sliding-doors theory
PARC wants the software on these machines to anticipate your needs without you noticing - like when you walk up to the sliding doors in at the grocery store and the doors automatically open. PARC's vision for the software running on devices is to deliver rich contextual information by collecting your data and figuring out your intentions based on things like your past online behavior or real world interactions.
Applications like Foursquare, Facebook, and Twitter are just scratching the surface. While they might be fun, they don't add a lot of value for the user, Lunt claimed. "We have a much bigger vision around contextual delivery of information to people - knowing what you are going to do next is much better than filtering out your Twitter or Facebook feeds," she said.
In hipsters we trust
Two projects illustrate what PARC's got in mind.
Magitti is a mobile application with a one-handed, touch interface for use on smartphones that detects activities and offers suggestions for users. The app was built for kids heading into Tokyo on the train who are holding onto the overhead carriage handles - hence the need for one-handed operation - and who haven't got time to blindly browse the mobile web. The idea is that it makes recommendations on what to do and where to hang out.
Built for publishing giant Dai Nippon Printing (DNP) and set to be rolled out as an iPhone application this year, Magitti was developed and researched using a PARC team of engineers and ethnographers who worked on context modeling, preference modeling, recommender systems, location sensing, activity detection, mobile hand-held user interfaces, and text mining.
PARC modeled between 60 and 100 possible scenarios for DNP, but identified Tokyo-bound teenagers as the ideal potential demographic. The whole process took three years. "We didn't know it would be teenagers in Tokyo," Lunt confessed. "We went through scenarios, narrowed it down, fleshed it out, narrowed it down, and went into the field and tested it. I don't think Microsoft or many companies could do much of that."
The other example of what PARC's got in mind is Meshin, a venture-capital-style spin-out that began life as project Maestro. Meshin claims to be the first semantic side bar for Microsoft's Outlook that organizes, sorts, and displays important and linked information in your inbox based on the information's context. Meshin's in beta, and - like Magitti - was built using PARC's various team disciplines in natural language, ethnography, contextual intelligence, personal information management, intelligent image, and document processing.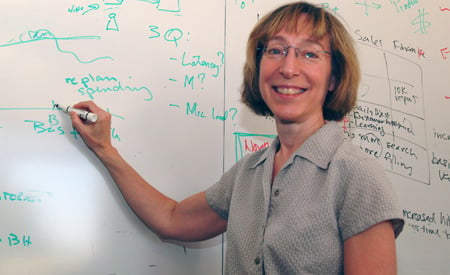 Lunt: Foursquare and Facebook scratch the surface of ubiquitous computing (photo by Gavin Clarke)
"We are just starting with their emails with links," Lunt said. "We are convinced there will be a big future around this kind of technology, but we don't know how it will play out. We are trying to establish a number of the pieces so we can start doing the experiments a lot earlier on than the others who are focused on a much shorter timeline."
Spend enough time talking to anybody involved with PARC's present or past and at some point, they'll tell you the same thing: contrary to popular thinking, the "ideation" phase of development is "easy." That takes just 20 per cent of your time. Developing that idea into a successful or desirable technology or business is the sweaty part. Given PARC's past in letting good ideas go to outsiders, what's PARC got in mind to make money off CCN, Magitti, and Meshin?
According to St. Claire, nothing's "off the table" when it comes to exploiting the commercial potential of CCN, and PARC wants to work with different vertical sectors and application providers. That could mean co-development relationships, royalties on the IP once CCN is launched, and a potential open-source play, with PARC keeping back certain features that are charged-for under some kind of premium service. PARC is in talks with unnamed networking, cellphone, and consumer electronics companies. "It's a proven technology that now needs to be developed for certain applications," she said.
Lunt expects payback along the way from incremental developments, not just one big final release of CCN. "It resonates with people in the industry. They know they have these huge problems - like the mobile back hole and with getting bandwidth to smart phones. Those guys are in a lot of pain, so they get really excited when they hear this. They see the potential of CCN, then the discussion gets to the details: what are the barriers to overcoming this, what are the short-term wins to get more people in?"
With Magitti, DNP acquired the technology platform, technical expertise, and core intellectual property, while the goal of the Meshin is to win customers – or get bought. "With ubiquitous computing we are going through a similar exercise of how do we take these many, many years of knowledge and drive a path to something people can touch and hold and use," St. Claire said. PARC's also got Silicon Valley's venture capitalists eager to know what's in the labs that they can invest in, she added.
Hard lessons
Start-ups, spin-outs, collaborations, capitalizing on multi-disciplinary teamwork? PARC has been here before.
Stung by the exit of Metcalfe, who founded 3Com - bought by HP in 2009 for $2.7bn - and the loss of John Warnock, who formed document and graphics leader Adobe with the head of PARC's Imaging Sciences Laboratory, Charles Geschke, PARC got serious in the early 1980s.
William Spencer, PARC's director between 1982 and 1986, began the practice of taking a stake in the companies that its brains founded, while Xerox created Xerox Technology Ventures in 1989 to spin out companies.
This has resulted in more than 30 new spinouts ahead of Meshin, all based on PARC's technology and ideas, staffed by PARC people, and with many snapped up by giants Microsoft, Google, EMC, and Time Warner. Among them: ContentGuard, Documentum, and Powerset, with many others outside of computing in text analytics, solar concentrators, and silicon-sensor arrays used in medical, industrial, military, and security X-ray imaging.
What starts in the labs, stays in the labs
PARC has also collaborated with others before. In the past, it worked with Sun Microsystems to reduce the power consumption and heat in Sun's SPARC servers. The result is each Sun SPARC server now contains a Claw Connect, a piece of hardware built by PARC and Sun to transfer heat and let the chip cool down. Officially called Solder Free Compliant Flexible Interconnects, Sun's owner Oracle just renewed the Claw Connect license for an undisclosed fee. Oracle was unwilling to discuss Claw Connect.
Contrary to the perception, PARC has not always let its ideas go cheaply. Natural language search engine Powerset cashed out at $100m when Microsoft bought the spin-out for its internet search effort. Microsoft and PARC are still working together.
Two things have changed, though. The first is that the process for building up and spinning out companies has been centralized for consistency. Spencer had to invent the process for finding and spinning out ideas, while St. Claire comes from a business background.
St. Claire used her experience to spend six months of her inaugural year combing through PARC's portfolio to establish the processes. She calculated a way to categorize technologies and markets in buckets and to score them; to match up investment, technologies, and market scores; and to then establish stakeholder buy-in and first project review.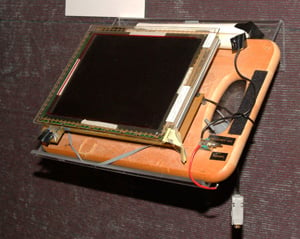 Before the iPad came the PARCPad (photo by Gavin Clarke)
St. Clare also says the management and researchers are behind her plans, which is crucial because PARC has a history of researchers clashing with each other and with the management – battles and stand-offs that ultimately helped sink the whole show as people like Metcalfe, Warnock, and Geschke departed and took their good ideas with them.
The other big change is that PARC is no longer a captive research center serving the goals of a single master: Xerox. PARC became an independent subsidiary through a spinout in 2002. Prior to independence, PARC researchers' work was seen as either disruptive to Xerox's core business or too advanced for Xerox's manufacturing to turn into product.
And that came at a bad time for Xerox, as the Timotei-washed go-create idealism of the 1970s turned into the hard-nosed, greed-is-good decade that was Reagan's 1980s.
PARC was one of four labs Xerox created in the 1960s, 1970s, and 1990s - the others are in New York state, Canada, and France - and it had the broadest charter of all: the office of the future. By the 1980s, Xerox was under pressure from new Japanese competitors, and office of the future had better feature and lots and lots of paper-luvin' copiers and printers to help boost Xerox's bottom line. Forget PCs, networks, and printers that reduce paper by digitizing data.
"Xerox was heading into deep storms," John Seely Brown, director of PARC between 1986 and 2000 and a Xerox chief scientist, told us, reflecting on the situation.
"They wanted to stay in the printer-copier business. They were very protective of their market and the ways to address that market. We were even inventing completely different kinds of printers, but the things we were doing didn't tap the skills that the manufacturing engineering side of Xerox knew about. We suddenly found much greater barriers because we were playing with different capabilities. We were disrupting things," he said.
Xerox was fighting Japan Corp, and PARC had become a PR exercise to make Xerox look like it was still interested in bold new ideas. "They wanted to find a way to reduce the cost and still keep the public relations and market value with some new ideas coming out that fitted into the existing business and let them operate as they wanted," Seely Brown told us.
The PARC vision was turned from the office of the future to the copier printer of the near future, with PARC brains breaking ground on networking and interface technology.
The output included copiers featuring three levels of Ethernet to handle documents and 30 processors with interfaces based on PARC's researchers' work in anthropology. The machines would analyze and re-calibrate themselves to maintain copy quality, while some models would predict when the machine might break down by analyzing the components, and then place a "call" to central office to schedule the visit from a repair man.
In the late 1990s Seely Brown demonstrated a PDA with built-in accelerometers showing the screen scrolling through a rolodex app. PARC also prototyped pads and tablets, such as the PARCPad in 1991 - a screen mounted with 4MB of RAM and with four hours' battery, life mounted on what looks like a kitchen cutting board. Twelve years later, accelerometers have become a standard component in Apple's iPad and the iPhone to let the infernal Jobsian devices know which way they are pointed. The PARCPad? That's mounted on Weiser's wall along with other proto-handheld devices that include a hand-held digital assistant.
PARC also experimented with smart "stuff," building paper clips out of RFID materials so you'd never lose your documents.
So much for "office of the future"
Such ideas stayed in the labs, though, as Xerox was interested in the core business. "The paperless office would have destroyed Xerox. The irony is, pursuing that led to the development of the laser printer that created more paper than ever," Seely Brown remarked.
Xerox eventually spun out PARC to make money and reduce its costs as business got tougher. But spinning out wasn't the end of PARC's problems, because Xerox still wanted to keep control over the ideas and technologies. The original idea was to find others willing to share the ownership and costs through some kind of joint investment. The goal was to become like HRL - Hughes Research Lab - in Malibu, which spun out as an independent company in 1997 and today performs R&D for Boeing and General Motors.
From frustration to break even
Then-new PARC director Mark Bernstein flogged the joint ownership concept to potential investors for almost three years - years that saw PARC waste time on show-and-tell exercises. "That was a really frustrating period for a lot of us here. We were spending a lot of time doing dog-and-pony shows," Bernstein recalled.
Bernstein and colleagues realized that finding another investor would take more time than they could afford. And as that realization dawned, they also felt they'd developed enough contacts during their time meeting potential investors, and had seen enough different industries, that they could start to generate business as a stand-alone subsidiary.
Working as a stand-alone subsidiary has paid off. Xerox is no longer PARC's single biggest client - the tipping point was in 2004 - while PARC's been squeaking by on a profit since 2005, Bernstein claimed. Revenue is $60m on expenses of $58m, with revenue coming from clients through business creation, licensing of IP, and government funding. PARC announced earlier this month it's been selected by the National Science Foundation to receive a grant of up to $8m with three other projects to work on CCN to build a "more trustworthy and robust internet."
PARC has also received grants for its work on hydro-dynamic separation, work that separates particles from fluids and is used in developing nations to purify water and that came out of PARC's earlier work on particles in printer inks. Government funding under the Obama stimulus was also forthcoming from the Department of Energy to work on carbon dioxide capture, efficiently taking it out of the environment for the production of liquid fuels.
While independence from Xerox has provided greater freedom and finally allowed PARC to follow projects that made sense according to its own business agenda, the shift from protected funded and protective boffins to a commercial entity has not been easy - or quick, given St. Claire was appointed seven years after the PARC's vaunted spinout.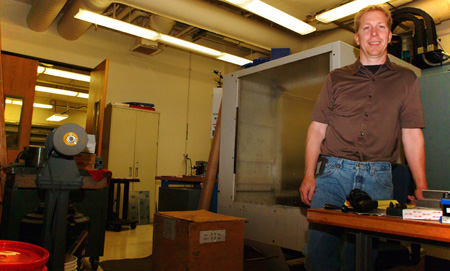 Deep inside PARC, where innovation is workshopped (photo by Gavin Clarke)
"There was the recognition when we spun out that this was a pretty abrupt change for us," Bernstein admitted. "Internalizing the reality we were not going to be able to rely on Xerox and would need to be valuable to people other than Xerox in the world is a stark reality for researchers who are used to being taken care of - I'll be blunt about that."
PARC's director reckoned the transition is still not finished. No kidding, given St. Claire's a relatively recent appointment. "The notion we had to develop is an understanding of how we'd build a business from the research we are doing - it is a journey, and we are on that journey, and we are making progress," Bernstein said.
Eight years after the 2002 reset, challenges and questions remain as PARC celebrates its first 40 years and prepares to face its next 40.
PARC might have the mice of the future under development with CCN and ubiquitous computing, but there's a really big question over its ability to woo the boffins that can staff its multidisciplinary teams and help build out these - and successive - technologies.
Back in the analogue days of the oil crisis and Trimphones in the 1970s, it was possible for an institution like PARC to round up big thinkers and woo new graduates from nearby Stanford on the promise of prestige, freedom in research, and the ability to "own" the critical thinking.
It's not hard to see why PARC gave us the modern PC with the Alto in just four years based on the team it assembled. Besides Metcalfe, PARC brought in Warnock, who devised the InterPress graphics language for controlling printing; Simonyi who helped develop the WYSIWYG document preparation program Bravo; Kay, who created the object-oriented language SmallTalk; and Charles Thacker who led work on the Alto.
The internet has made collaboration and delivery easier and cheaper while the philosophy and technology of open source have destroyed the ability for a single company to even remotely claim a monopoly on innovation or thought leadership. Ideas and innovation now are unpredictable and more spontaneous than when PARC started, originating from individuals, start-ups, and organic communities as well as big tech companies.
How relevant is PARC's institutionalized, "invented here" model of research?
Challenge of the single innovator
We asked Ubuntu founder Mark Shuttleworth whether he thought the PARC model is relevant today. Shuttleworth is a prime example of innovation coming from an unexpected source and an individual: he founded Ubuntu to make Linux simpler for non-techies. Before 2004, nobody could have anticipated such a popular and exciting new distro, as Linux seemed to be settled into a safe but boring duopoly of sorts run by Red Hat and Novell.
Shuttleworth acknowledged PARC's past as an ideas hothouse. It brought people form diverse backgrounds together and gave them hard problems to solve. The diversity of backgrounds led to what he called "non-linear insights" that were cultivated by the institution of PARC.
Today, the internet has changed the drivers of innovation and teams are more easily formed so there's no need for them to be gathered under one roof any more.
"It's hard to imagine a single institution dominating the industry quite in the way that PARC defined the computing industry," Shuttleworth told us.
We also spoke to Doug Cutting, the father of open-source search engine Lucene and creator of large-scale, data-processing architecture Hadoop. Cutting also spent time at PARC as a researcher, working on information retrieval - before he worked on Lucene.
Where do all the Simonyi's go now?
Cutting reckoned the PARC model can still work because it takes the longer view and the technology world is dominated by short-term or product-oriented corporate research agendas. He noted, though, that PARC is under pressure from well-funded start-ups to get the brains. Cutting should know: he left the favored research halls of Sunnyvale's Yahoo! (where he was working on Hadoop) to join Cloudera, a venture-founded Hadoop start-up in Palo Alto under relational-database veteran Michael Olson.
"The essence of this model, reaching for the stars, can still work. Most folks are focused on building technology for the next year rather than inventing technologies for the next century," Cutting said.
The other big challenge PARC faces is wooing the kind of plasma-rocket powered talent it attracted in the early days. All the pioneers of yesterday are struggling to stand out as talent is attracted by big-data or social network ventures or start-ups like Amazon, Google, Facebook, and Twitter, or lured by exciting open-source challenges like Ubuntu and Hadoop or cloud computing.
Simonyi left PARC to join Bill Gates' then-new computer software company Microsoft, building Word and Excel, while others from elsewhere joined Microsoft in the 1990s to build Windows on the server and Internet Explorer. Today, Microsoft is losing the new Simonyis to Google, Amazon, and Facebook or to venture-funded start-ups like Cloudera.
If a $62bn revenue, highly competitive operation like Microsoft struggles, what hope is there for the vastly smaller PARC that literally and figuratively lives in the shadow of some of tech's biggest names today - Facebook in Palo Alto and Google in Mountain View.
Cutting's answer is for PARC to become even more of a start-up incubator in order to attract the sort of talent required to invent next generations of technologies. "Technology innovators today are rarely just academics seeking to advance science, but are also entrepreneurs, seeking to build businesses based on their inventions," Hadoop's founder said.
He warned, though, that the start-up incubator model has pros and cons. "Market realities generally provide better validation of technological utility than do journal committees. But some great technologies can take time to develop a market, and requiring them to create profits too soon may be counter-productive. So perseverance and selection are critical, too."
PARC is moving with the times. It has picked up the open-source and community model - although it's using these selectively, as Bernstein reckons it's about taking the right approach for the right technology. Don't forget, too, that PARC is trying to make a living from IP licensing for some of its ideas, and that doesn't jive with open source. PARC has dropped a version of CCN called CCNx under GPLv2 and LGPLv2, while it's also working with nine universities on the future of the internet through the NSF.
But PARC is still managing to pull in talent: CCN is the work of former Cisco Systems chief scientist and primary contributor to TCP/IP Van Jacobson, who joined PARC in 2006. Van Jacobson is a PARC research fellow whose work on TCP/IP helped the internet to expand in the late 1980s by handling growing demands for faster speed.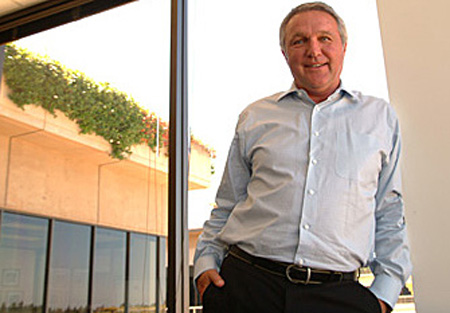 Bernstein: we attract people who want to make a difference (photo by Gavin Clarke)
Van Jacobson's hire points to some strategic decision-making at PARC: to look for opportunities in one or more of its core competencies in networking and communications, ethnography, green and clean tech, contextual intelligence, micro electronics services, and prototyping.
Van Jacobson was brought in because Lunt wanted what St. Claire called "something big." "She wanted something big in options, she wanted a breakthough, she wanted a paradigm shift. So she went out looking for that tech and found Van Jacobson and convinced him his vision for CCN for this next-generation internet could be realized here at PARC."
Bernstein parries that it's the diversity of work that attracts people to PARC and the opportunity to make a real difference. "If someone wants to do theoretical work they can do that at a university, but we are interested in people that have a passion and strong intuition about the world and want to see what they do impact the world," he said.
Outside academia, beyond the product
Corporate research is channeled into short-term product goals and corporate agendas fixing the mess we're already in, and building on existing ideas. "Corporate research is hanging on by its fingernails in a few prominent spaces around the large companies like IBM, Hewlett-Packard and Microsoft. I think most of the innovation today is at the pace of the incremental kinds of activity around fixing the problems that IT propagation has created.
"At PARC we provide young researchers with a number of paths for their work to find its way into the world... whether that's through the traditional Xerox PARC way or through work we do with government, start-ups or partnerships we do," Bernstein said.
In the first 40 years, PARC's been born and re-born, brilliant and badly managed. PARC's been buffeted by the winds of changing corporate priorities and attacks from competitors on its owner, while there's been a fundamental shift in the model of innovation. Now, its charter of the office of the future has been massively expanded to encompass the very fabric of the 'net.
PARC at 80?
The big question: where will PARC be on its 80th anniversary? In 2050?
PARC's director is setting his sights more modestly - Bernstein's looking just 10 years out, to 2020 with the work on CCN. "Just getting through to 2020 is as far as we're thinking now," he said. Peering further out is a risky proposition, given massive changes in computing that succeeded PARC's formation in 1970 and those first ideas. "Forty years back when PARC was started... it's incredible the nature of change that's taken place," Bernstein said.
The future is an unpredictable place, it seems.
"CCN, if adopted, will have a real transformative impact on the way people consume information, and the performance of the network will change," he said. Away from computing: he's optimistic about clean technology and creating liquid fuels from carbon-dioxide capture, and work in thermodynamics for greater energy and power efficiency.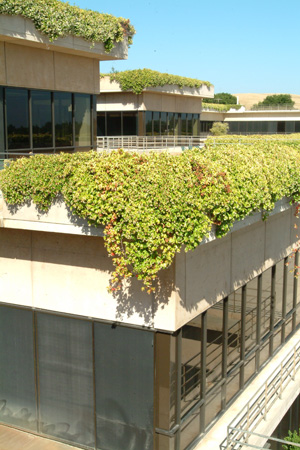 PARC today: still on a journey and making progress?,
(photo by Gavin Clarke)
St. Claire's excited by the potential for CCN and also sees opportunity in imprinted electronics and ethnography, especially in Japan and South Korea that are keen to move from being "fast followers" to innovators. "That is a perfect place for us to play," she said.
PARC's history is inspiring. In the early 1970s it quickly laid the foundations of modern personal computing and networking. Fans of these contributions are not difficult to find, with Shuttleworth and Cutting both ready to praise its breakthroughs on technology work that was validated by virtue of the fact others widely adopted them. Even yoked by Xerox, PARC was something of a business success because it added to the parent's multibillion-dollar bottom line with innovation in printers and copiers - a story Seely Brown says is often overlooked.
Further, PARC achieved all this on a relatively small staff - around 250 researchers compared to three thousand working at Bell Labs, which gave the world Unix, over on the East Coast.
The history of PARC is also frustrating - and painfully slow for something positioned to sift the fast-paced flow of technology and new ideas. PARC was restricted by very the parent that gave it its liberal charter in 1970, a fact that saw much of the early talent pull the ripcord. Even rebirth in twelve years later failed to provide the operation the clean break it really needed, and only now - forty years into the whole PARC experiment - does the proper business acumen actually seem in place.
St. Claire believes that it's the history of innovation that'll help her in her work winning new business and expanding operations – and help PARC capitalize on its new thinking and innovations.
"I thought it would be a lot more challenging than it actually is here," she said of the job after 12 months. "I was once on the sales side at very small company, and trying to get an audience with people was very different. I'm on the sales side at PARC, and our name and reputation extends quite a bit."
"We are a relatively small company, as we exist as a subsidiary. If you were any other small company and not PARC, people would be concerned about: 'Do I want to form some kind of long-term relationships with you as an OEM?" Our name really helps us overcome a lot of that concern and certainly creates a degree of excitement." ®