Original URL: https://www.theregister.co.uk/2010/09/20/grouptest_15in_laptops_buyers_guide/
Buyer's Guide: 15in Notebooks
How to select the machine that's right for you
Posted in Personal Tech, 20th September 2010 07:06 GMT
Group Test In this group test I'm comparing six models that have a 15.6in screen with a decent, 1366 x 768 resolution that supports HD video - look for an HDMI port if you want to hook it up to a telly.
A mid-size 15.6-inch chassis gives you free rein to choose either a dual-core or quad-core CPU. Intel rules the roost with its Core i3 and Core i5 processors, which are both two-core parts with HyperThreading to make them appear as four to the host operating system - handy for a small performance boost.
Core i3 runs at a fixed peak clocks speed, but Core i5 uses TurboBoost to up the clockspeed if it can do so without overheating chip and system. Having said that, the AMD Phenom II has decent performance too, and shouldn't be overlooked, but it is unlikely that you will see any significant benefit from having four CPU cores instead of two.

When it comes to the choice of graphics chip, most Intel CPUs come with the chip maker's GMA HD graphics built in. These cores deliver enough grunt to power the Windows Aero desktop and HD video but not serious gaming. If your play is more casual, the Intel silicon will stand you in good stead and will help deliver the best battery life - though, to be honest, if it's battery life you're after, a 15.6in machine may not be for you.
If you are going to play the latest games, you'll need a proper GPU under the bonnet and that means a member of the AMD's DirectX 11-enabled Mobility Radeon HD 5000 family. At present, AMD's graphics rival, Nvidia, has very little to offer that can match Radeon in the mobile market.
You can expect that your mid-sized laptop will come with a multi-format DVD writer as standard, but Blu-ray is often provided as an option, though it'll push up the price if you take it - more if you want to write BDs too.
Windows 7 is the OS of choice for any new laptop. Reg Hardware recommends the 64-bit version of the OS, and all the machines I've looked at here come with that release. If you buy a machine with 32-bit Windows, bear in mind that the OS will only be able to access up to 3GB of memory.
Ram, bam, thank you, ma'am
Integrated graphics chips will take some of the main memory, so don't worry that the extra gigabyte in a 4GB, Windows 7 Home Premium 32-bit system will be wasted - it won't. Discrete graphics chips come with their own Ram.
So 3GB is the minimum for an integrated system, and 4GB is a sensible purchase. Some high end laptops already ship with 8GB of Ram, but a lot of that really will be wasted if you don't also have a 64-bit OS.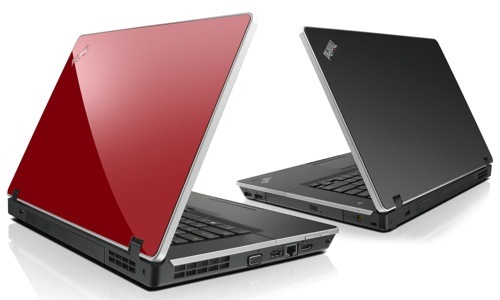 15.6in notebooks are not the acme of portability
Hard drive storage is cheap and plentiful - get as much as you can afford. Unfortunately, we're unlikely to see budget solid-state drives any time soon. Although the hardware is absolutely wonderful, the price is still very high. But these machines use Sata-standard HDDs, so swapping them for SSDs is generally straightforward.
Wireless communication is an essential feature for a laptop and every model here supports 802.11n Wi-Fi which is faster than the older 802.11g though you'll need an 802.11n-capable router to get the benefit. You may wish to pay extra for Bluetooth if you need to link to your mobile phone or some other peripheral.
A 15.6in notebook will weigh around 2.5kg - a lot to lug around if you want to take your machine with you wherever you go. You can buy 13in laptops with the same 1366 x 768 resolution that weigh a more convenient 2kg, and 11.6in or 12in laptops will generally offer the same resolution and be lighter still. The key point to note here: it's the screen's resolutio that governs how much content you can cram on it, not its physical size.
A fair few 15.6in notebooks come with higher resolutions than 1366 x 768, with 1920 x 1080 - the same as a 1080i or 1080p TV - the most commonplace. Again, you'll pay more for those extra good-for-HD-video-and-games pixels. ®