Original URL: https://www.theregister.co.uk/2010/09/17/automotive_x_prize/
Surprise Automotive X Prize winners announced
Internal combustion shocker
Posted in Science, 17th September 2010 23:54 GMT
The X Prize Foundation has announced the winners of the $10m Progressive Insurance Automotive X Prize challenge, and the $5m winner of the Mainstream Class was neither a hybrid nor an all-electric vehicle.
"When we began this process," said the leader of the winning Edison2 team, Oliver Kuttner, "we followed the general assumption that building a hybrid, or partially electric vehicle, would be the answer to building the most efficient car."
But that didn't turn out to be the case.
"In careful research," Kuttner continued in a video interview, "we came to think that by far the lowest hanging fruit was just to build the best platform. The most efficient platform, by definition, is the lightest, lowest aerodynamic drag platform. We quickly realized that lugging around hundreds of pounds of batteries was conflicting with that philosophy."
And so Kuttner's team — which consists of over 100 people, many from racing backgrounds — created the aptly named Very Light Car. In their quest to build a vehicle that could meet the X Prize's goal of 100 miles per gallon (or thereabouts, as we'll explain in a bit), they powered the VLC with a 250cc, single cylinder, dual overhead cam, turbocharged Yamaha engine that maxes out at 40 horsepower and 29 ft-lbs of torque while running on E85 fuel, a mix of 85 per cent ethanol and 15 per cent gasoline.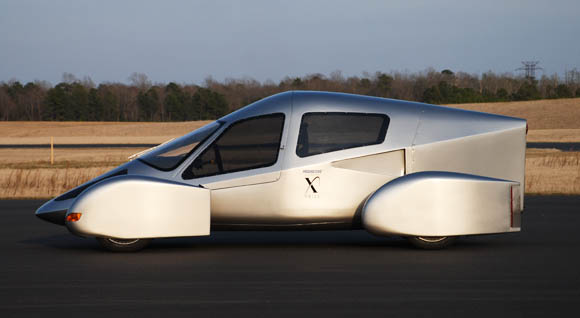 'I'm not for or against electric cars, I'm for efficient cars,' says the VLC's team leader
The VLC is very light, indeed, weighing it at 830 pounds (376kg). While that may seem weighty when compared with solar-powered waifs such as the Umicar Infinity, Nuna 4, or contestants in, for example, the World Solar Challenge, it's impressively svelt when you keep in mind that to compete in the Automotive X Prize's Mainstream Class, a car has to be, well, a car and not a delicate silicon-encrusted table-on-wheels.
The VLC is quite car-like: it seats four, has 22 cubic feet of luggage capacity, heating and air conditioning, a six-speed manual transmission, three-speed windshield wipers (with an intermittent mode, as well, natch), and even an iPod-powered stereo system.
And it tops out at 100 miles per hour. Efficiently. According to Kuttner, "Our car gets essentially the same miles per gallon if you're going 40, 50, 60, or 70 miles per hour. If we can get a car that get 100 miles per gallon going 70 miles per hour, I think that's a pretty good winner."
And the X Prize judges found after road testing at Michigan International Speedway and laboratory verification at the US Department of Energy's Argonne National Lab that the VLC did manage to achieve that 100 mile per gallon goal: 102.5 MPGe, to be exact.
MPGe, however, isn't the same thing as MPG, and the X Prize award was calculated in terms of MPGe — miles per gallon equivalent — not MPG. As explained by the X Prizers, MPGe is calculated as follows: (miles driven) / [(total energy of all fuels consumed)/(energy of one gallon of gasoline)]. Thankfully, they've also provided an Excel spreadsheet you can download here to help you determine MPGe for an assortment of fuels and electricity sources.
Batteries and sex
MPGe was a more important consideration when judging the efficiency of the battery-powered winners of the two-seater Automotive X Prizes, Alternative Side-by-Side Class and Alternative Tandem Class, each of which bagged $2.5m for their efforts.
The side-by-side winner was the Wave II from Li-ion Motors of Mooresville, North Carolina. As the company's name might have tipped you to, the Wave II is powered by lithium-ion batteries, which brought the relatively small vehicle's curb weight up to a hefty 2,176 pounds (987kg) — although, considering the weight of LiIon batteries, squeaking in at just over a ton is not all that shabby.
The Wave II managed an MPGe of 187, accelerated from zero to 60 miles per hour in 14.7 seconds, and attained a range of over 100 miles in what the X Prize folks described as "a real-world driving cycle."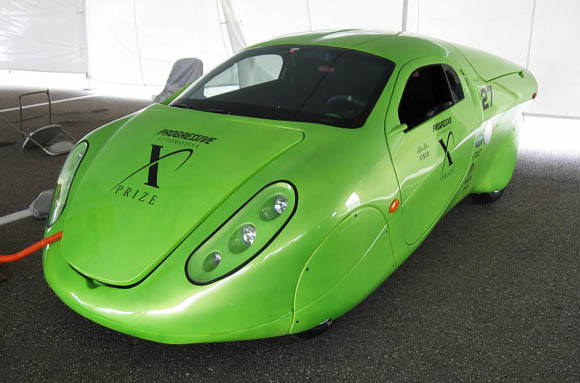 The Wave II may look a wee bit amphibian, but it'll carry two in efficient comfort
The winner of the tandem class, the E-Tracer from the Swiss motorcycle manufacturer, Peraves, is — to our eyes, at least — the sexiest of the winning trio. Essentially a sleek, stretched-out electric motorcycle, the E-Tracer achieved a contest-best 205.3 MPGe.
Peraves plans to offer the E-Tracer for sale beginning early next year — but at a price of $108,000, it's hardly an impulse buy. That said, both its looks and its performance are sure to turn heads: the company claims zero to 100km/h in less than four seconds with a top speed of 240km/h — for Reg readers more comfortable with miles, think zero-to-62 and 149mph.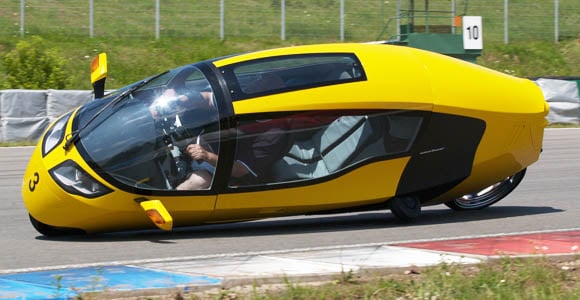 The E-Tracer — perfect for zipping through the Swiss Alps
With its batteries fully juiced, the 1,436-pound (651kg) E-Tracer's range is rated at 300km (186 miles). And if you didn't blink when we mentioned that $108,000 price tag, know that another, more-powerful "ultra sport" version is also scheduled for production, which we can only assume will be pricier.
These three winners, by the way, faced a horde of competitors: a total of 136 vehicles were entered by 111 teams from 11 different countries. The range of entries was impressive — check out, for example, the sleek Aptera 2e, Lilliputian foam-covered Spira4u, bug-like OptaMotive, just-plain-weird K-Way Motus, or painfully plain Tango — Popular Mechanics has photos of them all. ®
Bootnote
Although the Very Light Car is, indeed very light — as Edison2's website explains in Steinian prose, "The Very Light Car is light because it is light" — no data has yet been provided about its MPGe when loaded with a quartet of Mississippians