Original URL: https://www.theregister.co.uk/2010/09/16/review_gopro_hd_hero_waterproof_camera/
GoPro HD Hero camera
Water sports action star
Posted in Personal Tech, 16th September 2010 07:00 GMT
Review For show-offs and general posers outdoor enthusiasts everywhere, GoPro devices tap neatly into all sorts of extreme sports where cameras have previously been off-limits. Indeed, the Hero range can be stuck, worn, twisted and clipped in numerous tricky places.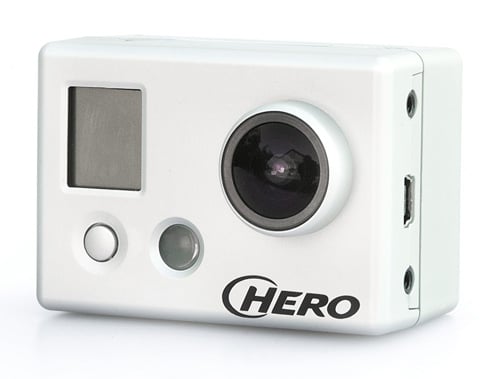 GoPro's HD Hero: one camera, several guises
The latest incarnation, the HD Hero, weighs in at 167g and has 1080p video recording. The makers claim a surprising 2.5hr battery life for recording with this dinky device's rechargeable cell. It charges from USB but can also be juiced-up from an optional mains PSU. For playback, the HD Hero even has interfacing to show video using the supplied cables for component (HD) and SD (composite) gear.
The three distinct camera options – Motorsport, Surf and Helmet – each contain different stick-on clips and camera-mounting straps. Handily, GoPro seems committed to providing attachments for various niche sports, from chest mounts to roll cages, with more accessories due as the range develops.
So on a glorious afternoon at one of Cornwall's best-loved beaches, I turn up with the necessary camera mount pre-attached to a surfboard, yet feeling rather uncool about being the guy all ready to film (no-one but himself) surfing.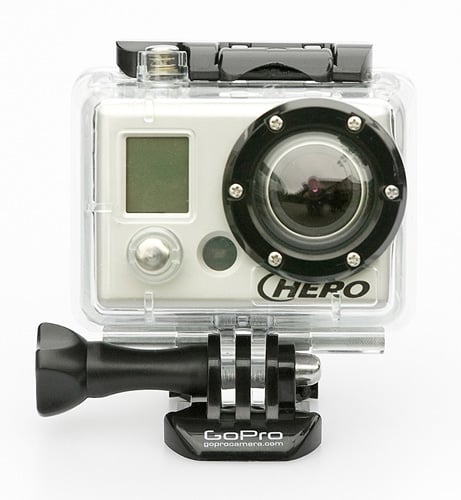 The waterproof casing is good for 60 metres
Prepping the camera felt a tad fiddly given the elements of sand and surf-wax ever present to smear, scratch and generally ruin. These initial fears were unfounded though. Have the camera fully charged and then housed (waterproof to 60 metres) you'll find it can be chucked around quite freely.
The HD Hero is reasonably discreet and, surprisingly, any extra weight was barely noticeable. With just two buttons and a small LCD display, configuring is kept purposefully simple. No zoom, no tricky ISO settings to fiddle with, just a variety of resolutions (four plus an extra 60fps version for super-slow playback) and 5Mp stills.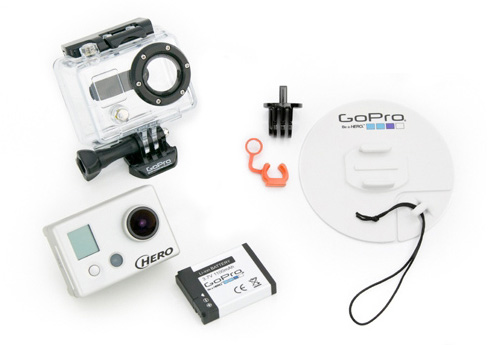 Surfing attachments
Conveniently, the camera can take stills at set intervals, up to a 60-second gap, or a simple 3-shot burst. While the GoPro is never going to be a camera buff's best friend, the lack of options is an absolute pleasure when scrabbling around in the ocean trying to change modes.
Whatever your activity, a simple button-press sets the camera recording (or snapping) with a useful beep. One more press to stop and the LCD screen displays the number of files now stored on your SD card.
The Helmet version's mounting kit
With no viewfinder as standard, there's something of the old 'wait and see' magic of film here – scoping out your yield of footage is immense fun. Both images and videos are better defined than I had initially expected – clear, lucid colours, and underwater footage of surprising clarity.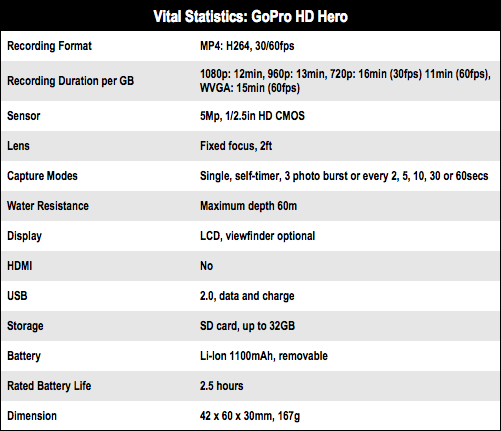 Sample Video
Sample Shots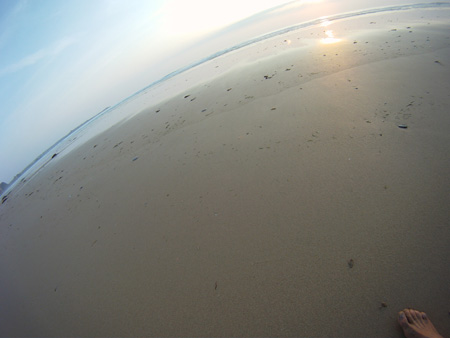 Click for a full-resolution image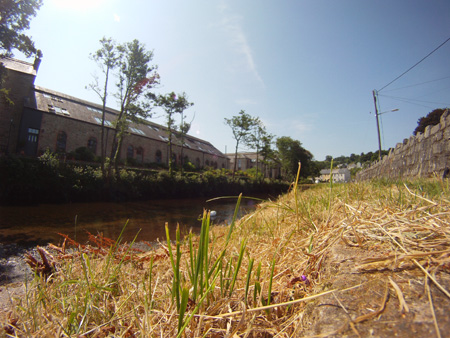 Click for a full-resolution image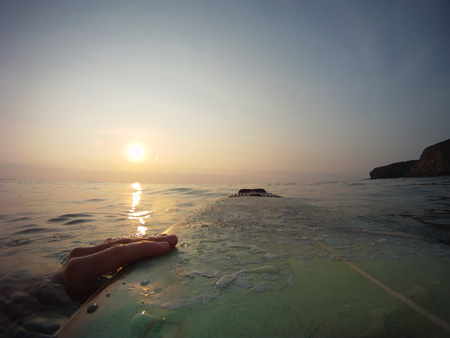 Click for a full-resolution image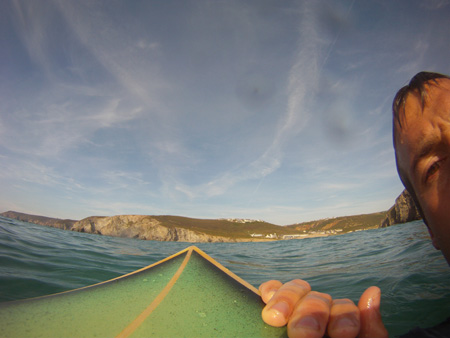 Click for a full-resolution image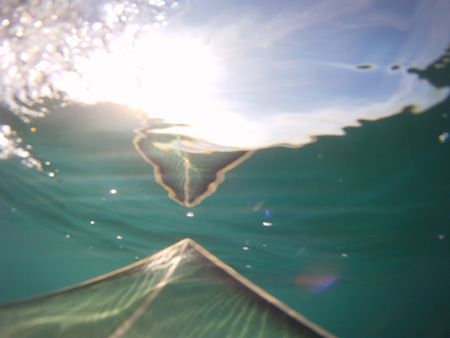 Click for a full-resolution image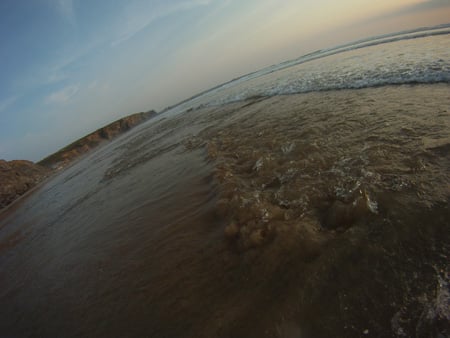 Click for a full-resolution image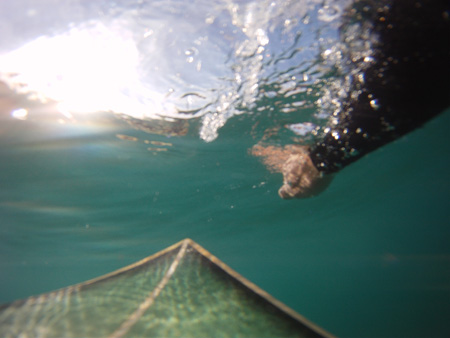 Click for a full-resolution image
The lens gives a slightly fish-eye, nevertheless cool, angle on the action. Audio recording isn't anything special, but captures plenty of rushes, splashes and voice – a bundled, non-waterproof back-plate allows extra sound in. Squeaks and scrapes can be a little intrusive, with the camera pivot especially volatile. Overall, sound capture performs best when the unit is fully fixed.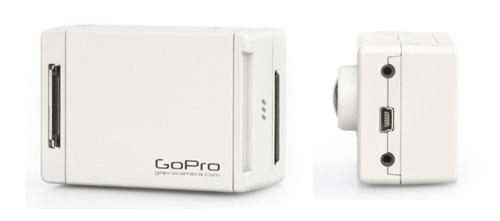 Delivers a unique perspective but a tad pricey
Verdict
In the UK, the $270 price of GoPro Surf HD Hero doesn't translate too well, being nearer to £285, so you need to be sure you're going to really use this camera, likewise with the£300 Helmet . For surfers, skiers, wake and snowboarders, the HD Surf Hero delivers a convenient way to view yourself up-close, in action and provides the means to reflect and improve from such with the slow-motion video option proving invaluable. As the sample video shows the Helmet version offers a distinct perspective too. Both moving and still images are of reasonable quality with the versatile, attach-anywhere, cheaply replaceable camera housing offering enormous appeal to capture some rather unique footage. ®
More Camera Reviews…

Pentax
Optio W90
Olympus
Tough 8010
Canon
Powershot D10
Veho
Muvi Atom