Original URL: https://www.theregister.co.uk/2010/09/15/tinfoil_bellywear/
Tinfoil 'radiation shield' maternity wear hits 'Frisco
Fearmongers rebrand stench-buster fabric
Posted in Science, 15th September 2010 12:36 GMT
A fearmongering company has this week launched its brand of maternity tinfoil, dubbed "Belly Armor", in San Francisco. The makers of Belly Armor claim that it offers "guaranteed protection" for a pregnant wearer's unborn child from the dangers of "everyday radiation", for instance from mobile phones or computers.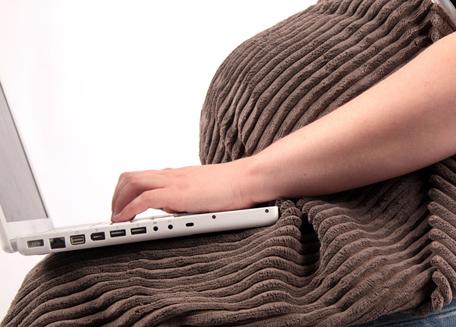 Using a Mac could KILL YOUR BABY
Quite apart from these dangers being baseless claptrap to begin with, in fact there are many types of everyday radiation against which Belly Armor appears to offer no protection: and further, it's worth noting Belly Armor is nothing more than rebranded and seriously overpriced anti-body-odour fabric.
No, really. According to makers RadiaShield Technologies, the fabric in Belly Armor products is "a woven fabric made of 82% silver fiber". The company has hired an independent lab to verify (pdf) that the textile is a barrier to electromagnetic waves in the frequency range 10 MHz to 8 GHz, covering many consumer technologies such as cell phones, Wi-Fi, Bluetooth etc.
CNET news, reporting on the fact that Belly Armor products can now be purchased retail in the Bay Area, quotes CEO Aileen Chen as stating:
"People are expecting the heavy, dentist-office-type aprons but are surprised to find our RadiaShield fabric is lighter than the cotton found in T-shirts."
The unnamed people are evidently not too savvy regarding the electromagnetic spectrum, as the aprons sometimes used by dentists are intended to shield against X-rays - which actually can penetrate the human body easily (that's why they're used for taking pictures of its interior, after all) and inflict ionising damage on it.
Radio and microwave frequencies, by contrast, don't ionise what they hit: the worst they will do to anything is warm it up. They can also be made to dump the generally minute amounts of energy they carry into correctly arranged conductors in the form of tiny electrical currents (that's why we use them to communicate, after all - the conductors being the receiving antennae).
Silver being an excellent conductor, it's no surprise to find that a given silver fibre fabric attentuates signals by more than 40 dB (eg 99.99 per cent) in the frequency range 10 MHz to 8 GHz, with a sharp dropoff at either end suggesting that outside this band the effect disappears.
So you could drape a Belly Armor blanket over your bump and type away on your Wi-Fi laptop or fiddle with your cellphone and baby will receive no emissions from the device. Things behind you or otherwise with un-Belly-Armor'd line-of-sight to the foetus will be unaffected, though! Think of your husband's phone! The Wi-Fi router! The cordless phone base station and handsets! Aiee!
It's actually intended for people who smell
OK, so wear a Belly Armor T-shirt, or drape yourself in multiple blankets. But you're still not out of the woods, actually: look up there in the corner of the ceiling! My God! The burglar-alarm MOTION DETECTOR is quite possibly BEAMING OUT DEADLY RAYS at 10.5 GHz - WELL OUTSIDE the tested band in which Belly Armor is known to work!
And OMG! There might be cops nearby using speed guns. The sky is full of satellites bathing the Earth in "radiation". Those criminal maniacs at the airport and in the military are beaming out radar all over the place. All these signals laugh at Belly Armor, so you'd still be really somewhat of a fool to spend up to $109 a pop on it even if there was any evidence at all that non-ionising low energy microwaves have any health effects whatsoever - which there isn't.
In fact you might still feel seriously ripped off even if low-power microwaves were dangerous (no) and silver fibre actually stopped all of them (no again). Silver fibre fabric is nothing new or special: it is mostly sold for its bacteria-killing properties. For instance if you suffer from stinky feet, some silver socks might help. If you like to get outdoors and shed some perspiration, plenty of sportswear companies offer silvery fabrics to quell the resulting personal odours. US Navy SEAL special-ops troops, often compelled to wear their uniforms continuously for long and sweaty periods in the field without washing, sometimes wear silver-fibre togs to prevent their garments rotting off their bodies.
If silver fibre is what you want, there's no need to pay a minimum of $60 for Belly Armor. You could get a nice silver pyjama top for under $40, or maybe find a silver sports top for even less.
But frankly, if you're the sort of person who is seriously considering the purchase of Belly Armor, you probably already own and wear a hat made of tinfoil. Why don't you simply wrap a length of trusty kitchen aluminium round your midsection, too? ®