Original URL: http://www.theregister.co.uk/2010/09/14/games_review_hawx_2/
Tom Clancy's Hawx 2
Flight to the death
Posted in Personal Tech, 14th September 2010 12:00 GMT
Review Just like its predecessor, Hawx 2 falls fouls of one of gaming's most frequently exasperating ironies: dogfighting.
Of all the approximations of real-world thrills, aerial combat must rank as one of the most exciting imaginable. Time and time again, however, those thrills fail to translate through the medium of videogames.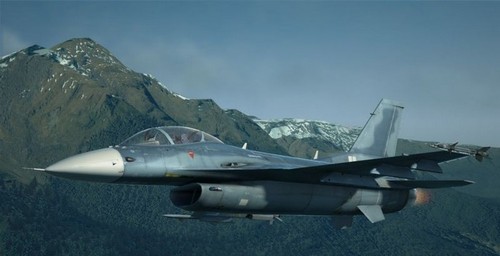 Plane and simple
Hawx 2 has all the right elements in place: bleeding-edge aircraft and weaponry, multiple bogeys and truly omnidirectional combat. It even enjoys real-world topography, courtesy of up-to-date satellite mapping. But the mainstay of aerial combat suffers from the tiresome, prescriptive central mechanics, which down so many other instantly forgettable flying games.
As with those games, mastery over Hawx 2's skies requires incessant repetition of accelerate, brake, bank, spin and fire in air-to-air combat, and overshoot, bank, line up and drop ordinance in air-to-ground combat.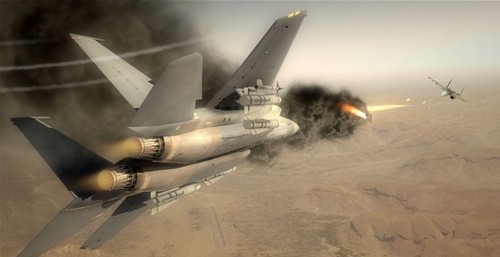 Ready, aim, flyer
The best flying games camouflage this limitation by supplementing the experience elsewhere. In Il-2 Sturmovik it was historical accuracy and truly scalable plane handling. And in Crimson Skies it was narrative and sandbox-style variety and choice. But while Hawx 2 attempts to do the same through plot and variety of mission structure, it fails miserably.
Patriotic Game
Reading like the draft script for a Team America: World Police sequel, the plot sees the Hawx team combating that ultra fashionable, faceless triumvirate of catch-all enemies: insurgents, terrorists and separatists. With an unexplained rediscovered sense of patriotism, the Hawx team are now back flying with their respective national air forces, combating an enemy that is hell-bent on destabilising Russia.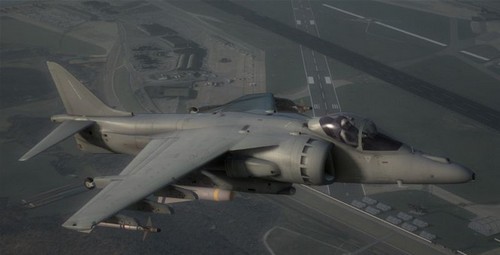 Dunno how to fly, I'll just have to wing it
With more holes than a Chilean mineshaft, it's a plot that leaves you scratching your head for hours on end, wondering how a small band of separatists (that are all but annihilated in one of the opening levels) can bombard your plane with city-wide flak and afford to send up hundreds of well-trained pilots flying the world's most expensive military aircraft. In fact, I calculated I had shot down some $20bn worth of aircraft before the plot eventually stabilised into a more plausible – at least by Clancy's standards – dissident ultra-nationalist coup d'état against the pro-Western Russian presidency.
As preposterous as it may be, the plot serves to place you in the cockpit of - and in direct combat with - the world's most advanced jet fighters. But even here, Ubisoft fails in believability. Apart from accurate models and cockpits, and varied weapon loadouts, aircraft are practically indistinguishable.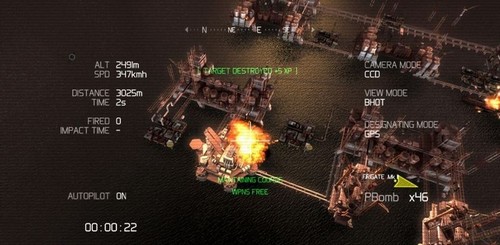 Got the whole place on lock-down
The American F-X planes, Migs, Eurofighters and even Sukhois are stripped of their individuality, and all perform similarly . The Harrier GR9 even seems to have forgotten its V/STOL button, choosing instead to land in regular fashion on the British aircraft carrier. Worse still, the newer, supermanoeuvrable SU-30MKI, SU-35BM, SU-47 and F22 Raptor planes have all inexplicably had their vector thrusting disabled, so you can forget extreme agility at higher velocities, let alone pulling of a Pugachev's Cobra.
Va va voom?
Talking of insane manoeuvres, Hawx 2 has a penchant for stalling, which sees you stall at low speeds irrespective of attitude. It's bad enough when the plane is horizontal, at a zero-degree critical angle of attack, but its unforgivable when the nose is down and the critical angle of attack is negative. This basic misunderstanding of stall dynamics means the ground is often the game's deadliest foe, especially during air-to-ground combat, where low-level flying is required.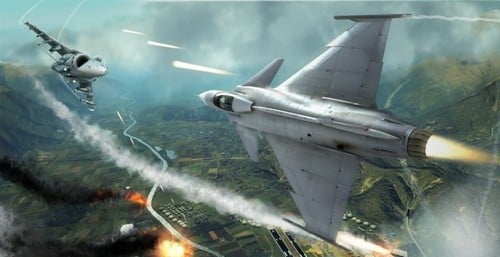 Rocket off, shooting sideways
It's not Hawx 2's only unintended loss of thrust. The game regularly stalls in its side missions, in which you man UAV drones and AC-130 gunships. A direct rip-off from Modern Warfare and other military FPSs, the missions are enjoyable enough in isolation, but they are overused throughout the 12-hour single player campaign, and the point-and-click mechanic of high altitude precision striking soon becomes tedious.
In a last ditch effort to retain interest, the game throws a few other novelties at you, such as clearing sea minefields to allow safe passage for naval cruisers, flying past large radio antennas to look for signs of tampering and, best of all, taking down multiple nuclear ICBMs before they reach escape velocity. But arriving towards the end of the game, these additional elements, although welcome, will arrive too late for most players.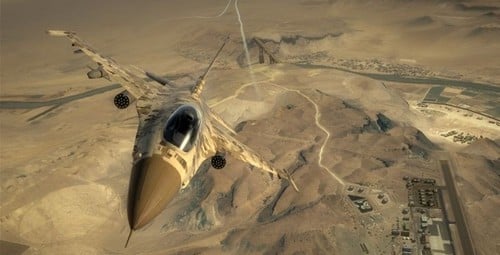 This game may, ironically, fail to take off
Verdict
The real disappointment of Hawx 2 is not the near homogeneousness of its aircraft, or the overuse of point-and-click side missions. It's not even that it fails to improve upon the original. The real disappointment is that Ubisoft has, like so many developers before it, crashed and burned in disproving one of gaming's enduring ironies: that flying a $150m F22-Raptor in combat against multiple enemies is neither exhilarating nor fun.
More Games Reviews

Mafia
II
Kane & Lynch 2:
Dog Days
Lara Croft and the
Guardian of Light
Monday Night
Combat