Original URL: https://www.theregister.co.uk/2010/09/14/game_review_halo_reach/
Halo: Reach
Start the Fight
Posted in Personal Tech, 14th September 2010 18:01 GMT
Review Of all life's truisms perhaps the most specious is that nothing is perfect. Whether a safety valve to prevent a blowout of hubris, or merely an envious reflection of our flawed and capricious nature, it is dogma inherent to all. But nowhere is it more apparent – or afforded greater prominence - than when wielded as a chisel by the critic.
You see, it's all too easy to start with that incontrovertible truth and work backwards - to imagine perfection as a solid, unachievable 100 per cent block, and then whittle away each glaring fault to reveal a true estimation. When reviewing, it helps minimise bias and emotion, and provide a balanced, selfless argument to an audience of diverse tastes.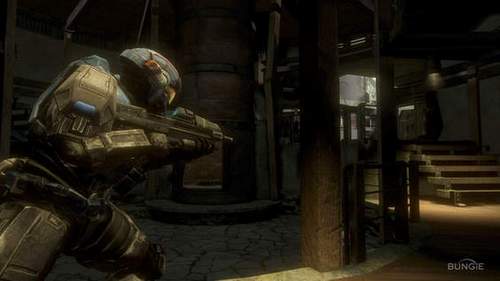 Reach steps it up to another level
And so, by dropping the chisel altogether with Halo Reach and leaving that 100 per cent score intact, I know I'm inviting extreme reactions. One man's Halo is another man's Daikatana, especially to Sonybois and those PC gamers still resentful of Bungie's decade-old defection to the Xbox with Combat Evolved.
And die-hard Halo fans themselves will likely have developed severe battle fatigue after the trudge through Halo 3's blockbuster banalities and ODST's divisive hub structure and combat vignettes.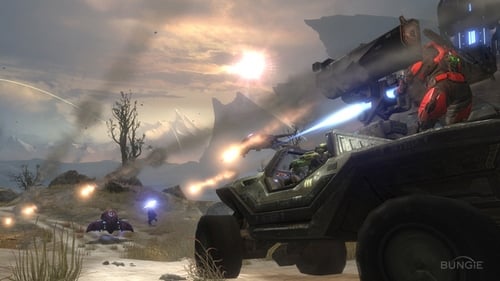 That's a jeep shot if I ever saw one!
Indeed, it's even possible to find fault with Reach itself. The graphics, although an improvement over Halo 3, remain some way short of the best 360 titles. Dynamic check-pointing still occasionally leads to frustrating pinch points, and very occasionally to game breaking zugzwangs. And the narrative continues to mumble along like a Special Brew-drinking-tramp raving about something, something alien race, something humanity, something intergalactic war.
The Perfect Score
But Reach thoroughly deserves its perfect score. By paring Halo back to Combat Evolved's uncluttered focus, while including only its sequels' very best elements, and retaining its ability to amaze with jaw-dropping spectacles and set pieces, Bungie has crafted the ultimate swansong to its decade long saga.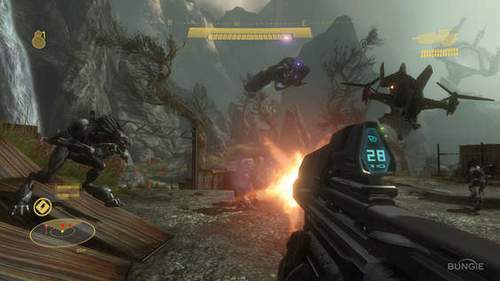 Shooting forward in style
Immediately preceding the events of Combat Evolved, Reach tells the story of Noble Team, a troop of Spartans defending humanity's military power base on the planet Reach from surprise invasion by a massive Covenant armada. In the face of such an indomitable enemy there's something very noble about Noble Team.
Some may mistake their flat dialogue or lack of COD-style 'getsum' brouhaha as a failing of Bungie's narrative, but Reach's sombre perspective - which owes more than a passing nod to the Mass Effect games - simply reflects the Spartan lore of super-soldiers born to die.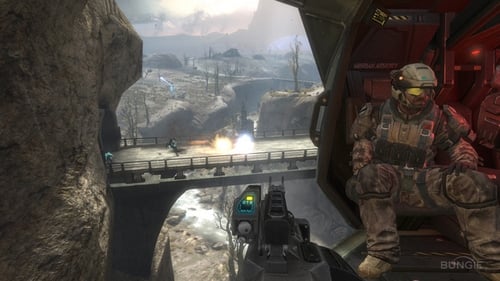 Death from above
As Noble Team's laconic FNG, Noble Six, your task is to disrupt the invasion long enough to evacuate the remaining inhabitants and salvage as much military hardware as possible. Deep behind enemy lines, every inch of ground, every outpost, mountain path and landing zone must be fought for tooth and nail, where infiltration, hit-and-run skirmishes and sabotage are the rules of engagement.
The best weapons and vehicles in the series' history!
This guerilla warfare is perfectly suited to Bungie's peerless combat and variety, which excels regardless whether you're racing through the legs of giant Scarabs on your quad-bike, or facing off against four Hunters in a neon-drenched nightclub atop one of Reach's spacescrapers.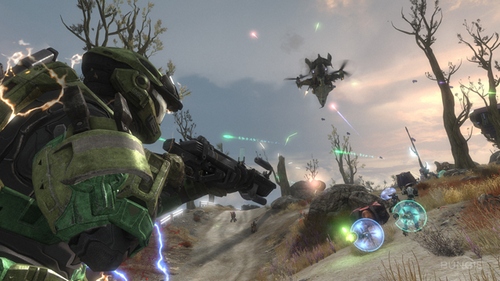 Wield those shields
To help finish the fight, Bungie has assembled the best weapons and vehicles in the series' history, from reinstating the pistol to its former glory and including the Revenant - a small, nimble Covenant tank - to introducing new equipment collectibles, such as the armour lock, hologram and jetpack, which bring significant, complementary changes to combat tactics.
Useful and enjoyable in the main campaign, these equipment collectibles come into their own in multiplayer, where they are assigned as class-specific loadouts. As in the campaign, these new additions are infused into the classic structure to ensure evolutionary gameplay, which marks the pinnacle of the Halo multiplayer experience.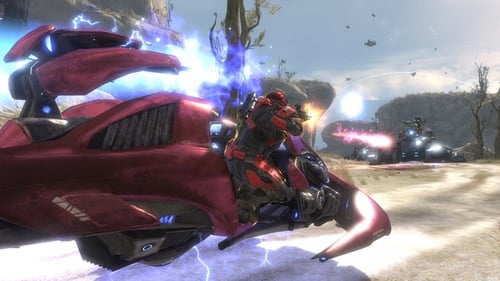 A lotta bang for your truck
But if the promise of jetpacking your way to domination, or watching your enemy cluelessly empty a full clip into your hologram doesn't whet your appetite, then perhaps the new modes will. Joining the regular Slayer and CTF modes, Invasion is the best of the new team death match types, which sees 8 vs 8, Spartans vs Covenant fighting on a dynamically changing battlefield, punctuated by increasingly powerful load-outs.
10 Years in the Making
Firefight makes a welcome return from ODST, but now adds a vast array of user-configured options and a new versus mode, where two players assume the roles of Covenant Elites, blending in with the horde to inject unpredictable human intelligence to proceedings.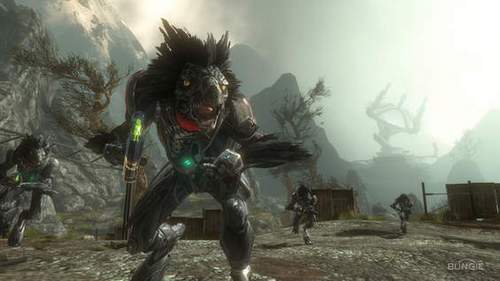 Great balls of fur
And lastly, the Forge editor returns, this time more powerful and adaptable than ever. While still not a full level editor, the amount of customisation, especially in building blocks, should lead to a level of user-generated content unseen in previous Halos, and increase the longevity of online play.
Verdict
As a crescendo 10-years in the making, Reach meets and defies all the right expectations. The campaign may ultimately prove a little too nostalgic for some, but for those who have patiently awaited the true successor to Combat Evolved, Reach delivers where all the other sequels failed. And in its multiplayer, Bungie masterfully balances old with new to again prove itself without equal in understanding its product and fans.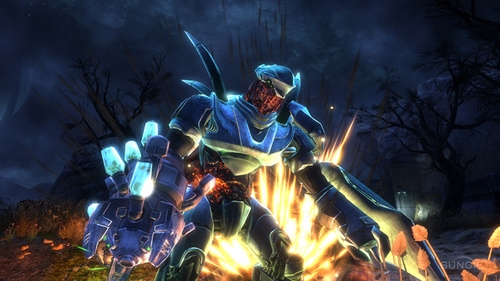 Light me up, here I glow
Set amid the bombarded ruins of Reach's capital city New Alexandria, one level near the end of the campaign asks 'can the last person to leave please turn off the lights.' It's a poignant reference to Bungie's conclusion of ten years' development. But, so perfect is Reach, and so dedicated are Halo's fans, it will surely be a long time before that light finally goes out. ®
More Games Reviews

Tom Clancy's
Hawx 2
Mafia
II
Kane & Lynch 2:
Dog Days
Lara Croft and the
Guardian of Light