Original URL: https://www.theregister.co.uk/2010/09/13/vanjokia_bbc/
Beeb invents rhyming Nokia exec
'Anssi Vanjokia' gets his coat
Posted in Bootnotes, 13th September 2010 15:00 GMT
Executive changes at the top of Nokia have caused temporary confusion at the BBC. Olli-Pekka Kallasvuo's replacement as CEO was announced on Friday, and today Anssi Vanjoki announced he would be departing.
Over at BBC News Online the pileup of hard-to-pronounce Finn-Ugric consonants all got a bit much. Reader Tim found they'd simplified things somewhat.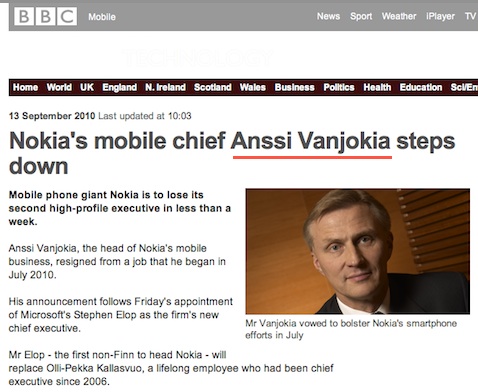 It's no jokia
"Vanjokia" has a familiar ring to it. Unfortunately this innovation didn't last much more than 45 minutes.
What a pity - it would make things so much easier.
Our enterprise software correspondents could simply refer to Larry Oracle - is any explanation necessary? - and the rest of us to Steve Apple, for example. Or back in the day, Alan Amstrad. Eponymous company founders (for example, James Dyson) have already saved us the bother, of course.
It would save valuable bits and bandwidth, and of course, carbon emissions. ®