Original URL: http://www.theregister.co.uk/2010/09/10/grouptest_budget_dslr_cameras_canon_eos_1000d/
Canon EOS 1000D
Posted in Personal Tech, 10th September 2010 07:00 GMT
Review Canon has left no corner of the saturated DSLR market untouched, which certainly has a knock-on effect for potential buyers of the 10.1Mp EOS 1000D. While its 2.5in LCD screen feels cramped by modern standards, and its all-plastic construction does make it feel cheap compared to the Nikon D3000, it is, however, compatible with every extender, Speedlite and lens Canon makes – and that's a huge range.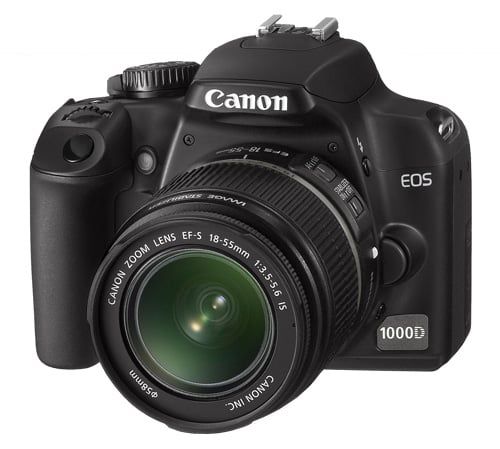 At low ISO settings, telling the cameras apart by image quality is an exercise in splitting hairs, but at ISO 800 and above the 1000D really shines. Noise is minimal and test images remain sharp. Indeed, the 1000D returned usable images at ISO 1600, begging the question: why it doesn't support even higher sensitivities?
Canon's marketing bumpf claims the 1000D can manage up to 3fps – it actually ran very slightly faster – 3.2fps when measured against a stopwatch. The amount of buffer on offer appeared to vary though, with 14 being the largest number of frames captured in a single burst and five the lowest. Switching to RAW not only reduces the amount of buffer available to just three frames, but also caused the 1000D to run around a third slower, at 2.2fps.
Despite the small size and rather plasticky build, the 1000D sits nicely in the hand. It's undeniably small, which isn't necessarily a bad thing, but Canon has shoehorned in a decent array of buttons. Metering, autofocus and the continuous/self-timer modes are all controlled by the navpad on the back.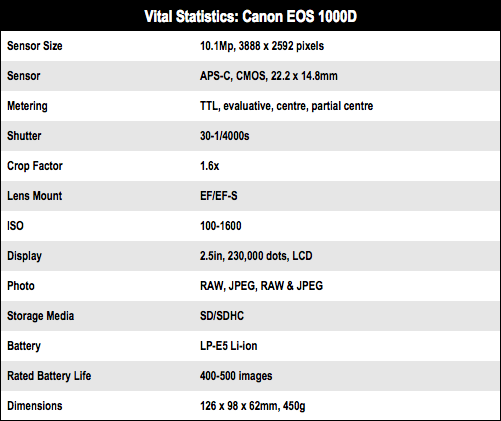 Sample Shots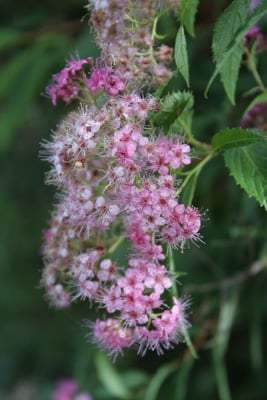 Click for a full-resolution crop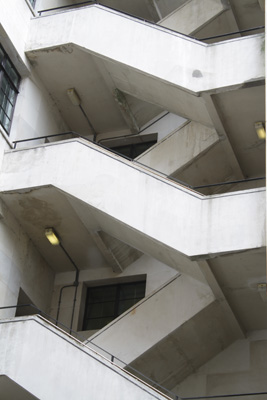 Click for a full-resolution crop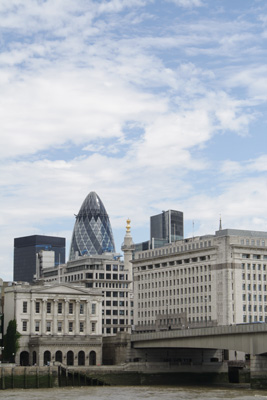 Click for a full-resolution crop
You can also quickly shift between Canon's picture modes (in-camera processing) the same way. There's also a dedicated button for white balance, and, nestled behind the front jog dial, another for quickly switching ISO. The only usability complaint is, once you've chosen to change a setting using a button on the back, you can't use the jog dial to flick between options – you have to use the navpad instead. The ISO button is a curious exception to the rule.
Verdict
The 1000D is a fantastic camera, packed with features and enviably upgradeable. For beginners, the Nikon D3000's on-screen help system will surely win out. And, while the 1000D's test images suggest marginally better high-ISO performance than the D3000, the difference is truly minimal. For those a little more comfortable with the technicalities of shooting with a DSLR, however, the Canon doesn't disappoint in the slightest. ®
Next: Nikon D3000
Budget DSLR Camera Group Test