Original URL: https://www.theregister.co.uk/2010/09/09/terrafugia_production_plans/
World's only real flying car in price hikes, further delays
On time, on cost, on spec: Choose two er, none
Posted in Science, 9th September 2010 12:07 GMT
The firm behind the world's most plausible near-future flying car has pushed back delivery dates again, and suggested that vehicles may wind up costing substantially more than had been planned.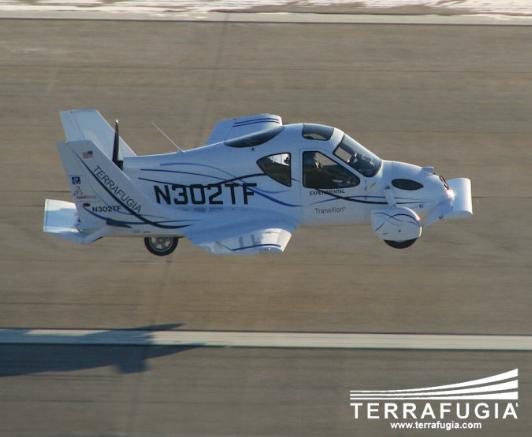 Now it needs to get off the ground commercially
Terrafugia Inc, engaged in developing the Transition "roadable aircraft", made the announcements in a statement issued yesterday. The company says it is now setting up for "low volume production" in a new facility in Massachusetts, and that this "could allow low volume production to begin as early as late 2011".
The most recent Terrafugia forecast had suggested that initial deliveries would begin in 2011, but it now appears that actually the company will only commence building the aircraft at that stage. Furthermore, Transitions were originally expected to sell for $148,000: Terrafugia now says the initial price is "expected to be between $200,000 and $250,000".
In the air the Transition has similar attributes to a normal light two-seater aeroplane. However, unlike a Piper Tomahawk or similar it can fold up its wings once on the ground and drive on the road.
This means that a Transition pilot, having flown to an airstrip near his destination, has no need to find parking space for the plane and then continue on the ground in a hire car or cab: he simply drives out of the airport gate and parks at the kerb once he gets where he's going. If bad weather should set in before the return flight - an event which would prevent most private pilots, lacking instrument ratings, from getting their aircraft home - he simply drives back on the ground.
These are excellent unique selling points: the Transition is a good idea and if it could have been delivered at the planned price, spec and date (it ought to have been on sale for a year by now) it would surely have been a success.
Over 13 stone? Better look for a skinny type-rating instructor
Unfortunately it took much longer to build the initial proof-of-concept prototype vehicle than had been thought. Then, the results of flight tests were evidently not all that one might wish, as the Transition design underwent major modifications following the proof-of-concept vehicle's trials.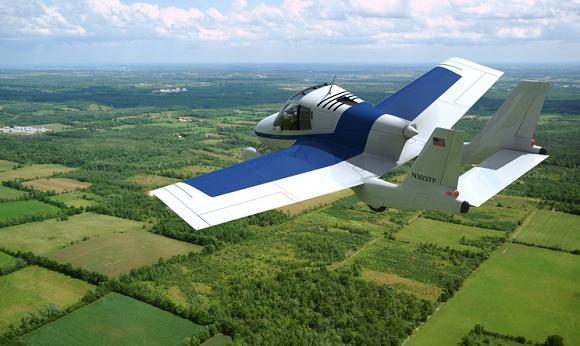 Ideal for hobbits - but not American men.
That redesign, despite the fact that the Federal Aviation Administration has allowed Terrafugia to breach normal weight limits for a light-sport aircraft, unfortunately clipped 90lb off the Transition's already-tight useful load. The new model, fully fuelled, will be able to take just 330lb of people and payload.
Two regular-size US men weighing 13 stone (180lb) apiece can't take off in a freshly topped-up Transition even if both are naked and baggageless. Realistically the Transition has become a single-seater aircraft, for a lot of the people, a lot of the time.
Right now, Terrafugia says it will commence building two more prototypes to the new design. One will go through flight test again, in order to gain light-sport certification. The other will be for the road tests required by the US National Highway Traffic Safety Administration.
"We can get to positive net income and be self-sustaining in a relatively short time here," says Terrafugia CEO Carl Dietrich. "There are still many options to continue our growth in the future, but this move lets us lay a solid foundation for Terrafugia's future today."
Terrafugia's original business plan called for production of between 50 and 200 Transitions annually. The firm now says it has $18m of orders and that these aircraft will be built in "the first two to three years of production" - that might indicate as few as 70-odd orders and annual production in the low twenties.
"Longer term, high volume production plans have not yet been finalized and will be influenced by experience gained in low volume manufacturing," the company's statement says.
Unfortunately it may be that high volume production never becomes required to meet demand. The original Transition, which cost $148k and could - just about - carry two people and a set of golf clubs, was a somewhat different proposition to a $250k single-seater. And three years to deliveries followed by scores or hundreds of sales per annum sounds a lot more likely to repay investments than six to seven years in development followed by sales in the dozens.
We here on the Reg flying-car desk are still hoping that the Transition becomes a soaraway success, sells like hot cakes and makes pots of money for Terrafugia's founders and investors. But that looks less likely than it did when we first covered it. ®