Original URL: https://www.theregister.co.uk/2010/09/09/google_instant_analysis/
Google Instant – more searches, less thought
Sergey Brin gets in your head
Posted in Policy, 9th September 2010 00:15 GMT
Analysis Google is on a mission to make web search as fast as the human brain will allow. On Wednesday morning in San Francisco, as she unveiled Google Instant, a radical overhaul of the company's search engine that updates search results as you type, uber-Googler Marissa Mayer called it "search at the speed of thought." We can safely classify that as an exaggeration for effect, but Mayer's bon mot at least gets to the heart of Google's intentions.
According to Google, the average search takes about 25 seconds, and about 24 of those tick by while you're either typing keywords or deciding which result to choose. In recent years, the company has worked on myriad fronts to improve the speed of the server, networking, and browser technologies that sit between those two very human moments. But with such technologies accounting for a small minority of search times, it's also pushing to speed human responses through changes to its user interface. The addition of Google Suggest — the "auto-complete" tool that suggests searches as you type — is just one example.
But Mayer lamented that Suggest is still restricted by the "physical speed of typing" and "the physical speed of thinking." Google Instant is an effort to go even faster, with Mayer implying it can break through those "physical" barriers.
She claimed that Google Instant will take 2 to 5 seconds off of every search. And she said that for every passing second, its army of searchers will save a total of 11 hours. But you have to wonder if, in increasing speed, Google is also pushing users even further towards the lowest common denominator of search results. You have to wonder if they're indeed removing some of the thought from search — and some free thought at that.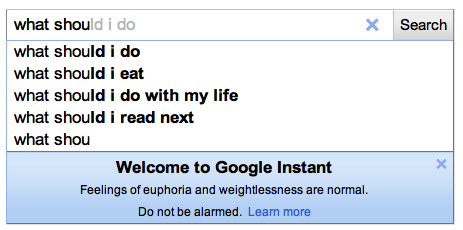 Countless questions also remain about how this will effect Google's back-end infrastructure, its search ads system, and — yes — the efforts of search engine optimizers. Google's line is that Instant search isn't much of a problem for any of this. But although the company is likely prepared to handle the increased number of impressions, today's web chatter indicates that advertisers and SEOs are bracing for some rather significant changes to the way they do business.
In the Google mind, Instant search is merely a faster means of getting you where you already want to go. Whereas Google Suggest suggests possible searches as you type, Google Instant suggests entire pages of results. It may suggest results in response to a single letter. "W" delivers search results for "weather." "New york" — or even "new" followed by a space — delivers results for "New York Times."
Asked if users will now be more inclined to click on what Google considers the relevant search results, Google distinguished engineer Ben Gomes said no. "I'm not going to go to the New York Times just because it's suggested," he told two reporters following the unveiling of the new search setup. "We're trying to help you. If you type 'New York,' that's the most likely thing you want. But it's not going to change what you're looking for.
"When a result actually matches your intent, people will look at it. If it doesn't match your intent, they don't really pay attention to it. They have an idea in their brain and they want to find a match for that."
To Serve Man
According to Google, the primary aim of the setup is to serve the user. The company's obsession with speed, vice president of search engineering Udi Manber tells The Reg, is all about making the engine easier to use. "The easier a device is to use, the more people use it, and they do more interesting things with it," he told us. "Time is a good measure of how easy it is. It's always in our interest to have people to do more searches. If they find what they want, there will be more searches."
When asked if there's also a connection between the number of searches and Google's revenue figures, Manber declined to comment, saying he doesn't deal with ads. But it only stands to reason that more searches translate to more money.
Undoubtedly, Google Instant means more ad impressions. And if users are running more searches, odds are they're ultimately click on more ads. But it's unclear how this will effect the number of clicks per impression — if at all. Google said that with Google Instant, a results page is only considered an impression if stays there for three seconds or if the user hits the search button or clicks on a link.
"There's no change in how we rank or serve our ads," said director of product management Johanna Wright. "But Google Instant changes the way people search, and we're doing our best to calculate what a search is. So we've added a three second pause to identify an impression."
Mayer argued that changes will be minimal because the company only charges by the click. "It's important to note that because we operate on a CPC basis, you pay for the clicks and the clicks are largely preserved despite the change in overall interaction. So although the click-through rate may change, the overall number of clicks that come to your site is likely to remain really constant."
This doesn't acknowledge, however, that an ad's position on the page is determined in large part by its click-through rate. And its position can effect the number of clicks. And so on. The situation is hardly as straightforward as Mayer would lead us to believe.
Google made similar noises about SEO. "Basically, ranking stays the same," Gomes said, "so I don't think there will we much change for people who are trying to adapt results on our search engines." But judging from posts across the web, SEO consultants don't see it that way. And Gomes acknowledged that in the long term, Google Instant could significantly alter the way people use the web. "Behavior and the kinds of searches we see may change over time because the way in which you interact with the search engine will change. But I think that's a much longer term effect."
Yes, infrastructure is an issue with this AJAX-based application. Google says it will automatically turn off Google Instant when you're on a low bandwidth connection. But it's confident that it will not put a significant strain on its back-end infrastructure.
According to Google, if Instant search served up a new page of results for every letter you type, it would increase the number of impressions by twenty fold. But, the company explains, it has optimized the system so that this won't put undo strain on its back-end. For one, said engineer Othar Janssen, the server keeps track of what data the browser already has and what data is already being gathered on some other server. Plus, Janssen and team have improved Google's caching system. "This is one of the most significant things we did," Janssen explained, though he did not go into detail. Later, Gomes said that this was related to the roll-out of Google's new Caffeine infrastructure.
Janssen explained that search results won't necessarily refresh after every single key stroke. Some search result "predictions" receive priority over others. But Google Instant is still an onslaught of impressions. Google's infrastructure might hold up just fine, but there's still the user to think of.
Google says that tests in its user experience lab proved that people love the thing. And at today's launch, it showed videos of users saying how much they loved it. But some Reg readers have already vowed to boycott Google over what can only be described as a very different breed of search engine.
Asked what percentage of users in the test lab didn't like the setup, Mayer simply said "a small percentage." There is an off-switch, and according to Mayer, lab users typically flipped this switch "for connection speed reasons." No doubt, a certain percentage will turn it off in the real world, but we're confident that Google-boycotting Reg readers will be the minority. Google Instant is there by default. And users tend to use what's there.
People are lazy. They're more likely to grab what you give them before making the effort to find something else. And this truth applies to Google Instant in more ways than one.
On Wednesday, Google cofounder Sergey Brin was asked for his opinion on the ever-evolving "human-machine relationship." He responded by recounting a conversation he'd had just a few days before. "I'm embarrassed to admit that one of the phrases I was toying with is: 'We want to make Google the third half of your brain.'" ®