Original URL: https://www.theregister.co.uk/2010/09/08/nokia_home_music_review/
Nokia Home Music HD-1
The Great Lost Jukebox turns up in captivity
Posted in Personal Tech, 8th September 2010 07:00 GMT
Review Best known today for its mobile phones, Nokia has released a connected jukebox at a knock down price. Nokia Home Music is an unusual beast: essentially it's a radio – primarily an Internet radio – built around a giant mono 10W speaker, but there's a Swiss Army knife selection of I/O options for getting music in and out of the box.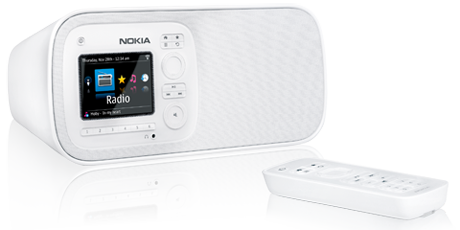 Nokia Home Music: the remote is smaller than the picture suggests.
Like the toy cow, Dougal, it's nearer the camera.
The Nokia Home Music HD-1 can pick up music from a domestic media server using UPnP, or from an attached USB device, or with its standard aux input. It can also play, but not store, podcasts. Unusually, for something in the iPhone speaker price bracket, it can compliment a home hi-fi system from its phono and optical S/PDIF ports. And it has a nice simple Nokia UI, so it looks and feels like a Nokia and should be familiar to anyone who has used a Nokia phone, without recourse to the manual.
So, this is an interesting and unusual piece of kit and you may be wondering why you haven't heard about it before. For the most unusual thing about Nokia Home Music is the curious story behind it. The device was first unveiled at Nokia World in September 2008, with staff at the low-profile booth predicting a launch late that year.
It debuted stateside at CES 2009 four months later, where it won some praise for its design and ambition. And then,… nothing. NHM has never been marketed. It was never sent to consumer magazines or newspapers for review. Dredging the oceans of the interweb brings up just one blog post.
I wasn't even sure where I could find this missing beastie, since it isn't listed under "Accessories" on the Nokia UK webstore. But Nokia UK dispatched one the next day. And here it is - for £135.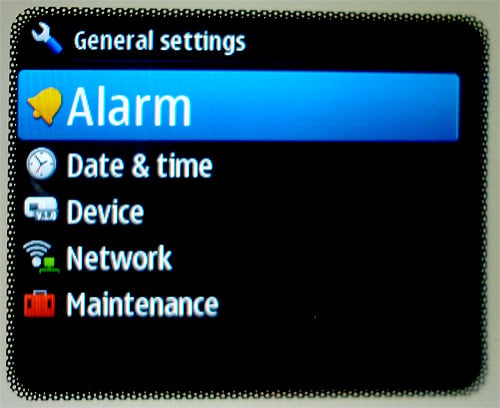 Configuring the device comprises of just five menus
So here, then, is Nokia's Great Lost Jukebox Thingy - in capitivity, and reviewed in the UK for the first time.
Setup and First Impressions
We don't ever do unboxings here - in fact, there's an outstanding Golden Goldfish Award for the world's most inept video unboxing. But figuring we may never see this in captivity ever again, here's the box.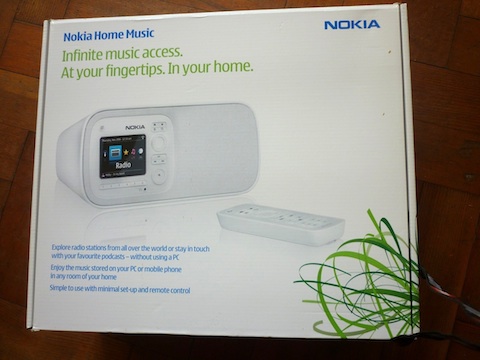 Internet radio is the main pitch, here
---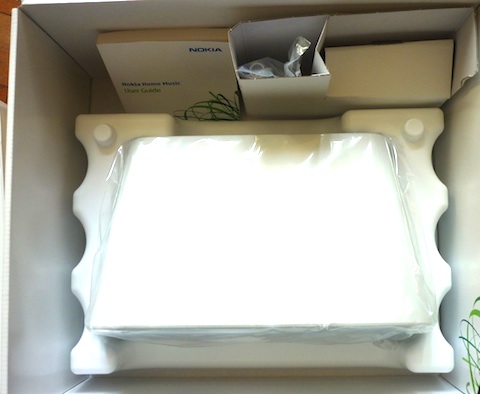 Not a lot of fancy packaging
---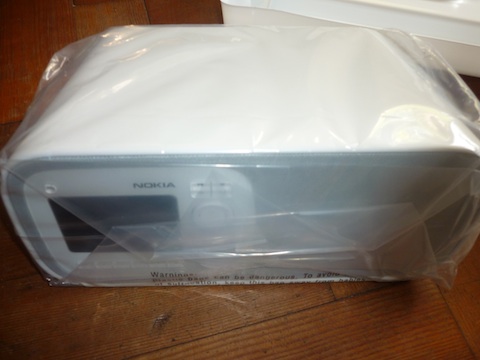 Music Centre, remote... that's pretty much it
The box contains the radio and the infrared remote control, which requires two AAA batteries. Nokia Home Music is strictly a static unit, there's no battery compartment and it's designed for indoor use only. Simply attach the FM antenna and plug it in. Switching on the device prompts you to choose a WiFi network, 802.11g is supported, or you can plug in an Ethernet cable.
Sink Testing
From there, you're away. This piece of kit has spent a solid couple of months in a testing environment: the kitchen. How did it shape up?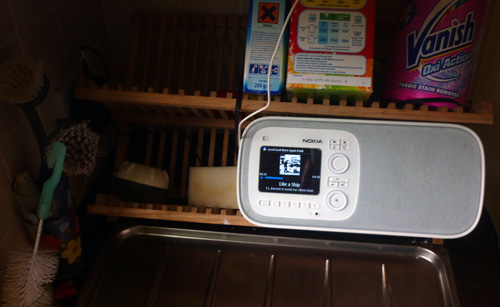 Nokia Home Music in battle conditions: on the large size for a kitchen radio
Two scroll wheels on the front panel feel cheap and plasticky, but make navigation and adjusting the volume straightforward. The small colour display (240x320 pixels) looks just like a Nokia S40 phone. The choice of home, favourite and back buttons also increases the sense of familiarity; the back button could be bigger, but you'll be able to explore most of the functions without the manual.
The same controls are replicated on the remote control. Unfortunately, the remote keys aren't illuminated, so navigating in the dark is harder than it needs to be.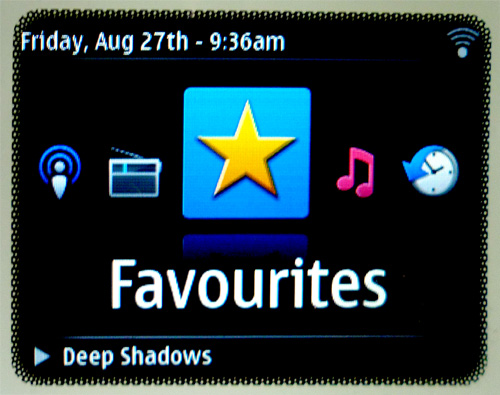 Along with six preset buttons on the front panel, there's also a Favourites section
The initial menu provides top-level access to Podcasts, Radio, a Favourites list and what's called 'Jukebox'. It's a little odd that Podcasts receive such a prominent display, since the device doesn't store them locally, but streams them live. They're really a bookmark.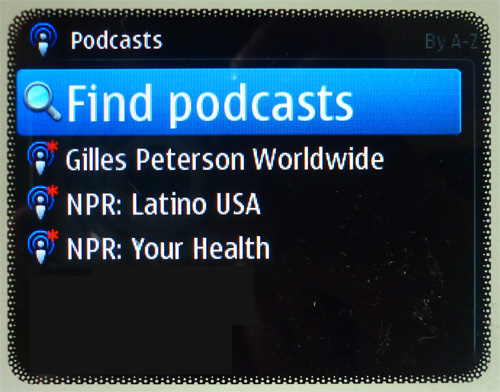 Podcasts are streamed, not stored
Nokia has pre-selected a bunch of popular podcasts, including some strange choices. These include some extreme eco-activist broadcasts from Grist and Treehugger. This contains some quite hateful stuff - and isn't likely to endear Nokia to many potential users. Nokia: get a grip on your Swampies.
Are You Receiving?
It's better news when it comes to linear radio. Radio is really the raison d'être of the device, and does a nice job of integrating FM analogue and Internet radio seamlessly. You merely need to press a station to add it to the favourites list. The box has a daunting built-in directory of net radio stations - with some curious popular omissions. I wasn't able to find WFMU in the list.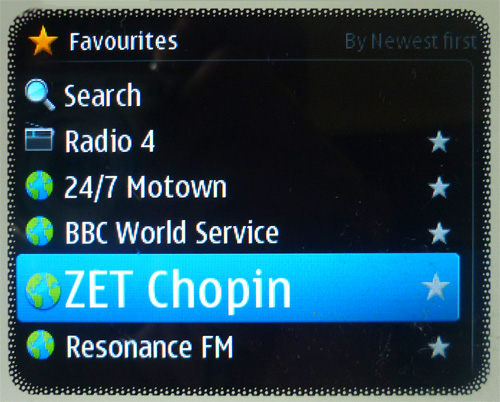 Radio favourites show both FM and Internet stations
When searching for podcasts or Internet radio stations, you can enter the address manually - Nokia here offers you an onscreen keyboard, laid out in Alphanumeric (rather than Qwerty) sequence. It's pretty tedious, but you shouldn't have to do it too often, in theory.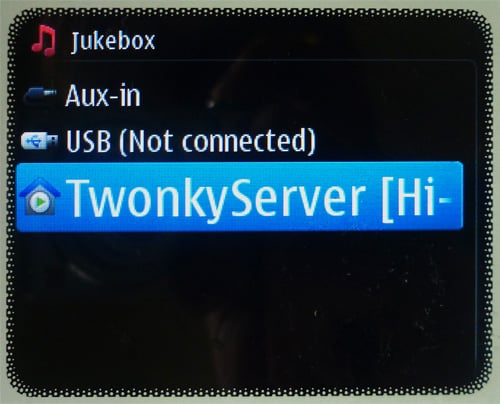 Accessing home media servers is snappy
In a nice touch, the device has a History list, so you can browse through the stations and podcasts you have listened to. This proved to be very useful.
External sources are lumped in the curious Jukebox top-level menu.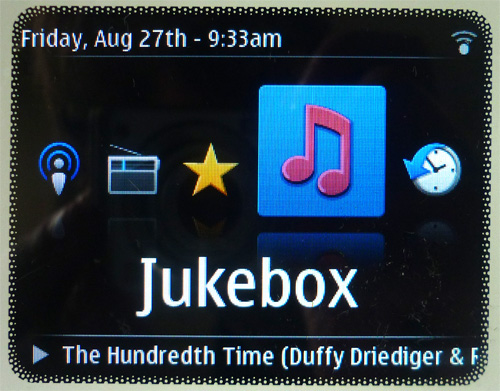 Jukebox provides access to Aux in, USB, and home media servers
As you might expect, Apple's iPhone isn't a supported USB device, and you'd be daft to expect Nokia to provide an iPod/iPhone dock. Still, an iPhone will happily pipe in sound from the Aux input. The box had no problem finding music shared through Windows Media Center over UPnP. It was more problematic on the Mac. NMH wouldn't work with Yazsoft's Playback and Allegro Media Server, but played very nicely with the Twonky Media Server.
Sound, Ergonomics and Extras
Although it's a humble mono system, it pumps out a decent room-filling sound from its 10W speaker. That's largely down to the deep bass reflex tube at the rear, looking ominously like an exhaust pipe. It does such a good job you might consider the output a little bass-heavy when placed against wall.
The Music centre has a dedicated power switch. The front panel power switch will activate the standby display - a fairly bright affair which can't be dimmed, with a large clock.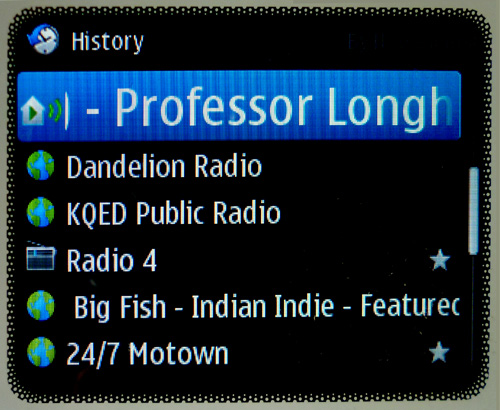 The very useful History list remembers your choices
It's one of the best outputs considering the price and output power on offer here. It's no match for, say, the 50W of bass and 50W of tweeters you'll find in Bowers and Wilkins Zeppelin - but that's three times the price, and you get what you pay for. I was astonished, and chuffed, to find RCA and digital S-video outputs though.
Overall the sound is considerably better than the DAB kitchen top radio many of us have in the corner.
However, this is very much a 1.0 product, with the sort of rough edges one would expect to be improved in a version 2.0. The biggest culprit is the sluggish scrolling while streaming net radio, which should have been addressed in the lab, but it isn't a show stopper. Turn off the streaming, and it scrolls quickly or at an acceptable speed.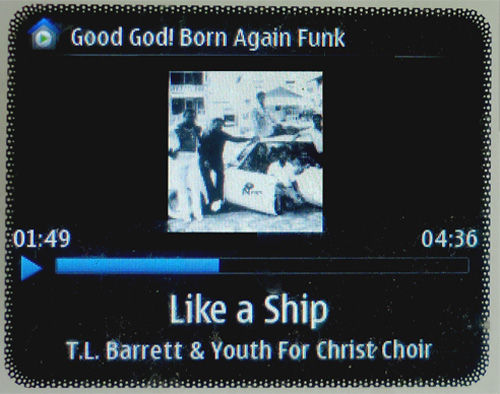 The media player features artwork
The discovery of net radio stations and podcasts is also very much 1.0-ish and could also have been improved. A little storage for podcasts would have helped, along with a few touches such as a backlit remote.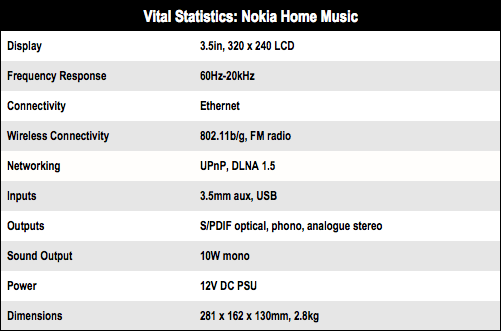 Net Gain?
Now you may think, "three figures is a lot of cabbage for a radio that isn't even DAB, or stereo", which is reasonable. After a couple of months I considered it a solid upgrade to the kitchen DAB set, with better sound and much more versatility and choice. Net radio is just part of this equation.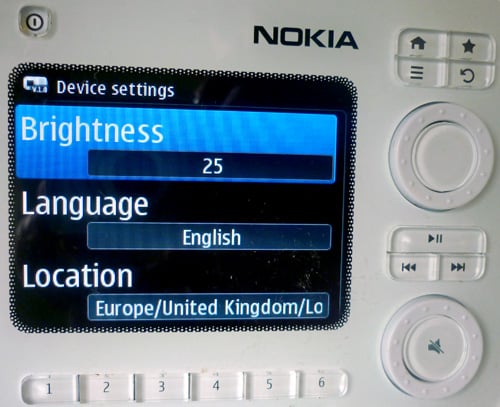 Versatile and yet surprisingly unsung
For example, WFMU now makes its amazing archives available for download on an iPhone, with its iPhone app. So the Aux lead got quite a lot of use. So did network streaming, once UPnP was set up. It blended old linear radio favourites such as world service with net radio. Once you've gone net radio, I figure, you can't ever really go back.
Verdict
Home Music is a great example of Nokia using its design expertise and consumer understanding, to come up with unexpected and interesting. It's versatile and easy to use, and reminds you of many things Nokia has historically been quite good at. But will there ever be a version 2.0? Version 1.0 was well hidden. According to one Nokia source, the machine was buried alive, with only a couple of hundred sold over the past 18 months. But it's available, and with a priced at £139, I reckon it's an absolute steal. ®
More Wireless Music Player Reviews...

Teac
R-4iDNT
Revo
Heritage
B & W
Zeppelin Mini
Logitech
Squeezebox
Radio