Original URL: http://www.theregister.co.uk/2010/09/07/games_review_mafia_2/
Mafia II
Fuggedaboutit?
Posted in Personal Tech, 7th September 2010 12:01 GMT
Review A few hours into Mafia II and it finally happens. It's the summer of 1951 and you've just been released from an eight-year stretch in Sing Sing. You're cruising around the wide, pristine streets of Empire Bay - the game's fictional amalgam of New York, Chicago and San Fransico – when all of a sudden you hear the unmistakable pow of saxophones and horns in the intro for Ain't That a Kick in the Head.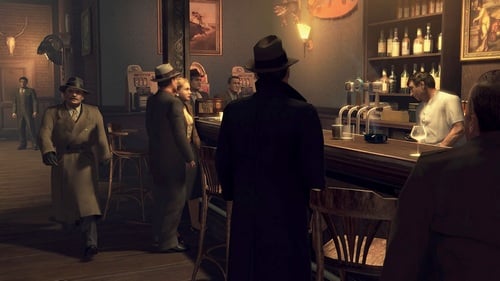 The Poirot convention was a little empty this year
It comes as no surprise. In the few hours you've been playing it, Mafia II has already covered every other conceivable cliché: your character Vito Scalleta has sworn not to end up a chump like his father, working himself into an early grave for peanuts. He's already committed petty crimes to pay back the loan shark threatening his sister and mother. He's even slit the throat of the prison hardman, and served up a beating to the Sisters who "picked the wrong ass to drill" in the showers.
So, even though Dean Martin's go-to Mafia anthem wasn't recorded until 1960, it doesn't seem out of place when played anachronistically on your car radio.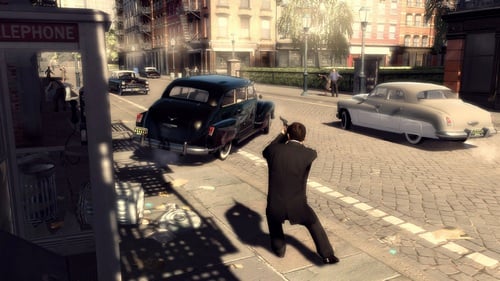 Shots rang out
To be fair to 2K Games, it is also a poetic licence most will forgive. Few gamers will buy Mafia II expecting historical accuracy - and even fewer will expect it to come cliché free. Most will buy the game solely for the chance to play as Hollywood's version of a wiseguy, and in that, at least, Mafia II delivers.
Oh my Godfather
Vito Scalleta's rise up through the Mafia ranks is instantly recognisable to fans of the genre. Starting out as hired muscle, Vito and his wisecracking friend, Joey Barbaro, carry out occasional tasks for all three of Empire Bay's Mafia families. But it's not long before greed and bad luck sees them embroiled in typical Mafia machinations, playing one family off against the next and racking up an increasingly large body count.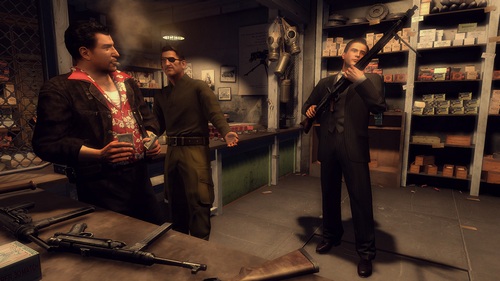 'Oi, One-eyed Willy, I don't need a harpoon!'
The story is the highlight of Mafia II. Preceding each mission, cut-scenes drive the narrative through good camera, scripting and voice acting. In spite of innumerable clichés in dialogue, most of the characters are well developed and convincing. And, unlike the exaggerated Grand Theft Auto series, Mafia II's more serious undertones allow for characters that can amuse and menace in equal measure.
But while Mafia II might offer a grittier depiction of the criminal underworld than GTA IV, it fails in all other comparisons to Rockstar's seminal work. The vast city, the range of cars, the shops, the clothing, the weapons – everything promises the full sandbox experience, but Mafia II is almost completely linear.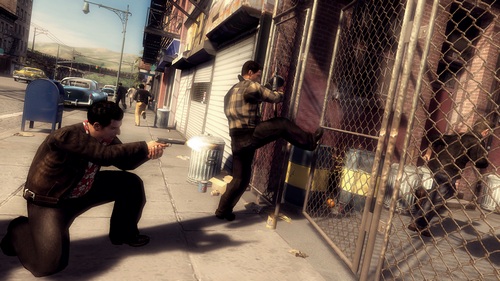 'When I said, 'find me a fence', this isn't what I meant'
Step outside the main mission structure and there's little to see or do in Empire Bay. Gun shops, clothes shops, car body shops and dinners serve only to facilitate your progress through the succession of main missions, essentially acting as upgrade and health stations, where you can purchase ammo or health, or disguise you or your car from police attention.
Missions to Empire City
Attractive and varied when viewed in car, Empire City is eerily barren and lifeless when you step out. GTA IV's Liberty City made you feel its inhabitants would continue to go about their business even with the console switched off, but Empire City feels more like Westworld, where NPCs are simple automatons awaiting the stimulus of player interaction.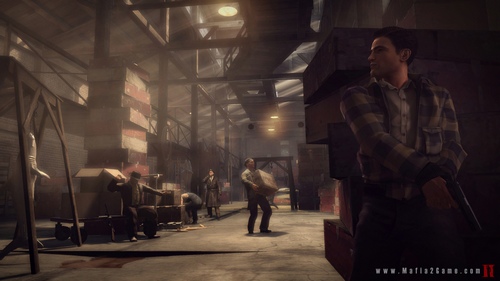 Shots in store
Fortunately, there's a lot more life - and death - in the game's missions. Here, the engine comes into its own to deliver high enemy counts and varied architecture, from skyscraper building sites and dockside warehouses to tenement blocks and prison courtyards.
Enemy AI is decent enough, as are the cover and aiming systems. But while none excels to elevate Mafia II's gunplay above average, destructible scenery adds a welcome additional dimension to shootouts.
Not so welcome are the long drives between missions. A feature of the original Mafia game – not to mention countless GTA titles – the long distances feel like unnecessary padding. Nowhere is this more apparent than at the end of chapters, where you're forced to drive all the way across town just to get home and 'sleep' to end the chapter and save your progress.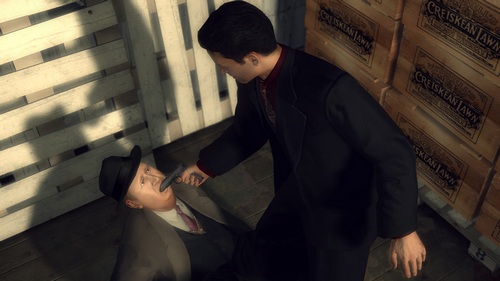 Swallow my load
It's a last-gen mechanic that Rockstar improved in GTA IV and all but abandoned with the 'skip to destination' in Red Dead Redemption, so it's a shame to see it rear its ugly head here in Mafia II.
Verdict
Mafia II is not a bad game, it's an above-average one undermined by mediocre elements. Despite the clichés, the scripting and acting engage throughout. And the gunplay always entertains, and occasionally thrills. But as much as these positive elements combine to compel completion, the sparsity of Empire Bay and the overuse of protracted driving sections remain a constant deterrent. ®
More Games Reviews

Kane & Lynch 2:
Dog Days
Lara Croft and the
Guardian of Light
Monday Night
Combat
Castlevania:
Harmony of Despair