Original URL: https://www.theregister.co.uk/2010/09/06/death_by_ipod/
Death by iPod: beware the zombie trance
Mind how you go
Posted in Personal Tech, 6th September 2010 10:22 GMT
A 46 year-old woman wearing headphones was run over and killed by an ambulance in Sydney, Australia at the weekend. Police think she may not have heard the sirens.
If so, the victim is a case of Death by iPod - a bugbear of NSW Police who blame careless music playing, headphone wearing walkers for a 25 per cent rise in pedestrian road casualties in New South Wales last year.
Or to be more precise, they are blaming people for playing music on their MP3 player , getting distracted, and even going into an "iPod Zombie trance".
In 2008 the NSW Police issued a series of road safety posters warning people of the danger. We reproduce one below: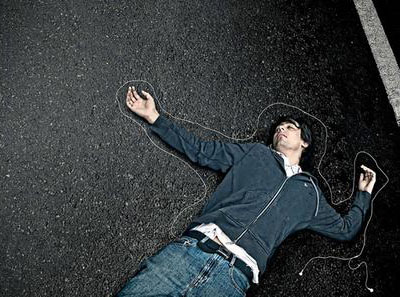 And in 2009, they announced a crackdown on iPod-wearing pedestrians, pledging to dole out $100 fines or prosecute if they were the cause of traffic accidents.