Original URL: https://www.theregister.co.uk/2010/09/03/ubuntu_maverick_meerkat_beta/
Ubuntu 'Maverick Meerkat' erects own App Store
Beta mongoose flaunts new face
Posted in The Channel, 3rd September 2010 20:06 GMT
Review Ubuntu fans, fire up your virtual machines. The beta release of Ubuntu 10.10 is here. Maverick Meerkat, as this release is known, is actually several weeks ahead of the original schedule, and that means Ubuntu 10.10 is on track for its final release October 10.
We wouldn't suggest using the beta in a production environment, but if you'd like to install it for testing purposes, you can grab the beta from the Ubuntu download page.
The first thing you'll notice on booting 10.10 is that the Ubuntu UI has changed again. The look of Maverick is not radically different from the previous release, but it has a number of subtle improvements that make the default theme a bit nicer. Application windows sport smoother gradients. Window buttons have been enlarged and refined (though they are still on the left by default). And there are some slick new progress animations. The default Humanity icon set has also been spiffed up for 10.10 and now includes some icons for external devices such as the Motorola Droid and iPod touch.
Overall, Maverick's default theme makes for the sexiest Ubuntu yet (well, aside from that overly-purple desktop image).
Other parts of the Ubuntu interface have seen makeovers as well, like the revamped sound menu and the redesigned Ubuntu Software Center. The Software Center is quite a bit more user-friendly with a new "History" option in the side menu, showing all package installations, removals, and upgrades by date or by searching.
But possibly the biggest change in the Software Center isn't the interface: it's the inclusion of the "For Purchase" software section. As of the beta there's still no actual software to buy, but the interface is beginning to take shape. Unfortunately, in my testing, I was unable to login to Launchpad to even see the purchase screen. Eventually, the plan is for commercial Linux software to be purchased and installed right alongside the familiar free options, but for the beta, things are still a bit rough around the edges.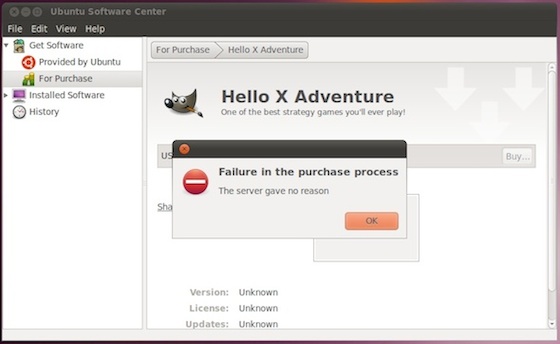 Ubuntu's (fledgling) 'For Purchase' Software Center
Still, it'll be interesting to see how the Ubuntu community reacts to the idea. Will Ubuntu end up with an App Store of its own? There's certainly enough free (as in beer) software out there to cover most people's needs, but offering an easy way for users to purchase software might attract more big-name commercial software to the platform.
The Software Center is also part of Ubuntu's continuing foray into built-in social networking, with the ability to post your installs to Twitter (via Gwibber). In the previous alpha release, Rhythmbox also got the social touch with a new button to share your favorite tracks with your friends via Twitter, but the button has been removed in the beta, and it seems that, at least for now, the feature has been put on the back burner.
Gwibber greased
Gwibber itself has been updated to work with Twitter's new OAuth-based authentication. Gwibber has also switched backends, which should make the app faster, but sadly, it means no more syncing across your computers.
Another musical change in Maverick is the new sound pane, which features a revamped slider and now includes the currently playing track along with basic play/pause and skip buttons — a bit like Rhythmbox's minimized view living in your top panel. Some of the alpha builds also included playlist support, but that's been removed for now.
Maverick also sees the departure of F-Shot, the long-time default photo manager for GNOME. In its place, you'll find Shotwell, which I covered in depth earlier this year in a round-up of Linux photo managers. While Shotwell still isn't quite as full-featured as F-Spot, its interface is considerably better and it's rapidly turning into a great little photo viewer/editor. Of course, if you prefer F-Spot, it's just a couple clicks away in that slick new Software Center.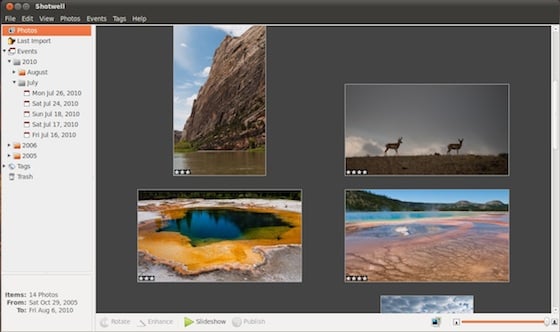 F-Shot bows to Ubuntu Shotwell
As with nearly every release of Ubuntu, the installation process has seen a slight makeover. In this round, the improvements mean installation has fewer steps and starts installing while it's gathering your info. The installation screen also offers to install the all-important multimedia codecs without making a separate trip to Software Center.
There are also numerous changes under the hood in Ubuntu 10.10, including an updated kernel, the usual slew of updated GNOME apps, and even a new touch-based, gesture-recognition engine designed to give Ubuntu support for multi-touch gestures and touch-screen interfaces.
Keep in mind that this is still a beta release and numerous bugs exist. You can read through the known issues on the Ubuntu website. Still, while this early look is clearly a beta, Ubuntu 10.10 is shaping up to be a nice update to the rather major overhaul that arrived with Ubuntu 10.04. The final version of Ubuntu 10.10 is slated to arrive October 10. ®