Original URL: http://www.theregister.co.uk/2010/09/03/review_smartphone_android_acer_stream/
Acer Stream Android smartphone
PMP trickle-down effect
Posted in Personal Tech, 3rd September 2010 07:01 GMT
Review Typically, smartphones make less than satisfying PMPs, especially given the issue of video formats, with very few phones supporting the good old AVI container or Xvid/DivX codecs. Also, sound quality is usually a bit iffy and there is often little in the way of external controls for media navigation that you can use without looking.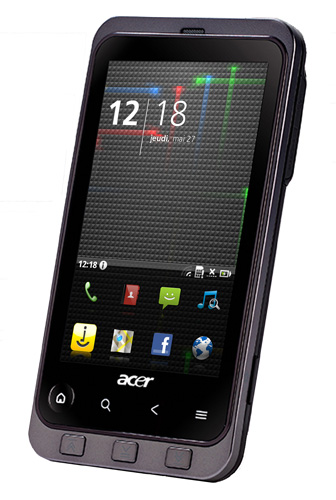 Media mogul: Acer's Stream
Acer's new Stream aims to fix this by combining a top notch smartphone experience with high quality, convenient AV media playback. Up there with the best of the current crop of Android über-phones in terms of fitted kit, the Stream has 802.11n Wi-Fi, Bluetooth, aGPS, an FM radio, fully integrated voice search, 2GB of built-in storage (a godsend for apps fanatics) with an expansion slot good for 32GB more and a 3.7in 480 x 800 AMOLED capacitive touch screen.
The Stream measures up closely to HTC's Desire. At 119.5 x 63 x 11.2 and 126g, it's light for a big screen smartphone. The colour combination of gunmetal grey and black gives it restrained and workmanlike look which I rather like. Externally, the only clues that the Stream is trying to be a PMP are the three dedicated media buttons on the front for play/pause, next and previous. These controls are actually more attactive than they appear in the publicitty images and are handy for in-pocket music control.
Other than that it's all very much par for the course with the common four Android buttons sitting below the screen - though the home button has a physical action rather then being touch sensitive, and a 3.5mm audio jack up top. Under the hood you will find a 1GHz Snapdragon chip with 512MB of RAM running Android 2.1. That's a more than decent spec but dig a little deeper and you find things less common to your average smartphone.
To start with video codec support extends beyond the Android norm of H.264 and WMV to include .avi files (DivX/Xvid). Some on-line sources suggest that the Stream can play Flac files, but it can't. Audio codec support is limited to the usual MP3, Ogg Vorbis, AAC and WMA but that's enough for most folk.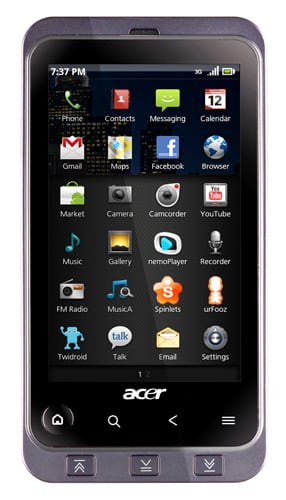 The handy media buttons actually look much better than in the pics
Sadly, you don't get a Cowon-like degree of tolerance for any old video file. My Stream took an unreasoned dislike to several AVI and H.264 files which were well within its technical limits. That said I did manage to play 720p AVI, H.264 and WMV files without issue.
Media Frenzy
All media files can be accessed from the nemoPlayer, which is a very easy to use media app, if a little limited. For instance you can't set bookmarks in video files nor does it support subtitles or MTP playlists. Audio and video playback is enhanced by Dolby's Mobile sound modification suite which when coupled with a decent set of earphones produces results that almost match a good dedicated PMP. In this respect, the Stream leaves the iPhone for dead.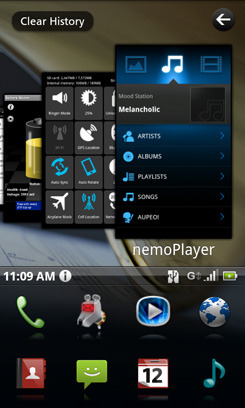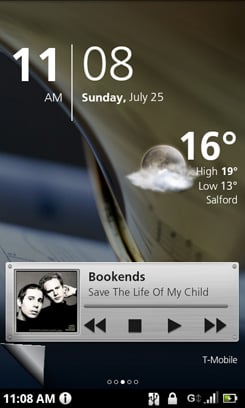 Media navigation
The Stream also has the capacity to function as a UPnP/DNLA server but the fact that it can't go the other way – to stream content from a PC or Nas to the handset – seems like a missed opportunity. So much for playback, what about recording? Well, the camera may only be a 5Mp job, but it can record video at 720p and 24fps.
To view your directorial efforts on a telly the Stream has a micro HDMI port, which resides on the upper right hand side of the handset under a rubber cover next to the micro USB port. It's an arrangement that sadly nixes any chance of using the Stream with a desktop charger.
All the basic Android smartphone stuff is executed with the same panache and aplomb that you experience with an HTC Desire or Nexus One. The operating system runs like a scalded cat and the various 3D screen transition animations never falter, even when multiple apps are running.
The screen looks superb, especially when playing back video, while the UI is quite as fluid and easy to use as that of any iPhone, with pinch-to-zoom operating across the board. Web browsing is as enjoyable an experience as it will ever be on a device with a screen of this size and the bundled YouTube app is one of the better examples of the breed.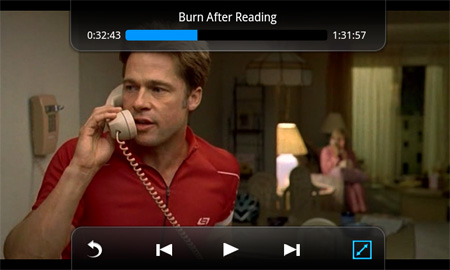 Video playback
Call quality proved very good and the loudspeaker is one of the best I have come across and which certainly comes in handy when the Stream is doing satnav duty. Before anyone asks, signal reception proved reliable no matter how I held it.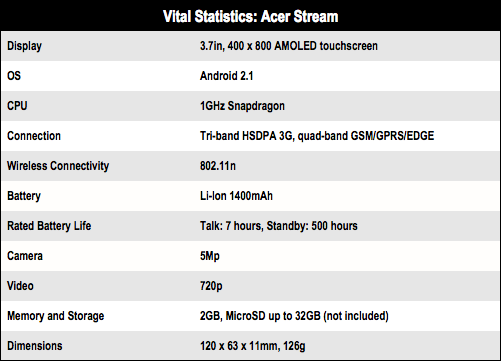 Image Problem?
On the camera front, 5Mp and no lamp is a bit stingy in this day and age when Motorola is pushing the boat out to 8Mp and a Xenon flash with its XT720. Also, as you will see from these samples, with some scenes the camera does deliver good levels of detail, but with other subjects the colours can easily become saturated and lose definition as a result. The video recorder isn't quite as sharp either, as the 720p badge may lead you to believe, as you can only record in MP4 rather than H.264 as per the iPhone 4.
Sample Shots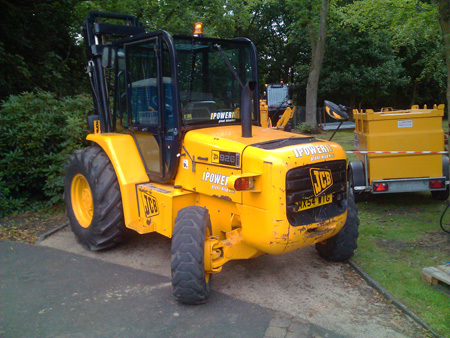 Click for a full-resolution image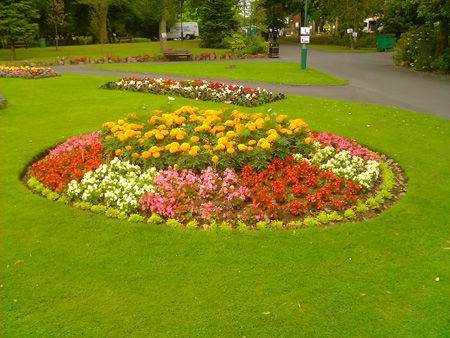 Click for a full-resolution image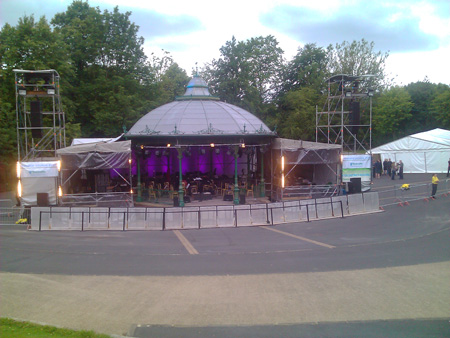 Click for a full-resolution image
First seeing the light of day on the Stream is Acer's UI4.0, which lets you populate an area that takes up the lower third of the home screen with icons for your eight favourite apps. Slide it up and another sixteen icons appear. The lower two thirds of the screen can then be swiped left or right as per the standard Android menu.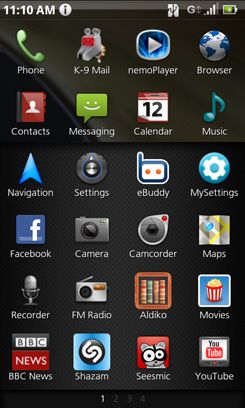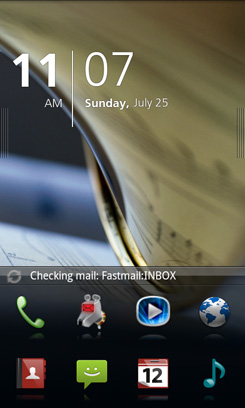 Menus abound with numerous ways to access and organise them
With the apps menu tucked away, the upper portion of the home screen can also be swiped to the left to access a history widget. This lets you fire up any apps or web pages you have used recently. Swipe to the right and you can access your music, picture and video libraries.
When you come off standby or hold the home button down, a five page desktop appears which you can populate with various widgets. Acer calls this "ambient information". Swiping any of the widget pages from the bottom left takes you back to your home screen. It sounds rather complex and can take a while to get used to, but after a day or two I found it second nature and have come to prefer it to HTC's Sense.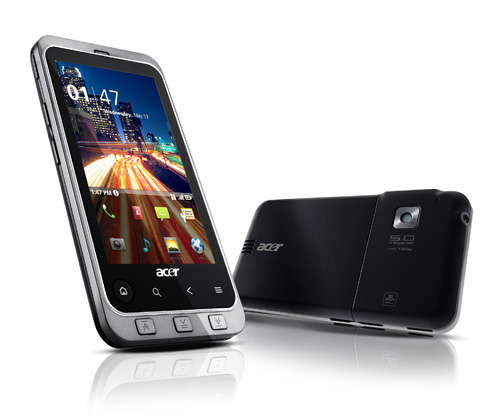 Respectable PMP and not a bad phone either
If you don't like Acer's UI you can switch it off and resort to something closer to that which God and Google intended. Having a custom UI of any sort means you are at Acer's mercy when it comes to upgrades to future versions of Android.
Finally, the 1400mAh battery, while perfectly acceptable for day-to-day phone use, may leave you wondering about the wisdom of watching a couple of 2 hour movies on your phone if you need to make some calls afterwards. Running a video with the screen brightness at 50 per cent until the lights went out, yielded a time of four hours and 28 minutes.
What will all this loveliness cost you? Well in Blighty Expansys has an exclusive deal and it will flog you a Stream SIM free with an 8GB SD MicroSD card for £399, which is seems like good value. If you don't like paying for your phone upfront, the company will also sort you out with a £30 a month contract over 24 months with either Vodafone or T-Mobile and chuck the handset into the bargain.
Verdict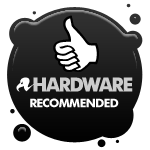 Like the iPhone, the Acer Stream tries to combine the best of both the smartphone and PMP worlds, but unlike the iPhone you are not nailed to the iTunes cross, you can keep using your AVI video files and the audio quality is far superior too. ®
More Android Smartphone Reviews

Acer
Liquid E
Samsung
Galaxy S
Motorola
Milestone XT720
HTC
Wildfire