Original URL: https://www.theregister.co.uk/2010/09/03/lemv_and_p791/
Monster Afghan spy airship to feature quad drinking straws
Also: New vid of unsold P-791 Walrus suck-belly ship
Posted in Science, 3rd September 2010 12:01 GMT
US aero-weapons goliath Lockheed, builder of the famous P-791 airship prototype, was beaten to a half-billion-dollar deal to supply spy ships above Afghanistan earlier this year - but the firm is still marketing its P-791 technology aggressively.
Meanwhile details have emerged of the powerful surveillance gear to be carried by the winning airships, which will be built in the US to a British design.
First up, here's a spanking new Lockheed marketing vid describing their ship:
The P-791 was built in-house by Lockheed's secretive "Skunk Works" advanced-projects arm, hoping to be selected for the now defunct "Walrus" project. This was a plan by the maverick Pentagon crazytech agency DARPA in the early years of the century to produce mighty cargo-hauling airships which would be able to drop off an entire US ground-combat battalion, fully equipped, in a single load, at an unprepared site.
In the event, the Walrus project was cancelled in 2006 and the only remaining buyer for a big airship became the US Army's Long Endurance Multi-Intelligence Vehicle (LEMV) project, seeking an "optionally manned" ship able to prowl the skies above Afghanistan for weeks at a time observing events beneath. Aerial surveillance at present is normally carried out by aeroplanes both manned and unmanned, but these have high running costs, require large servicing crews at their bases and several must be deployed in order to keep one on patrol.
Lockheed offered a P-791-derived craft for the LEMV programme, but was beaten to the deal by rival US arms megacorp Northrop Grumman, offering a ship designed by Blighty's Hybrid Air Vehicles Ltd.
This makes sense, as the LEMV mission is quite different from the Walrus one. The surveillance ship doesn't need to carry nearly as much payload, instead being specified to reach twice the altitude - 20,000 feet as opposed to 10,000. (The Walrus' low ceiling was essential for it to have any chance of lifting its planned load, but meant it would have been very vulnerable; this is probably why it was cancelled.)
Four drinking straws are better than one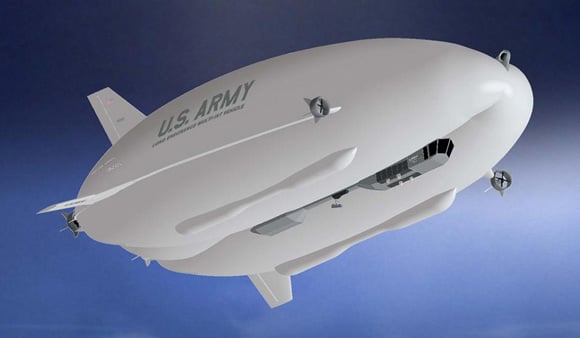 You could play a game of rugby on top of it. Well, actually everyone would fall off when a try was scored, but you get the idea.
Perhaps most critically of all, the LEMV has no requirement to offload heavy cargoes at unprepared sites like the Walrus. This is a primary reason why Lockheed's P-791 uses a reversible aircushion undercarriage, so that the ship can suck itself down onto the ground and avoid surging uncontrollably skyward as troops and vehicles are unloaded - without the need to vent off costly helium.
The LEMV must still cope with the fact that it will burn up its fuel and become much lighter during a weeks-long surveillance mission, but this will be easily done by taking off in a heavy condition, aided by vertical thrust from its swivelling props and dynamic lift from forward motion. (Both P-791 and the LEMV are technically "hybrid" airships, intended to fly in a heavier-than-air state much of the time.)
Building of the Northrop/HAV LEMV is now under way, and it is expected to fly next year. In the meantime, some details of its capabilities are emerging.
It was announced this week that the LEMV will carry four Electro-Optical/Infrared (EO/IR) spyeye turrets, each featuring 1080p full-HD cameras allowing simultaneous "general surveillance" of an area while also carrying out "precise targeting" within that area at the same time. Meanwhile the other turrets can be looking at other places. Most current spycraft offer only a single "drinking straw" viewpoint of a small area; the LEMV will provide four.
The LEMV may well carry other payloads such as ground-scanning moving-target-indicator radars, but no details have yet been forthcoming. The massive ship, eight stories high and so long it would barely fit between the try lines of a rugby pitch, may carry different things on different missions: it is intended to offer "plug and play" swapping in and out of kit.
On the job the LEMV will usually be unmanned, but pilots will be carried for legal reasons in civil-controlled airspace.
Meanwhile Lockheed haven't given up hope for the P-791.
"The P791 demonstration aircraft that we flew back in I think it was 2006 still exists," Skunk engineer Bob Ruszkowski told Flightglobal last week. "It's still in our hangar. It's available to use again for other demonstrations. And we learned quite a bit from it, and like I said we're exploring other opportunities for hybrid airships." ®