Original URL: https://www.theregister.co.uk/2010/09/02/review_peripherals_external_hdd_verbatim_insight/
Verbatim InSight 500GB external hard drive
Coming clean on capacity
Posted in Personal Tech, 2nd September 2010 12:01 GMT
Review Verbatim's InSight external hard drive is an unusual-looking offering, but that odd wave-like curve at the front is home to the unit's status readout screen.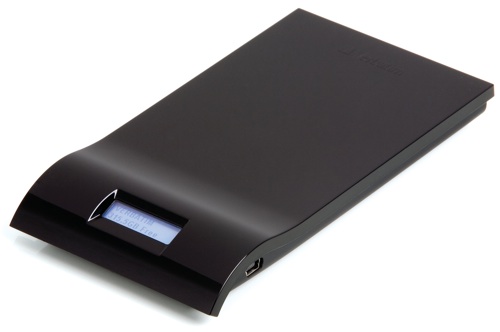 Verbatim's InSight 500GB: tells you how much space you have left
Unlike rival drive maker Western Digital, which also puts a status display on some of its drives, Verbatim has implemented a cholesteric liquid crystal display - the resolution is 128 x 21 - rather than E Ink. The upshot is the same: a drive name and space capacity readout that doesn't disappear when you yank the power.
The irritating thing is, it doesn't update until you do. Fill up your drive, and the InSight itself won't tell you that you have no more room until you unplug it, forcing the display to refresh. Not, to be fair, that you actually need the readout when the drive is connected, but I'd prefer something more dynamic.
Mini USB may no longer be an official part of the USB 2.0 spec - it's been replaced by the micro USB port - but it remains the de facto standard for portable external hard drive, and Verbatim has use it here. There are no other adornments on the slim, snap-together casing.

Slimline
Verbatim includes a copy of Nero BackItUp 4 on the InSight. It's Windows only - Mac users get no help here, but Mac OS X has Time Machine of course - and one of the best bundled back-up tools I've seen.
Performance Results
CrystalDiskMark 3.0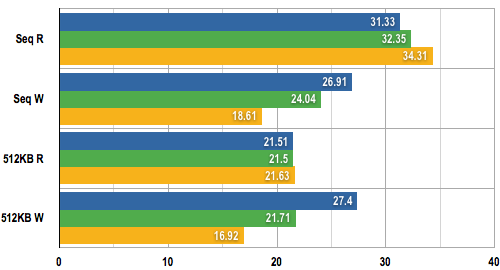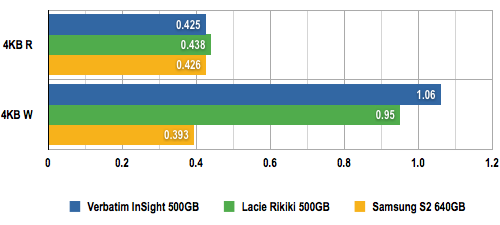 Results in Megabytes per Second (MB/s)
Longer bars are better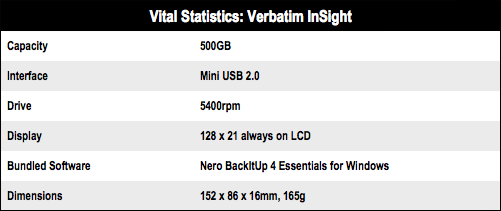 Back-up Bundle
Apps like this will typically back up certain file types - JPEGs, MP3s, DOCs and so on - and may even, or alternatively, allow you to specify which folders will get backed up. BackItUp gives you the choice of both - and chucks in full disk partition back-up too. You can save jobs for future use and to have them run to a schedule.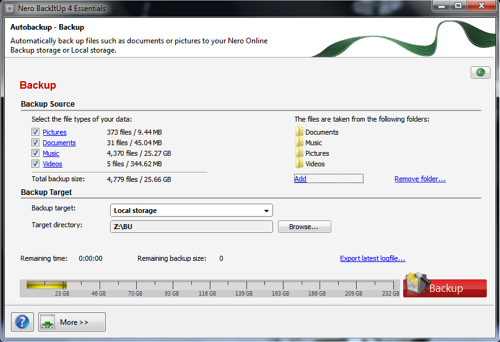 Nero's BackItUp 4 Essentials: comprehensive
It'll also let you create a boot disc which can be used to start up your computer and restore the backed up data.
BackItUp isn't tied to the Insight - I was able to back up files to my network storage just as easily, and Nero has an online facility you can use too. It's all very flexible, and for once the wealth of options are accessible and don't get in the way if you want to perform basic tasks.
The only downside is that BackItUp compresses archives, so you can't make use of the back-up without the app. There are check boxes to disable compression - archive encryption too - but these were greyed out for me.
The InSight aquits itself well when it comes to performance, yielding class-average read scores in the CrystalDiskMark 3.0 benchmark and presenting average or better write speeds.
Verdict
It's a nice little drive, the Insight, but it's pricey, with the cheapest I've seen it being £70. Not expensive per se, but you can get other, equally good brand-name 500GB external hard drives discounted to £50. The InSight's slim styling, capacity read-out and back-up tools are nice, but not so essential as to be worth paying the premium. ®
More External HDD Reviews

Round up
500GB Portable
HDDs
Iomega
eGo
USB 3.0
Buffalo 32GB
external SSD
LaCie
Rugged
USB 3.0