Original URL: http://www.theregister.co.uk/2010/09/02/new_ipods/
New iPod crew: 'Phoney, futuristic, retro, doomed'
Apple admits error shock
Posted in Policy, 2nd September 2010 00:37 GMT
Apple has revamped three quarters of its iPod line. Or, more accurately, it upgraded one quarter, redesigned another, took a step back in time with a third, and left the final, not-even-mentioned quarter alone.
iPod touch
The flagship of the iPod line, the iPod touch, is often derided as being merely an iPhone without the phone — a dig Steve Jobs turned into a plus in Wednesday's unveiling ceremony when he noted that "it's also an iPhone without the contract."
Touché, Steve — especially from all us stateside iPhone owners still lumbered with Cupertino's iPhone-exclusivity contract with AT&T.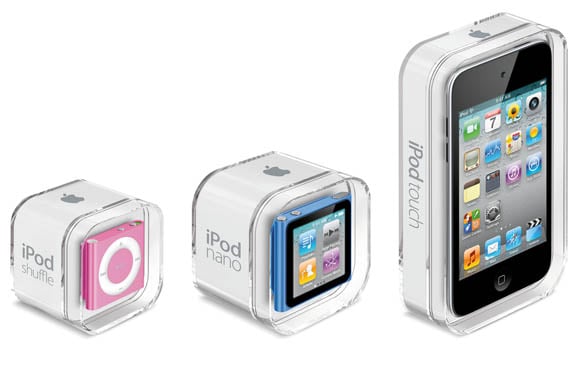 Daddy iPod classic missed the family photo session, drunk and depressed due to being ignored
On Wednesday, the new iPod touch retained its old iPhone 3GS look — although, at 7.2mm, it's noticeably thinner — but incorporated a number of iPhone 4 features. As Steve Jobs said in a statement accompanying the unveiling, "We've put our most advanced technology inside the new iPod touch."
That "advanced technology" is in the main borrowed from the iPhone 4, and includes the 326dpi Retina Display, a 720p HD video camera in the rear, VGA camera on the front, FaceTime videoconferencing over Wi-Fi, A4 processor, and three-axis gyro.
There's one iPhone 4–versus–iPod touch question we'd like to ask Apple, however — as if they'd ever deign to return our emails: the iPhone 4 lists its rear-facing still camera as a five-megapixel affair, while the iPod touch captures stills at a mere 960x720 pixels, which is just about 0.7 megapixels. Wassup?
That three-axis gyro is an incentive to developers to create more and better games for the iPod touch. And that's clearly something Jobs & Co want — the Apple CEO went out of his way in his Wednesday presentation to note that the iPod touch outsells Nintendo and Sony portable-gaming gizmos combined, and owns over 50 per cent of the portable-gaming market share, worldwide.
The new iPod touch will be available next week at $229 for 8GB, $299 for 32GB, and $399 for 64GB.
iPod nano
The iPod nano received the most radical makeover Wednesday, being transformed from a movie-taking handheld in a traditional click-wheel-and-screen colorful-rectangle form factor, into a camera-less clip-on with an FM tuner and multi-touch controls in a colorful square.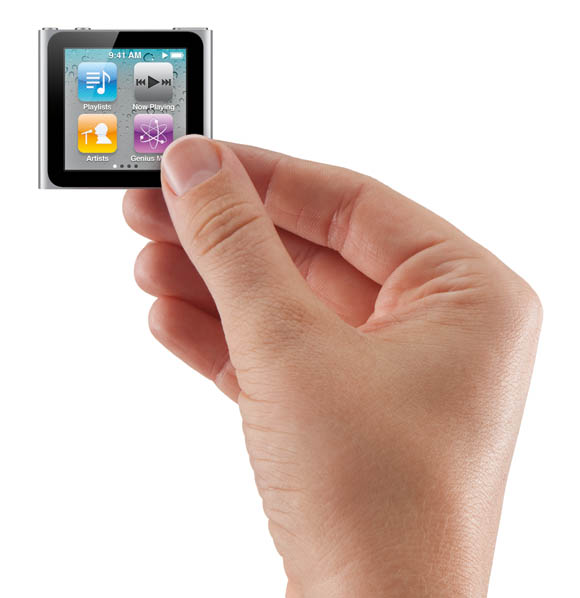 Good-bye video camera, hello FM radio and miniscule multi-touch display
The design overhaul is "the biggest reinvention of the iPod nano since its debut in 2005," Jobs said in a statement accompanying the little fellow's debut — and for once he wasn't exaggerating.
The clickwheel that had graced the iPod nano's face since its introduction is gone, replaced by a 1.54-inch, 220ppi, 240x240-pixel TFT display — not unlike the one the The Reg showed you in July thanks to a tip from some far-east fanbois — whose website no longer has the offending image but instead the sad commentary: "Because under some pressure, this content will be deleted. Please be aware and understanding."
The clip-equipped music player is small, indeed — 37.5-by-40.9-by-8.8 millimeters — and weighs just over 21 grams. Navigation and controls are accessed by tapping and swiping the display, and control icons can be moved among what appear to be (Apple doesn't say, specifically) four home screens.
The midget musician includes an accelerometer to keep the display correctly oriented, and also a pedometer to support the built-in Nike + iPod runner's link-up that Apple has been pushing for years, but which has never really lit up the fanbois firmament.
The new iPod nano will be available next week in silver, graphite, blue, green, orange, and pink anodized aluminum at $149 for 8GB and $179 for 16GB.
iPod shuffle
"Ooops" wasn't how Jobs introduced the fourth-generation iPod shuffle on Wednesday, but it might well have been.
Instead, in a statement released along with the entry-level member of the iPod team, Jobs said: "We're making the iPod shuffle even better by combining clickable buttons and VoiceOver technology."
Clickable buttons aren't new — they were on the first and second generation iPod shuffles. VoiceOver technology was added to the third generation model, which spoke song titles, artist names, playlists, battery status, and other messages — in 25 different langauges, no less.
On that now-defunct third-generation model, volume and track-choice controls were relegated to a remote on the earbuds cable, and required the user to remember an arguably confusing set of single-double-triple click sequences to manage their music.
As today's release of the fourth-generation iPod shuffle shows, the cable-mounted controls were not exactly an unqualified success.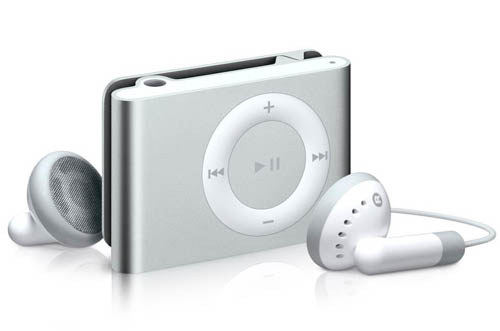 Second-generation iPod shuffle, September 2006 through March 2009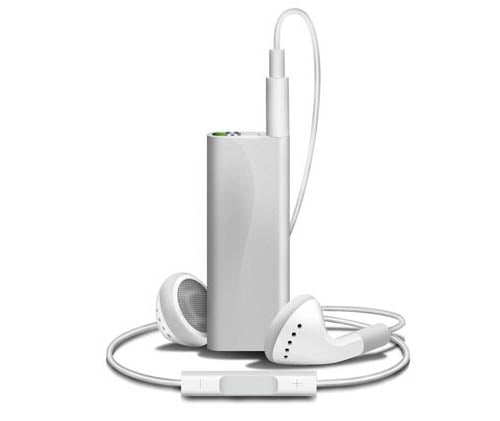 Third-generation iPod shuffle (aka "Ooops"), March 2009 until September 2010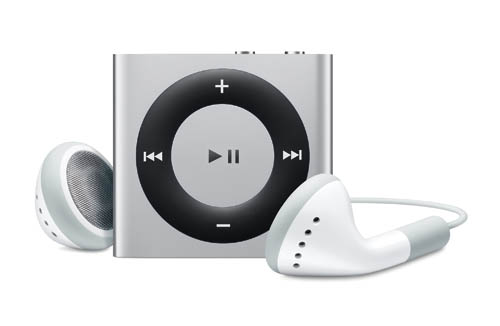 Fourth-generation iPod shuffle (aka "Back to the Future")
Wednesday's fourth-generation iPod shuffle looks remarkably like the second-generation model — albeit a wee bit less wide. The clickable buttons are back, the controls have disappeared from the earbuds cord, and as Gerald Ford said when he took over after the resignation of the disgraced US President Richard Nixon, "Our long national nightmare is over."
As with its new siblings, the fourth-generation iPod shuffle will be available next week. You'll be able to get it in your choice of silver, blue, green, orange, or pink, and you can have any capacity you want, as long as it's 2GB. The multilingal, clipable, Genius-Mixable music box will set you back $49.
iPod classic
Steve Jobs made nary a mention of the venerable iPod classic in his Wednesday presentation, but the 160GB hard drive–based iPod was mentioned in each of the new iPods' press releases as still being a member of the family, and the big boy is still available on Apple's online store for $249.
With the iPod touch topping out at 64GB, there's still a need for an iPod that'll satisfy music lovers who perfer to keep all — or, in hard-core cases, just a sizeable amount — of their music collections on a single device.
But 128GB flash-RAM innards should become iPoddable by the end of this year, so don't expect to see the iPod classic on store shelves too much longer. After all, you can't slip the Apps Store a few bucks to play Hero of Sparta nor Predators on it — and Cubis 2 is beginning to look more retro than even a fourth-generation iPod shuffle. ®