Original URL: https://www.theregister.co.uk/2010/09/02/apple_ipod_uk_pricing/
Apple states tax take on UK iPod pricing
You pay this, we take that, George Osborne gets the other, Eurocrats get the rest
Posted in Personal Tech, 2nd September 2010 13:04 GMT
Apple has made it explicitly clear how much more its charging UK consumers for its kit than US-based buyers.
The UK online Apple Store now states how much of a gadget's price goes to "VAT, duty and levies". VAT is obvious - it's our sales tax, overseas readers, billed at 17.5 per cent - and duty is the amount the European Union charges for imports of certain types of product - those with integrated FM radios, for example.
Apple's definition of 'levies' remains unclear - there's no explanation on the website, so we assume it's a catch-all for fees like those payable in some countries to compensate artists for the effects of copyright infringement.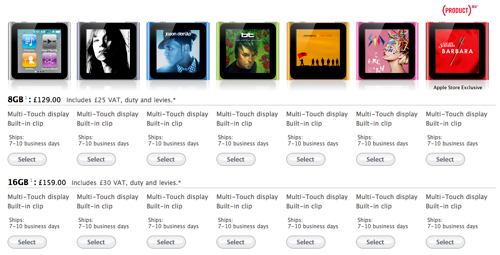 The new iPod Nano on the Apple Store
Not that the UK has such a levy, last time we looked, though many other European nations do.
Apple states the 'extras' total is "an approximation. VAT, duty and levies may vary over time".
Back to the iPods. The new 8GB Nano, for example, is listed at £129, of which £25 goes to VAT, duty and levies, says Apple.
So that's £104 for the player itself, which is the equivalent of $161 at today's Sterling-Dollar exchange rate: £1 to $1.55. Apple charges $149 in the US - the equivalent of £97.
Now, Apple has to build in some flexibility to deal with fluctuating exchange rates, but the implicit rate of £1 to $1.43 in the £104 to $149 seems a tad conservative to us.
Bear in mind, too, that some but not all US buyers pay sales tax, and US prices are listed without this State-set extra. The highest is California's 8.25 per cent, though local taxes can push this higher, up to 11.5 per cent in some parts of Illinois.
Rip-off Britain
But that doesn't explain why the base, Apple-charged price is higher, ensuring British buyers would pay more even if transatlantic sales taxes were the same.
The 16GB Nano costs £159, or £129 without the taxes, according to Apple, which is equivalent to $199. Apple charges $179 in the States.
The iPod Touch has UK prices of £189 (8GB), £249 (16GB) and £329 (64GB) after tax and £159, £210 and £277 after it. These latter prices translate to $255, $324 and $428. The US pre-tax prices are $229, $299 and $399.
But pity Apple TV buyers. They pay £99 here, which would be £84 before VAT. That's the equivalent of a US tax-free price of $129, but US consumers only pay $99 before tax. Brits should pay £75 with tax included - £24 less than they will.
Of course, Apple is under no obligation to base its pricing on current exchange rates. It charges what it thinks the market will pay, as do all other suppliers of consumer electronics and computing kit. It's a basic principle of capitalism to charge as much as you can, after all.
Sony will charge £250 for the upcoming 160GB PS3. That's £213 before tax, equivalent to $329. Sony US charges $300 for the console.
Buy a Dell Studio XPS 16 quad-core laptop here and you'll pay the equivalent before tax of $1313. US customers pay $1300.
Buy the Apple TV in Apple's central San Francisco store and you'll pay 9.5 per cent sales tax for a total of $108 - £70 before VAT and import duty. Import duty is typically around 6.5 per cent, so that's £75. Chuck on VAT and you pay £88.
Of course, if you've been to the States on holiday or business and bring the Apple TV back to the UK for personal use or as a gift, you won't pay a penny of duty or tax up to a total of £390, though you may be charged duty and VAT if you buy online and have the item delivered to you.
Apple must clearly have the interests of the US Travel and Tourism Advisory Board at heart. Why else is it encouraging us to travel West and buy there? ®