Original URL: https://www.theregister.co.uk/2010/08/31/review_peripheral_apple_magic_trackpad/
Apple Magic Trackpad
Let your fingers do the working
Posted in Personal Tech, 31st August 2010 07:02 GMT
Review You've got to hand it to Apple. While it may not be the innovator it likes to think it is, it does have a knack for re-inventing old ideas and coming up with something better. Music players, small form-factor computers, tablet PCs - it's taken existing concepts and given them a major makeover.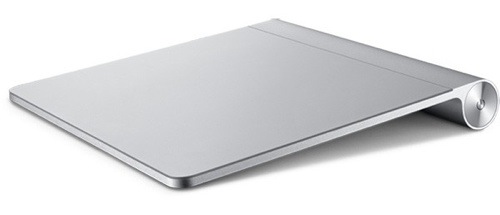 Apple's Magic Trackpad: actually, it might be
And it's now done the same with the trackpad. Small-size tablets for navigation have been around for years, but Apple's Magic Trackpad is one of the first aimed at mainstream users. And while the company has desktop owners in mind for the MT's audience, as a laptop user, I'm keen on it too.
Apple has pioneered the use of larger trackpads on laptops and the introduction of greater levels of gesture control. Yes, there are Synaptics trackpads out there that deliver similar functionality, but the vast majority of Windows laptops have far more basic units built in. You might get 'pinch to zoom' or, if you're really lucky, two-finger scrolling.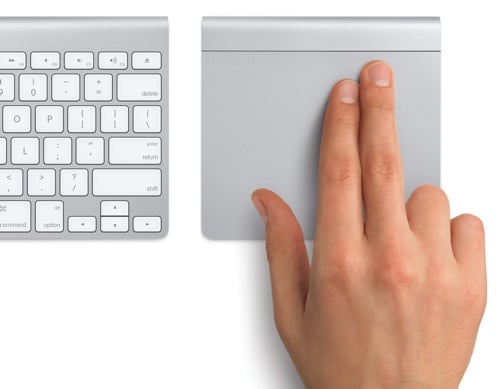 The right place to put a control device
Maybe it's because I use a mouse more than my notebooks' trackpads, but I find that a device placed to the right of the computer is more convenient to reach to that one in front of the keyboard. That said, the problem with a mouse is that you need space to move it around in. Inevitably, you'll find it pushing up against mugs, notepads and other desktop paraphernalia.

Gesture politics
No matter how you try and keep the thing sat in the same place, it always seems to wander.
Not so the MT, of course - it's fixed, held in place by the four rubber feet on its base and held up at a slight angle by the tubular battery compartment - two AAs included - at the back. The main body is sturdy aluminium alloy.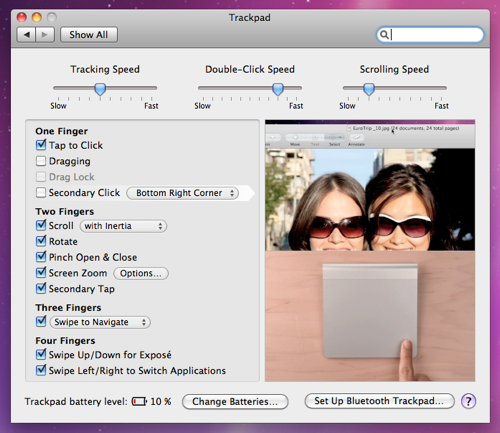 Select your gestures
Apple's laptop trackpads these days are themselves big buttons, and the MT is no different, a gentle, light click coming as feedback when you push it. Personally, I'd rather tap to click, so I immediately enabled this option in the Trackpad control panel, which was off by default. Folk who often tap accidentally may prefer to leave it as is.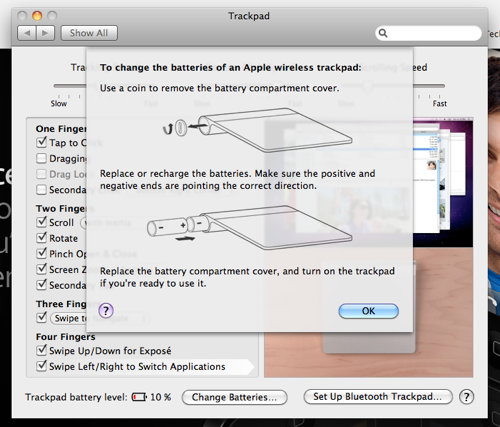 Battery swap guidance is a click away - handy because you'll be changing them often
The MT provides the full array of Apple gestures, checking for one, two, three or four simultaneous finger presses, plus drag, rotate and pinch manoeuvres. If you've used an Apple laptop trackpad in the past few years, you'll know what to expect. If you don't, check out Apple's Multi-Touch Trackpad Update 1.0 software patch, which adds these features to some older machines.
Assault on batteries
All the gestures the MT supports have a nice, large canvas on which to paint. It's larger than any laptop pad and is of a size that, say, shifting the point from one side of the screen to the other, which doesn't require multiple strokes, doesn't feel cramped.
The only flaw here is Apple's use of Bluetooth technology. Yes, it saves having to lose a USB port to a dongle, but it's also less power-efficient than the proprietary wireless protocols developed by controller specialists like Logitech for this very reason.


Rake's progress
Apple says a pair of alkaline AAs will last "months". Reviewers can't wait that long, but I suspect you won't get more than one or two months out the bundled batteries. By comparison, my Magic Mouse batteries lasted just over a month, compared to a year for the same type of cells in a Logitech V550 Nano wireless notebook mouse. I'd expect the MT's battery to last longer than the Magic Mouse's - no tracking laser - but I doubt it'll match the Logitech.
This is, of course, why Apple is pushing rechargeable batteries so hard.
Verdict
It's not magic, of course, but the Magic Trackpad is a fine control device - for laptop users as well as those folk who prefer desktop machines - that's a genuine pleasure to use. ®
More Accessory Reviews

Apple
Magic
Mouse
Wacom
Cintiq 21UX
Cideko
Air
Keyboard
Livescribe
Pulse
Smartpen