Original URL: http://www.theregister.co.uk/2010/08/30/review_laptop_samsung_x125/
Samsung X125 11.6in notebook
AMD's Athlon II Neo gets a mini-laptop outing
Posted in Personal Tech, 30th August 2010 07:02 GMT
Review Computer manufacturers are well known for hyping up their products - "magical", indeed - but few actually fib. Samsung isn't telling porkies, but the sticker on its new X125 overstates with the best of them.
Two claims in particular struck me: "Fast booting" and "ultra-thin design".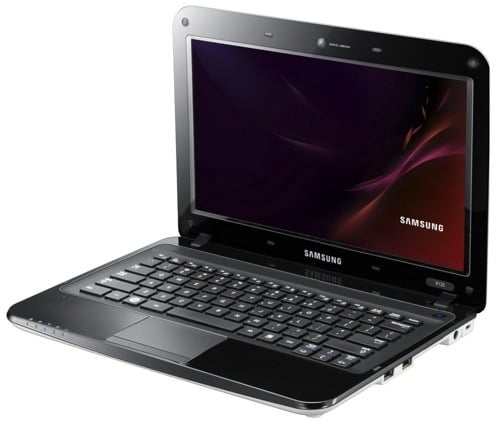 Samsung's X125: netbook plus
Good job Samsung didn't put 'fast processor' there too, or I'd really have to take it to task.
Now, Samsung's designers are well able to come up with slick-looking laptops, and the X125 is no exception. This is a very nice machine, visually. The matte white lid and base sharply contrast with the black shiny interior with its recessed, calculator-style keyboard and richly-coloured 11.6in, 1366 x 768 glossy display.
The X125's chassis curves in all the right places, with only the ports, on the right and left side, standing proud.
But "ultra-thin"? I don't think so. The X125 measures up between 25 and 31mm thick, in part thanks to the chunky 8850mAh, 66Wh battery. Yes, this machine is nice-looking, but it's no MacBook Air, Dell Adamo or Sony Vaio X. It looks and feels like what it is: an oversized netbook.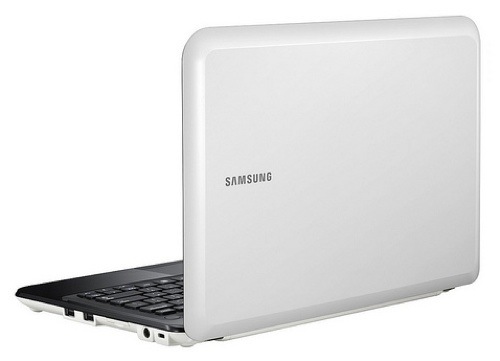 Stylish design
The X125 has been designed as a carry-anywhere machine - there's no optical drive, to keep the weight down - but which is capable of more vroom than a netbook: there's that 720p-capable display - and an HDMI port, incidentally - a full version of Windows 7, 3GB of DDR 3 memory and a laptop-class processor.
Spec-tastic?
Other specs are netbook-level: 320GB Sata hard drive, 10/100Mb/s Ethernet, three USB ports, one of which will power connected devices even when the laptop's off, and VGA. The Wi-Fi is 802.11n, but that's common on netbooks now, as is Bluetooth, though here it's version 3.0, ready for suitable peripherals - I haven't got any, have you? The SD card slot is SDXC-compatible which is good.

HDMI output included
But back to the CPU. Samsung has departed from the norm and chosen AMD's Athlon II Neo K125, a single-core part with 1MB of cache and a 1.7GHz clock speed.
You'll see from the PCMark Vantage numbers what impact this has on benchmark figures, but from a user's perspective, let me say it's a dog. There's nothing inherently wrong with the CPU, but if you've used a dual-core chip, or even an Atom with Intel's HyperThreading on board that makes it look and work a bit like a two-core processor, you will feel the lag.
If you're doing one thing, you'll be fine. But attempt to perform tasks in parallel and you'll quickly notice a lack of response. After a few moments, that window you opened or app you double-clicked upon will appear, but do you really want the wait?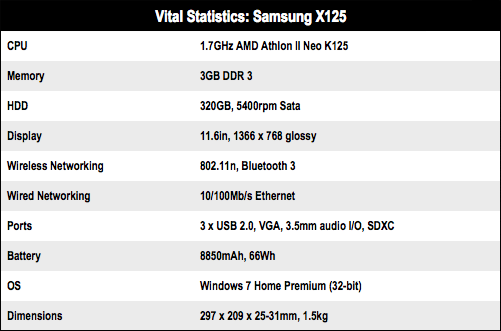 Benchmark Results
PCMark Vantage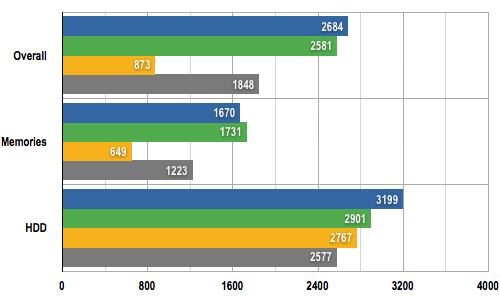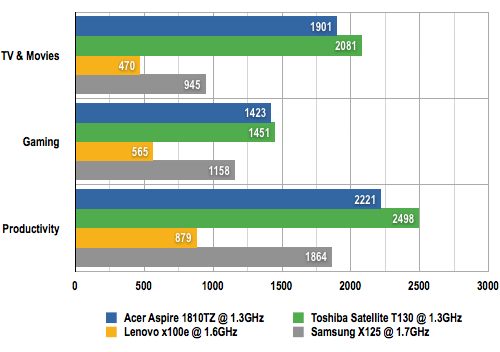 Longer bars are better
PCMark Vantage Loop Battery Life

Battery life in Minutes
Longer bars are better
3DMark 06

Longer bars are better
Less than the sum of its parts
Upgrade options? The hard drive and one of the memory slots are easily accessible, but what's the point? The X125 has 32-bit Windows 7, so there's not much point upping the Ram, and I'm not convinced doing so would really compensate for the single-core CPU, though an SSD will trim the start-up time down from the minute and a half I recorded - not "fast" really, is it, Samsung?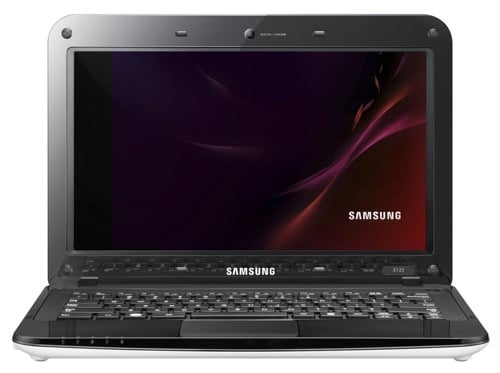 Could be more compact?
Reg Hardware's standard battery life test - loop PCMark Vantage until the battery dies, with the screen on maximum brightness and Wi-Fi on - saw the X125 give up after three and three-quarter hour, which isn't a bad score, but not a leading one. You'll get around 7.5-8 hours for more real-world usage, I'd say.
The 3DMark 06 score of 1133 is good news for (casual) gamers, and the X125 is well able to pump out both 720p and 1080p HD video to its screen or through its HDMI port. That's thanks to the integrated AMD Radeon HD 4225 graphics core.
Samsung provides a decent bundle of utilities, include the tool Fast Booting SW, which, it claims, makes the X125 fall asleep and wake up more quickly. It didn't seem to make much difference when I tried it, though.
Beyond that, Samsung has included Office 2010 - buy the full release or use a free, advert-filled one - and McAfee anti-virus trialware.
Verdict
Samsung has come up with a sexy-looking laptop for folk who want something more powerful than a netbook but not as big as a 13.3in machine. So far, so good, but then Sammy spoils it by lumping the X125 with a slow, single-core processor. I'd cut it some slack if the X125 was cheap, but you buy the faster, dual-core Pentium-based Acer Aspire 1810TZ for less. ®
More 11.6in Laptop Reviews

Packard Bell
Butterfly XS
Acer
Aspire
1825PT
Dell
Alienware
M11x
Toshiba
Satellite
T110