Original URL: https://www.theregister.co.uk/2010/08/30/red_hat_chairman_shelton/
Retired joint chiefs chairman dons a Red Hat
Szulik steps down, Shelton steps up
Posted in Software, 30th August 2010 20:29 GMT
What do you get when you cross a Red Hat with a Green Beret? I don't know, but the commercial Linux and Java application server markets are about to find out.
Retired General Henry Hugh Shelton — a native Tarheel born in Tarboro, North Carolina, and a former commander of the 82nd Airborne Division based in Fort Bragg — was named chairman of the board of directors at Red Hat on Monday.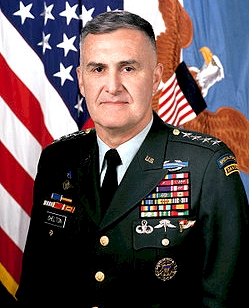 Red Hat chairman and retired Army general Hugh Shelton.
It would be impossible to find someone who said North Carolina more than Shelton, who has been on the board at Red Hat since April 2003, a year and a half after he retired from the Army and his position of chairman of the Joint Chiefs of Staff. Shelton was a member of the US Army Special Forces, also known by the nickname Green Berets, and was raised to the rank of general and put into command of all Special Forces in 1996. Shelton served in the Vietnam War and the first Gulf War.
Shelton succeeds Matthew Szulik, Red Hat's former president, CEO, and chairman. Szulik stepped down from the president and CEO post in December 2007, and after seven years of running Red Hat, appeared to really want to spend more time with his family and pursue outside interests. Red Hat brought in Jim Whitehurst, who was the chief operations officer and IT manager for Delta Airlines, to take over those roles, while Szulik remained chairman of the board. At the end of May, Szulik notified the Red Hat board that he would not stand for reelection.
And that means everyone at Red Hat has to drop and give Shelton 50 pushups. ®