Original URL: http://www.theregister.co.uk/2010/08/26/review_laptop_samsung_r780/
Samsung R780 17.3in laptop
Big and beautiful?
Posted in Personal Tech, 26th August 2010 07:02 GMT
Review Samsung's R780 has clearly been designed to get noticed. The glossy, deep-red chassis and slightly nauseating swirly line motif won't appeal to those who like their laptops to be subtle, but it does make it stand out from the crowd. Personally speaking, I quite like it. That said, I also quite liked the design of Acer's Ethos, and it appears there were a few of you who thought I had a screw loose for saying that.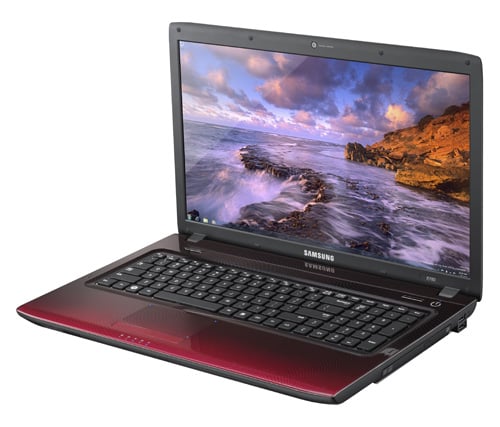 Hard and fast: Samsung's R780
It's also pretty darn sturdy. In an absent-minded moment I managed to whack it hard into a doorway. After nervously looking to see what damage I'd inflicted, I was relieved to discover it had emerged completely unscathed. I opted not to repeat the test, though.
The keyboard follows the chiclet/scrabble tile design – Samsung has opted to call it an island keyboard. The keys have a decent amount of resistance and travel, making typing a pleasant experience. As is so often the case, some flexing to the keyboard lets it down, but it's only likely to affect those with a particularly heavy-handed approach to typing.
Numeric keypads are commonplace on larger notebooks, but they always pose a problem when it comes to the arrow keys. Most manufacturers tend to shrink the arrow keys and shift them down slightly in order to fit the numeric keypad in. The problem with this method is that the arrow keys then become slightly less comfortable to use, particularly when gaming.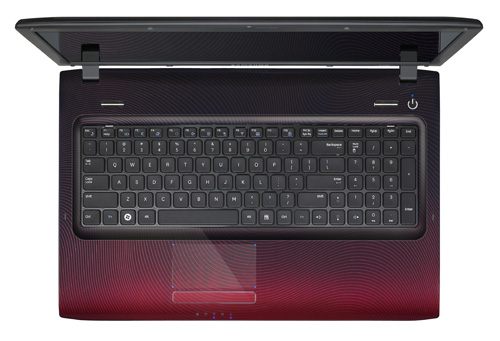 Decent keyboard and touchpad
With the R780, Samsung has instead opted to keep the arrow keys the same size as the others. However, in order to do this it's had to halve the size of the zero key on the numeric keypad, which is usually double-width. I reckon Samsung's got the right idea here, though – I'd much rather the single-width zero key as opposed to reduced-size arrow keys.
Ridiculously bright display
The only problem I found was that it's hard to find your way to the arrow keys without first glancing down at the keyboard – usually the arrow keys have a bit of space between them and the other keys. Plus, of course, if you're frequently number-crunching, the design may result in you bashing the right arrow key instead of the zero.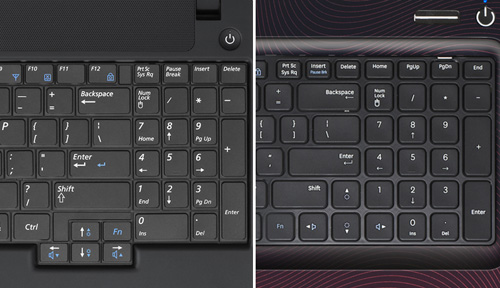 Numberpad styles: Samsung's X520 (left), R780 (right)
Although the photos might make it look like the R780 is tarnished by a glossy touchpad, this section actually has a perfectly-textured surface that makes it both easy to use and accurate. Four tiny blue lights rather pointlessly mark out the edges of the touchpad, and Samsung has sensibly set these to automatically switch off after 30 seconds of inactivity – the only way to turn them off permanently, however, is by disabling the touchpad altogether.
Sadly the touchpad buttons aren't quite as impressive as the touchpad itself. They take the form of a single bar that's ever-so-slightly recessed into the chassis, and during testing I frequently found myself digging my thumbs into the chassis instead of the buttons.
Measuring up at 17.3in and with a native resolution of 1600 x 900, the display performs very well. Colours are vibrant and it benefits from decent viewing angles. It's also ridiculously bright, and during testing I had to reel it back to three-quarter brightness in an attempt to save my eyes.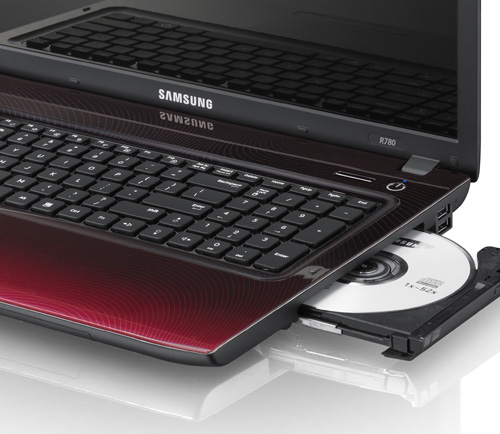 Blu-ray drive, but there'll be no 1080p action on the display
Considering there's a Blu-ray drive sitting expectantly on the right side of a chassis, it's slightly disappointing that the display can't handle 1080p video. If you want to watch a Blu-ray disc as it was intended, you'll need to hook the R780 up to a TV using its HDMI port.
Benchmark Results
Predictably, Windows 7 Home Premium is installed, but in a bizarre move Samsung has opted for the 32-bit version. So, although the laptop has 4GB of memory available, Windows reports that only 3.48GB of this is actually usable.
PCMark Vantage Results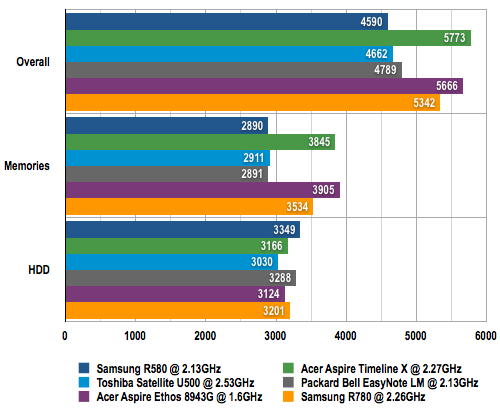 Longer bars are better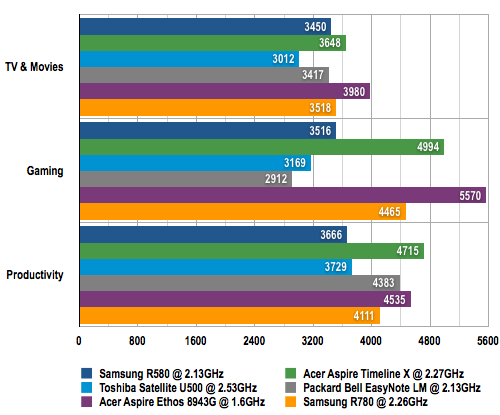 Longer bars are better
Battery Life Results

Longer bars are better
The Core i5-430M processor sitting within the R780 is a dual-core model running at 2.26GHz. In PCMark Vantage it helped the laptop return an overall score of 5342, which really isn't that far behind the Core i7-powered Acer Ethos.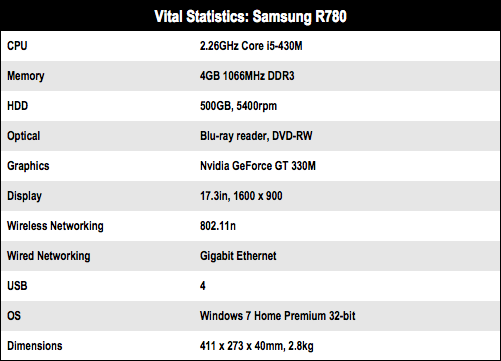 Great Value Laptop
Nvidia's GeForce GT 330M provides plenty of 3D oomph and allowed the R780 to run both Call of Duty 4 and Crysis at its native 1600 x 900 resolution. In Crysis, however, I had to turn detail settings to medium, in order to get a playable 24.9fps. In high detail mode, it trudged along at just 10.8fps.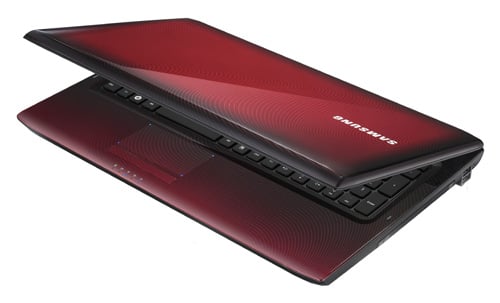 Just about portable at 2.8kg, but battery life is woeful
In the gruelling PCMark Vantage loop test, the R780 and its 48Wh battery really struggled and could only limp just past the one hour before throwing the towel in. When using it sparingly, I managed just over two hours from a single charge, but I was hoping for better. Weighing in at 2.8kg it's not inconceivable that people will look to use the R780 when travelling, but the poor battery life makes it unsuitable for long journeys.
Verdict
With decent processing power, the ability to let you indulge in a bit of gaming and a solid design, the R780 is great value at £799. However, Samsung's curious decision to go with a 32-bit operating system and the laptop's woefully short battery life can't be ignored. Some folk won't be too concerned about either, though, and this is otherwise a very impressive laptop at an equally impressive price. ®
More Notebook Reviews...

Acer
Aspire Ethos
8943G 18.4in
Packard Bell
EasyNote LM 17in
Apple
MacBook Pro 15in
Dell
Studio 17