Original URL: http://www.theregister.co.uk/2010/08/24/review_storage_nas_verbatim_mediashare/
Verbatim MediaShare 1TB Nas
Home and away
Posted in Personal Tech, 24th August 2010 07:02 GMT
Review Verbatim is best known for its range of straightforward and affordable hard disks, memory sticks and other storage devices. However, its new MediaShare drive is a little more ambitious. The low-profile aluminium chassis bears more than a passing resemblance to Apple's Mac Mini or AppleTV, but it's essentially a good-looking Nas drive with a few extra media-streaming features thrown in for good measure.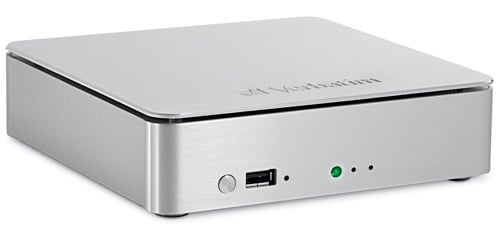 Verbatim's MediaShare offers phone access, for a price
I tested the 1TB version, which costs a very reasonable £150, and there's also a 2TB model available for £200. At the back of the unit you'll find a Gigabit Ethernet interface for connecting to your home network, along with two USB ports and an eSata port that can be used to connect additional storage, if required.
There's also a third USB port on the front of the unit, accompanied by an 'easy transfer' button that enables automatic copying of files from a flash drive straight onto the MediaShare's internal storage. There's no HDMI port, so you can't directly connect the MediaShare to an HD TV in order to play your media files, but it does support DLNA/UPnP networking so that you can stream files to a games console or other DLNA-compatible device.
Unfortunately, I encountered a few problems getting the MediaShare installed and set up properly. The MediaShare did show up on my office network as soon as I plugged it in and connected it to my router – although, confusingly, it appeared as two separate but identical volumes labelled 'MediaShare' and 'MediaShare2'. However, things ground to a halt when I tried to install Verbatim's software and configure the MediaShare for use on the network.
Even an eSata port is included for hooking up additional storage
The installer program requires you to set up a user name and password, and to register the MediaShare with the Verbatim web site. Unfortunately, the Installer repeatedly announced that it wasn't able to register the device, forcing me to put in a call to Verbatim's technical support. When Verbatim provided me with a new username, the MediaShare began running properly, but that doesn't bode well for less-experienced users setting up at home.
Want more features? Pay more money
I was also a little disappointed when the Installer program finally did its job and then promptly announced that certain 'premium' features – such as the ability to access the MediaShare over the Internet with a mobile phone – are only available on a 30-day trial basis, and that you have to pay an extra $20 to continue using these functions after the trial period has ended.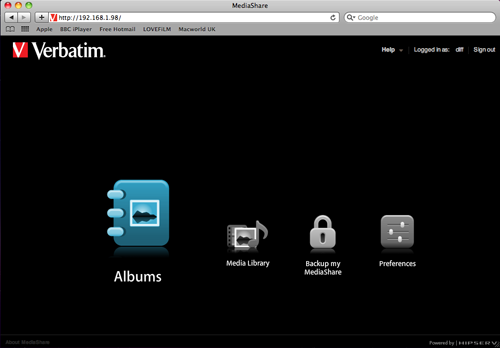 Once logged in the layout is simple and obvious
Once past those initial obstacles, the MediaShare can be used as a straightforward Nas drive by accessing it from the desktop on a Mac or PC. Alternatively, you can use Verbatim's MediaShare software to provide a different interface for organizing your files. You can also access the MediaShare remotely over the Internet using a browser-based Flash application that provides a graphical interface for viewing your media files. And, of course, there's the phone access, for a price.
Remote access is very easy, as you simply log in with your username and password at the Verbatim web site. It works well too, as there's a basic hierarchical view that displays the files stored on the MediaShare, along with some more fancy graphical features such as a 'cover' mode that is similar to the album artwork display in Apple's iTunes.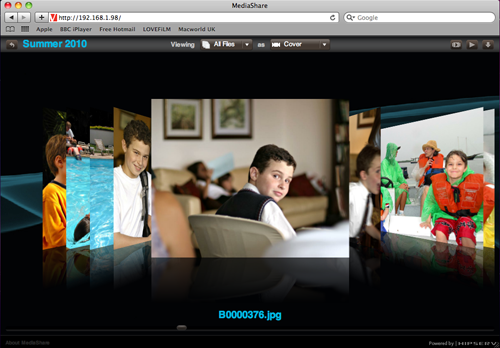 Coverflow-style browsing of media files
You also have the ability to create 'albums' that can be viewed over the Internet by people that you specify. These albums can contain music and video files as well as simple photos, and allow you to stream media files across the Internet.

Codec confusion
This browser interface ought to be platform independent but, almost inevitably, I did stumble across a few cross-platform file format problems when streaming files remotely off the MediaShare. My MacBook was unable to stream some AVI video files from the browser interface, even though the MacBook had the relevant Windows Media codecs installed.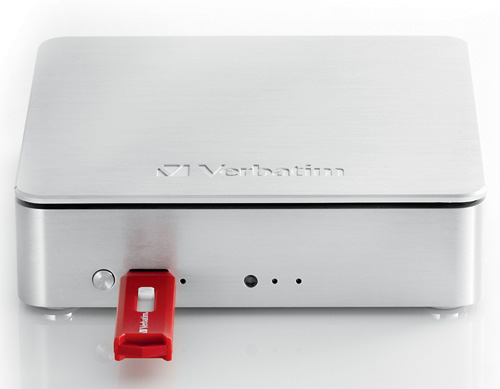 Versatile, but needs refinement
Similarly, a PC laptop was unable to stream some AAC music files and QuickTime video files created on a Mac despite having the Windows version of QuickTime installed. When this happens you're given the option to download the files onto your computer and play them directly off the hard drive, but that rather defeats the purpose of buying a fancy streaming-media device like the MediaShare in the first place.
Verdict
To be fair, these file format problems tend to plague other media-streaming products as well, and the MediaShare does have a better graphical interface than many of its rivals. The MediaShare is also competitively priced, even by the standards of more basic NAS drives. It's just a shame that the installation problems and other rough edges we encountered mar what is otherwise an attractive and versatile media storage device. ®
More Nas Box Reviews…

Synology
DiskStation
DS210j
Universal Tech
MyXerver Pro
MX3800
Asus
Home Server
TS Mini
Freecom
Network
Media Centre